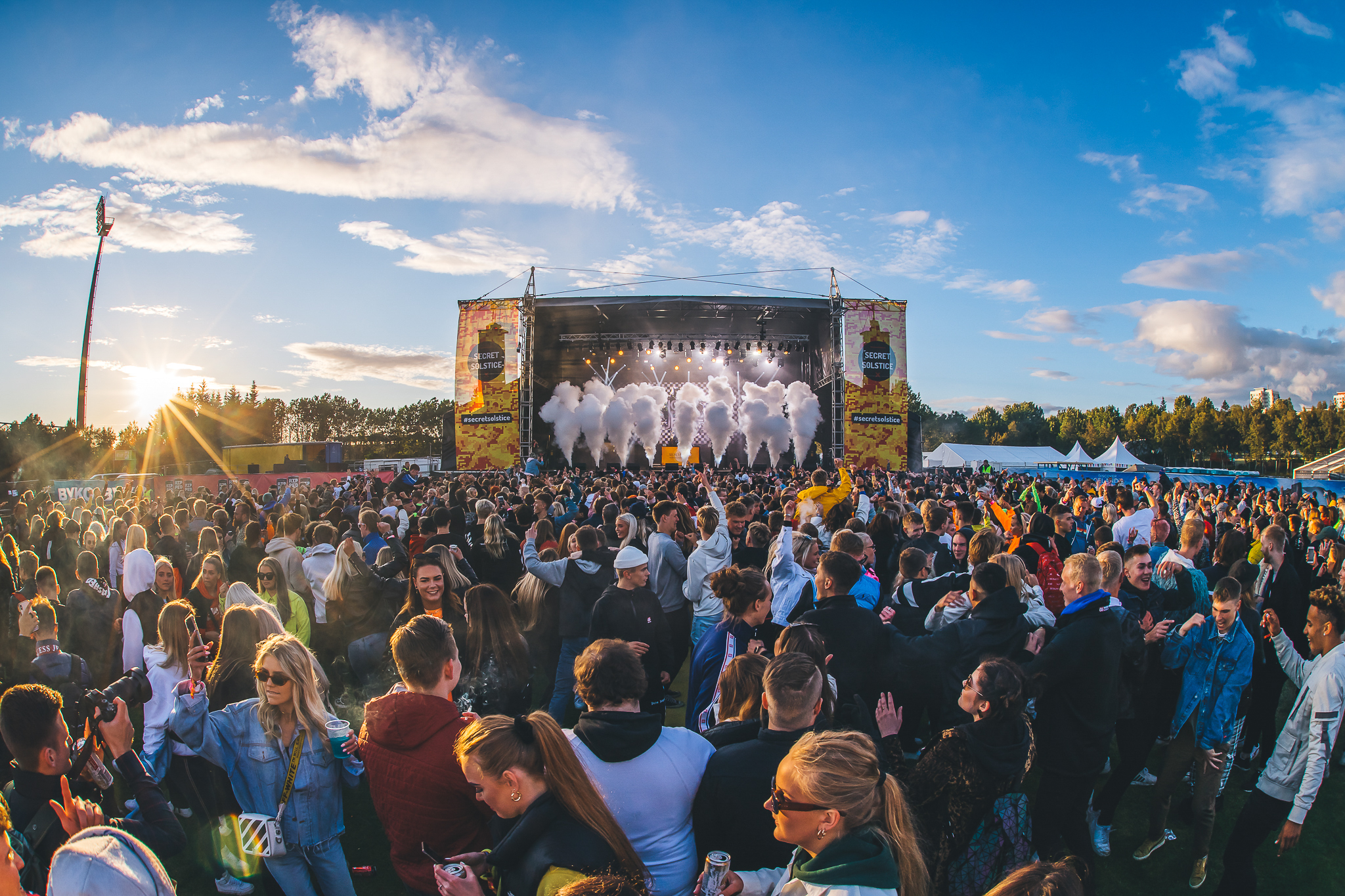 Iceland's Most Unique Festival "Secret Solstice" Announces Phase One Lineup for Summer 2020
Secret Solstice is excited to announce its phase one lineup for the seventh edition taking place June 26th– 28th 2020 in Reykjavík, Iceland. Held once again during the 72 hours of constant sunlight from the Nordic islands famous Midnight Sun, Secret Solstice is pleased to present the first festival headliners for the 2020 edition as leading Grammy-nominated Latin-American hip-hop collective, Cypress Hill, American rapper/songwriter Lil Pump, British indie-rock band, Primal Scream, and worldwide R'n'b two timed RIAA diamond certified supergroup, TLC. 20+ acts across rock, dance, hip hop, and house music will also be featured including Meduza, Regard, Hayden James, Hot Dub Time Machine, and many more.
With a location that has unforgettable scenery and gorgeous natural landscapes, attendees will have the chance to experience a unique music festival while they immerse themselves in the beauty of Iceland while underneath 72 hours of non-stop sunlight.
TLC, known as one of the best-selling American-girl groups in history, with sales of 70 million records and four Grammy Awards, will start off the festival headlining the opening night of Secret Solstice, Friday June 26th. Their endless list of timeless hits including, "Waterfalls," "Creep," and "No Scrubs," will surely set the positive vibes for the weekend. With a creative new sound that lead the way for a new style of hip-hop, Cypress Hill plans to bring their classic mix of powerful rhymes and signature Latin swagger to headline Secret Solstice's main stage on Saturday, June 27th. With hits including "Insane in the Brain" and "Hits from The Bong" they have become the first Latino American Hip-Hop group to go platinum. Cypress Hill has interwoven themselves into pop-culture as well as Hip-Hop history by amassing over 20 million albums sold, selling out shows internationally, and a star on the Hollywood walk of fame in 2019.
Lil Pump will make his debut in Iceland on the mainstage as on Saturday June 27th as well with his mesmerizing flow and flair. He erupted in the rap scene in 2017 with viral hit "Gucci Gang" which ultimately lead to platinum certification. Headlining on the closing day of the festival is the deeply influential rock band, Primal Scream, on the Valhalla stage on Sunday June 28th. Having been at the forefront of the British indie-pop scene, they changed the game of the scene in the 80s and 90s and have embraced everything from Psychedelic pop to degenerate Rock'n'Roll; euphoric rave to industrial gloom; always revamping their sound to push boundaries.
Aside from headliners, attendees can get excited for performances from the hottest dance acts around, Platinum and Gold Certified artist, Meduza, known for "Piece Of Your Heart" their debut release with over 600 million streams worldwide, Deep House producer, Regard, whose hit "Ride It" went viral on Tik Tok this year. Critically acclaimed DJ Hayden James will provide his soulful house vibes and fellow Australian DJ Hot Dub Time Machine will broadcast his popular genre blending sound and dance-through-the-decades, audio-visual performance.
Norwegian musical outfit, Sturle Dagsland, will play Secret Solstice for the first time and showcase their unimaginable sound and unique use of vocals. Festival goers can plan to see some of Iceland's biggest acts and up-and-coming talent including singer/songwriter, Krummi, who will fuse country, folk, rock 'n' roll, and blues with soulful vocals and heartfelt lyrics at Summer Solstice for the first time. GKR will be back on the festival stage with his energetic and vibrant style of rap. Those returning after stellar performances after last year's event include: Sprite Zero Klan, Jói Péog Króli, Rokky, Elli Grill and Séra Bjössi. Debuting for the first time on the Secret Solstice stage is: 24/7, Danill, Tómas Welding, Frid, and local talent DJ Ingi Bauer.
Full tour packages including tickets and accommodation with Iceland's top services including hotels, rentals, and airport transfers will also be available for the 2020 edition through the Secret Solstice website. More details coming soon and stay tuned for the phase 2 lineup announcement!
Since its launch in 2014, Secret Solstice is known for its unique and creative features. From their handpicked lineup set against endless sunlight to their breathtaking natural backdrops, the bucket-list worthy moments never end. Entering its seventh edition, the destination festival is a not-to-be missed summer event and they are committed to reducing environmental impact by using green energy and sustainable power. This is a festival that takes a festival goers experience to the next level. Secret Solstice continues to bring something new, international, and unique to the small northerly transatlantic island.
Photos Courtesy of Secret Solstice Facebook