Gareth Emery, Craig Connelly & Ben Gold Release 'The Sound of Garuda: 2009-2015'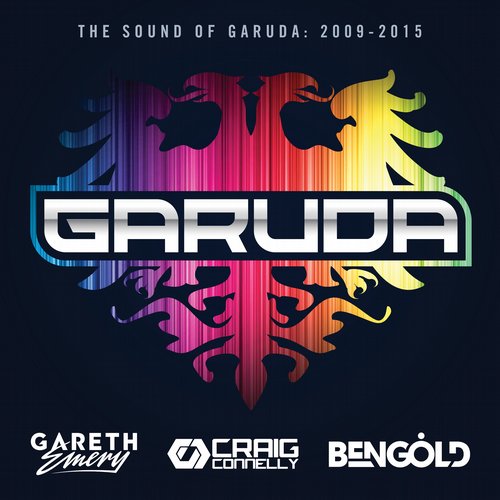 Gareth Emery's Garuda Music imprint is responsible for some of the biggest electronic dance music (EDM) releases of all time. Reaching millions of ears around the world, some of the most memorable releases on the label are available in "The Sound of Garuda: 2009-2015.'
Marking the beginning of a new chapter for Emery with his brand new radio show 'Electric For Life," the three chapters of "The Sound of Garuda" are celebratory of Garuda's massive success and ongoing contribution to dance music. Capturing the true highlights over six years of Garuda Music, "The Sound of Garuda: 2009-2015" is a must have for any EDM enthusiast.
The three-disc release includes tracks from W&W, Alex M.O.R.P.H., Stoneface & Terminal, Tritonal, Christina Novelli, Ashley Wallbridge, Luke Bond, Roxanne Emery, Krewella, Ben Gold, Craig Connelly, and of course, owner and label boss, Gareth Emery. Each of the three talents—Gareth Emery, Ben Gold, and Craig Connelly—mixed one piece of the compilation, with each part spanning a two-year period.
"The Sound of Garuda: 2009-2015" is available on Beatport.
"The Sound of Garuda: 2009-2015" Tracklist:
Disc 1:
Gareth Emery – The Sound Of Garuda: 2013 – 2015 (Full Continuous Mix) (69:58)
Gareth Emery feat. Gavin Beach – Eye Of The Storm (Craig Connelly Radio Edit) (04:18)
Craig Connelly – Lioness (Radio Edit) (03:54)
Ben Gold – Thriller (Radio Edit) (04:00)
Luke Bond – 1UP (Radio Edit) (04:12)
Ben Gold – Kinetic (Radio Edit) (03:17)
Craig Connelly – Decibels (Radio Edit) (04:23)
Dart Rayne – Human Weapon (Radio Edit) (04:16)
Gareth Emery feat. Krewella – Lights & Thunder (Radio Edit) (03:29)
Gareth Emery – Huracan (Radio Edit) (03:00)
Gareth Emery feat. LJ Ayrten – Beautiful Rage (Alex Sonata Radio Edit) (04:19)
Alex Sonata – Hybrid (Radio Edit) (04:36)
Gareth Emery feat. Roxanne Emery – Soldier (Luke Bond Radio Edit) (03:56)
Luke Bond feat. Roxanne Emery – On Fire (Radio Edit) (04:22)
Gareth Emery – Firebird (Album Mix) (05:09)
Gareth Emery feat. Bo Bruce – U (W&W Radio Edit) (03:27)
Gareth Emery feat. Christina Novelli – Dynamite (Radio Edit) (03:03)
Disc 2:
Craig Connelly – The Sound Of Garuda: 2011 – 2013 (Full Continuous Mix) (69:55)
Tyler Sherritt – Petrichord (Alex M.O.R.P.H. Radio Edit) (04:21)
Craig Connelly & Christina Novelli – Black Hole (Radio Edit) (04:19)
Luke Bond feat. Mark Frisch – The Other Side (Radio Edit) (04:24)
Ben Gold – Where Life Takes Us (Radio Edit) (03:01)
Ben Gold & Tritonal – Apex (Radio Edit) (03:13)
Craig Connelly – Robot Wars (Radio Edit) (03:32)
Craig Connelly – Like Whatever (Radio Edit) (03:41)
Eximinds – Mainbeat (Radio Edit) (03:01)
Ben Gold feat. The Glass Child – Fall With Me (Radio Edit) (03:50)
Gareth Emery feat. Christina Novelli – Concrete Angel (Radio Edit) (03:55)
VADA – Neon Lights (Radio Edit) (03:26)
Craig Connelly – Manchester AM (Radio Edit) (03:45)
Gareth Emery & Ashley Wallbridge – DUI (Radio Edit) (02:27)
Marcus Schossow – Helvete (Radio Edit) (02:49)
Ashley Wallbridge – Yin-Yang (Radio Edit) (03:30)
Gareth Emery – The Saga (Radio Edit) (03:46)
Shiloh – Man In The Mirror (Alex Sonata Radio Edit) (03:49)
Disc 3:
Gareth Emery – Citadel (Radio Edit) (03:56)
I.K.E. – Sunrise at Palamos 2009 (Gareth Emery Radio Edit) (04:24)
Craig Connelly – Absolute Electric (Tritonal Radio Edit) (02:42)
Gareth Emery feat. Lucy Saunders – Sanctuary (Radio Edit) (03:45)
Gareth Emery & Ben Gold – Flash (Radio Edit) (03:18)
Tritonal – Suede (Stoneface & Terminal Radio Edit) (03:53)
Gareth Emery – Metropolis (Radio Edit) (03:09)
Gareth Emery & Ashley Wallbridge – Mansion (Radio Edit) (03:23)
Mark Eteson – Blackboard (Radio Edit) (04:32)
Mark Eteson feat. Audrey Gallagher – Breathe On My Own (Radio Edit) (03:43)
Gareth Emery – Exposure (Radio Edit) (03:52)
Gareth Emery – Tokyo (Ben Gold Radio Edit) (04:29)
Ben Gold – Sapphire (Trance Radio Edit) (02:46)
Ben Gold – Colossal (Radio Edit) (03:13)
Gareth Emery feat. Mark Frisch – Into The Light (Alex M.O.R.P.H. Radio Edit) (03:23)
Gareth Emery feat. Lucy Saunders – Fight The Sunrise (Daniel Kandi's Rise Radio Edit) (04:17)
Ben Gold – The Sound Of Garuda: 2009 – 2011 (Full Continuous Mix) (69:58)