EDC Las Vegas 2018: New Festival Dates, Camping, Extended Hours Announced By Insomniac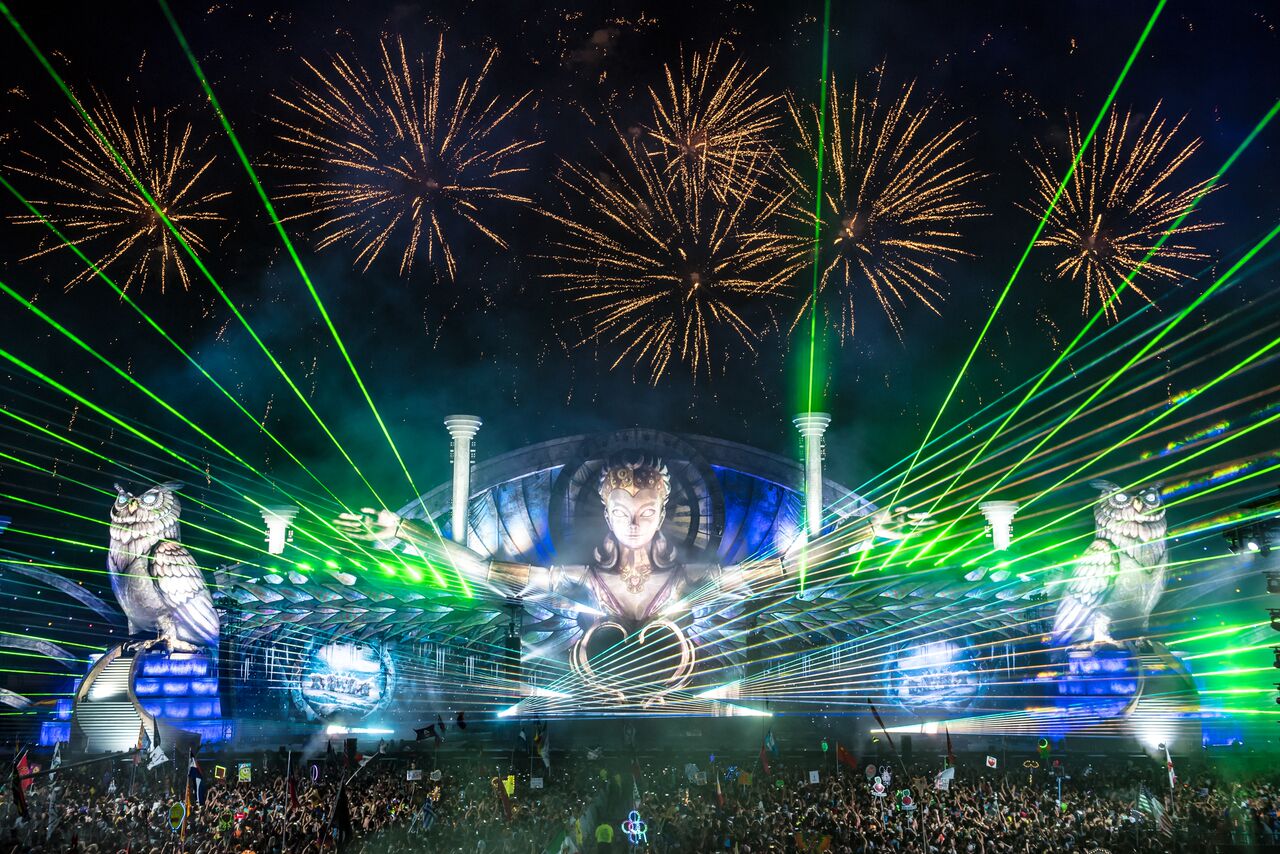 There are some vast changes coming for EDC Las Vegas 2018, according to a major announcement made today by Insomniac Events. All Are Welcome Here, the 22nd annual Electric Daisy Carnival, which lands at the Las Vegas Motor Speedway from Friday, May 18 through Sunday, May 20. What first started as a small-scale music festival has rapidly transformed into a defying experience; evolving into a cultural phenomenon. Tickets for the annual larger-than-life carnival will go on sale starting Thursday, September 28, at noon PST.
North America's largest dance music festival will still take place from dusk till dawn, but next year's edition will offer attendees extended event hours, along with several other noteworthy additions. EDC Las Vegas 2018 will host an early-entry opening ceremony, multiple camping options, all new stage designs, a new shuttle operator, and more. Headliners who arrive to the Speedway early can now enjoy the cosmicMEADOW lawn which will host opening ceremonies before the gates officially open each day.
Watch the EDC Las Vegas 2018 official announcement video:
EDC Las Vegas 2018 will offer fully immersive camping options, for the first time in its existence. Those who have traveled to and from the Speedway from The Strip, know that the trek can be gruesome. But now, Insomniac has introduced camping, conveniently situated right next to the Speedway which will offer numerous amenities and extensive options.
In addition to the new camping areas eliminating vehicle traffic, campers will have their own convenient entry points at the festival. The center of the EDC campgrounds will offer a general store, plenty of shade and seating, food and beverage vendors, and other activities. And if that wasn't enough, a nearby area will also allow for Sound Camps, which gives Headliners a chance to curate their own themed environments, similar to Burning Man. Here are some of your EDC Las Vegas 2018 camping options:
• Rent an air-conditioned GA tent decked out with dust-control canvas walls, comfortable artificial grass, and electrical outlets for up to six attendees, max.
• Rent an air-conditioned Premier tent complete with dust-control canvas walls, comfortable artificial grass, twin or queen-sized beds, linens, pillows, towels, tables, chairs, and lights for up to two or four attendees, max.
• Bring your own RV and hook it up to the pre-arranged power on-site.
• Rent an RV fully set up and ready for arrival, complete with linens and pillows provided by Insomniac.
The introduction of camping at EDC will assist in alleviating traffic, as will the completion of nearby construction on the 15 Freeway. The creation of three-lanes and a pull-off area, which is slated to be completed before EDC 2018, will also aid in a smoother flow of traffic for those hoping to stay at one of The Strip's many hotel options. In 2018, Insomniac also plans on turning their EDC LV shuttle program to an independent team responsible for some of the largest music and sporting events in the country.
"EDC Las Vegas is more than just a festival—it's a community without boundaries, a celebration of life, art and dance music culture" said Pasquale Rotella, Founder and CEO of Insomniac. "We strive to make every year better than the last, and after a lot of brainstorming and feedback from our community, we have decided to move next year's festival to May 18, 19 and 20. This way we can enjoy cooler weather, the gates can open earlier, and we can hold a very special opening ceremony each day at cosmicMEADOW. I'm also excited to announce that for the first time ever at EDC we'll be building an immersive camping experience right next to the Speedway, which will eliminate traffic all together for campers. Shuttle operations will be handed over to an independent company that specializes in the largest music and sporting events in the country. This is what they do and they do it better than anyone else, year over year. I'm looking forward to revealing what this exciting next chapter of EDC Las Vegas will look like in the months to come."
Last year, nearly 450,000 night owls came together Under the Electric Sky for a neon city full of experience and rich in culture. Since making the desert its new home in 2011, Sin City has never been the same. Insomniac and its CEO, Pasquale Rotella, who have been dominating the electronic scene since 1993, deliver a weeklong string of events (EDC Week) leading up to the now iconic 3-day festival. In 2017, Rotella and Insomniac were honored with the Keys to the City along with a renaming of Las Vegas Blvd. to Electric Daisy Lane.
You can grab your Early Owl three-day general admission passes starting at $325, with VIP three-day passes starting at $699 (both before taxes and fees). The new Wise Owl tier pricing begins at $340 and Later Owl will be available for $355 (before taxes and fees). The festival also offers Headliners affordable layaway options for all ticket types. Stay tuned for additional details as they're revealed.
For more information, visit edclasvegas.com.
Featured photo: aLIVE Coverage for Insomniac