Brooklyn Electronic Music Festival (BEMF) Celebrates 10 Years in 2017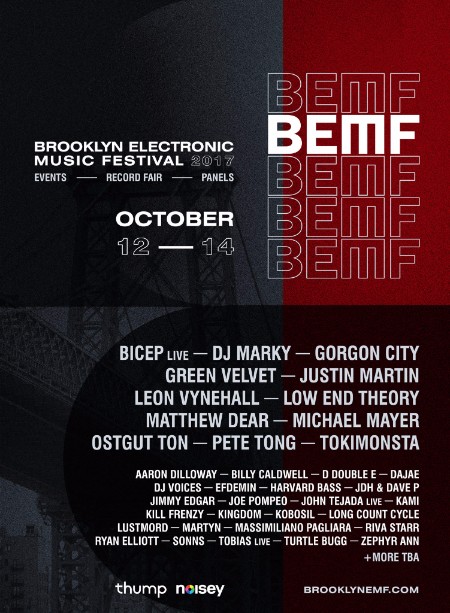 Three days of events, record fairs, and panels are what makes up the Brooklyn Electronic Music Festival, which is celebrating 10 years in 2017. From October 12-14, Brooklyn Electronic Music Festival (BEMF) will once again deliver various non-traditional events hosted by both traditional and non-traditional venues within the local NYC community.
BEMF's lineup includes some of electronic music's prime players, from DJs & producers to live acts. Slated to take part in BEMF 2017 are Bicep (live), an Ostgut Ton stage, Green Velvet's Relief Records showcase, Pete Tong, Gorgon City's Kingdom stage, a Kompakt curated stage, The Long Count Cycle, Leon Vynehall, Justin Martin, and Low End Theory.
Showcasing electronic music and its culture since its first edition in 2008, BEMF has become a staple within the community and helps pave the way in shaping the dance music culture in Big Apple. Industry panels this year, presented by Noisey and THUMP, and a record fair presented by Other Music, are all part of the coming together for the love of the music.
Bringing the people together for a decade, BEMF is a celebration of electronic music as a whole and its culture. Embracing community, the underground, and the scene and industry itself, there's nowhere more fitting than Brooklyn to host an event of this magnitude. From veteran acts to breakout musicians, join thousands of music enthusiasts for BEMF 2017 and what's sure to be an unforgettable three days.
There are a limited number of festival passes available now at a deeply discounted rate. The available passes will provide access to all music events as well as panels, offering the complete BEMF experience, and can be purchased here.