DJ Snake Pardon My French Tour Takes Over The Fillmore in Philadelphia on Fri., April 22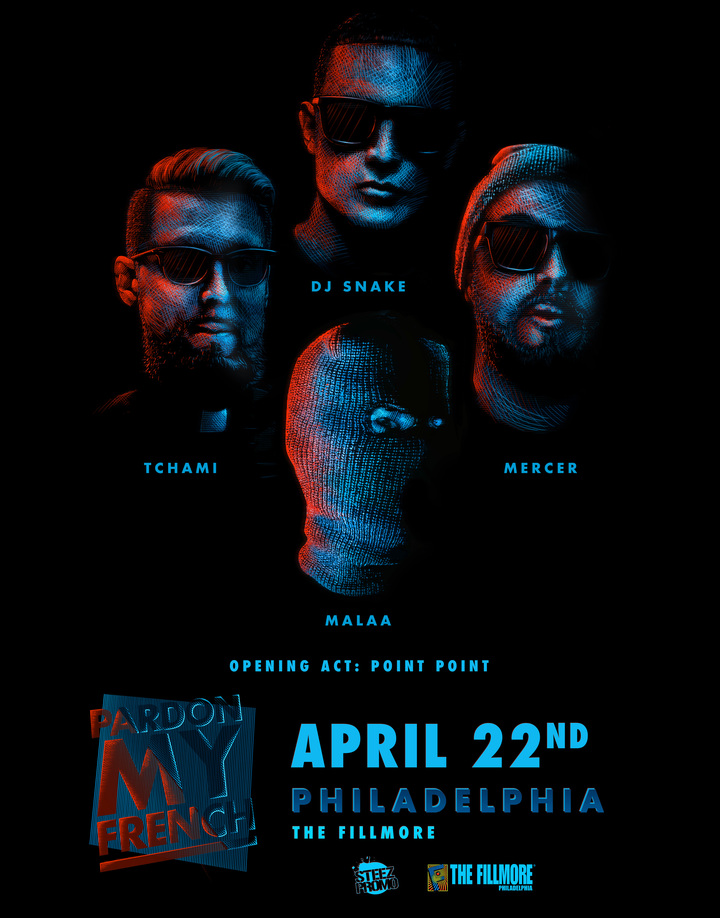 DJ Snake Pardon My French Tour dominates The Fillmore in Philly this weekend
Taking on the states for a second time, DJ Snake's Pardon my French tour is coming around but with a new addition to the Parisian trio. The 2016 tour will include DJ Snake, Tchami, Mercer, and this year, Malaa. The eclectic group will make an appearance in Philadelphia at the fairly new venue, The Fillmore. Its spacious dance floor and several bars will make sure for a night of fun, dancing, and great music. The four DJs having been blessing their fans with hit after hit these past few years, bringing bangers that always leave us wanting more.
The four Frenchmen have been providing us with beats varying from DJ Snake's well known tunes: "Turn Down for What" with Lil Jon, and "Get Low" with Dillon Francis among many others. The masked man, Malaa threw down a great set at Ultra Miami not too long ago. "Who is Malaa" mixes have been floating around SoundCloud collecting fans and questions that still remain as to who this unknown mastermind is.
For now all he leaves us with is his bumping beats and his masked and covered silhouette. Another Parisian on the tour is Tchami who has been working on producing a remix package of his "After Life" single with Stacy Barthe incorporating several other big names, including Malaa, DJ Snake and Mercer. Last and not least of the group is Mercer who brought us one of the biggest bangers of 2013, "Welcome to the Jungle" with Alvaro and Lil Jon. Mercer has also graced us with some of our favorite remixes such as Axwell /\ Ingrosso's "On My Way", and Dada Life's "Born to Rage".
The Frenchmen are giving America a taste of French EDM and we couldn't be any more excited. Throughout the month of April they brought happiness to hearts and ears from Chicago to Detroit to Dallas and this Friday, April 22 to Philadelphia. With 2 shows remaining you won't want to miss the groovy night at Philadelphia's loved venue, The Fillmore.
More information about DJ Snake Pardon My French Tour is available HERE.