'Anjunadeep 08' Mixed by James Grant & Jody Wisternoff is Available Worldwide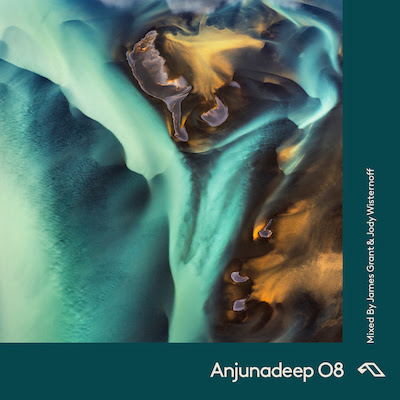 Anjunadeep 08 has been released worldwide via Anjunadeep Records as an eight edition of the flagship compilation album.
Anjunadeep has released the eighth installment of its flagship compilation album curated by James Grant and Jody Wisternoff, which you can listen to here. The label behind almost 300 releases, Anjunadeep has been a globally-recognized tastemaker since 2005. This year, the label has released acclaimed debut albums from Cubicolor and Croquet Club, new music by Lane 8, Dusky, and 16 Bit Lolitas, as well as music by Luttrell, Tontario, Icarus and We Need Cracks.
The Compilation album features two discs packed with music from label favorites, newcomers, and eleven exclusive remixes and edits from James and Jody themselves. After over a year of searching and toiling, James and Jody have put together one of the most eclectic compilation albums to date. From ambient soundscapes to bass-driven dance beats, this album is a unique experience packed with an array of emotions.
Anjunadeep 08 begins with an introduction from Hiatus set to piano and strings, slowly building in intensity through the next few songs and leading into some high-energy hits like Yotto's "Edge of Affection" and 16 Bit Lolitas' "Give It Up." The dance tracks continue until Jody and James' track 'drop' brings down the energy. Lane 8's "Apes & Children" envelopes the listener in waves of wide pad synths and white noise with accompanied piano.
Disc 2 kicks off with the slow jam vibes of Croquet Club's aptly-named "Slow Mo." The rest of the disc keeps the dance beats coming with music from new artists, more Jody and James edits, as well as exclusive remixes by Solomon Grey and Ólafur Arnalds.
Stream directly via Spotify:
James and Jody have sure put in a lot of work to make sure that Anjunadeep 08 holds up to the label's reputation. The two both have reputations as seasoned producers, complimenting each other's skill sets in their fourth curated Anjunadeep album. Be sure to check out Anjunadeep's official website, Facebook, Twitter, and Soundcloud.
Check out the full track listing below:
Disc 1
01 Hiatus Delam feat. Dad
02 Vaults Hunger Of The Pine (Jody Wisternoff & James Grant Remix)
03 Aiiso Your Love Is An Echo
04 16 Bit Lolitas Give It Up
05 Koelle Another Land (Jody Wisternoff & James Grant Edit)
06 Yotto Edge Of Affection
07 Dave Pad & Anjei Cantec De Leagane
08 Kyson Flightless (Jody Wisternoff & James Grant Remix)
09 Above & Beyond Love Is Not Enough feat. Zoë Johnston (Jody Wisternoff & James Grant Remix)
10 16 Bit Lolitas Nobody Seems To Care (Anjunadeep 08 Mix)
11 Theo Kottis Future Eyes
12 Adana Twins & Human Life Perspective (Fort Romeau Remix)
13 Yotto Fire Walk
14 Universal Solution & Cubosity Won't Always Be
15 Lycoriscoris Drop (Jody Wisternoff & James Grant Edit)
16 Lane 8 Apes & Children
17 Dusky Spruce feat. Pedestrian (Jody Wisternoff & James Grant Edit)
18 Indian Wells Cascades (Outro Edit)
Disc 2
01 Croquet Club Slow Mo
02 Tontario Solitude feat. Lake Jons
03 Cubicolor Fictionalise (Anjunadeep 08 Mix)
04 Gacha Bakradze Restless
05 Ólafur Arnalds Öldurót (Tontario Remix)
06 SLO Shut Out Of Paradise (Hanami Remix – Jody Wisternoff & James Grant Edit)
07 Way Out West Oceans feat. Liu Bei
08 Indian Wells Antrakt (Interlude Edit)
09 16 Bit Lolitas Rainbow
10 Luttrell Like It Is
11 We Need Cracks Blue Danube (Jody Wisternoff & James Grant Edit)
12 Koelle Last Words
13 Amateur Dance Dreamhack
14 Solomon Grey Broken Light (J_Ashworth Diffraction Remix)
15 Tinlicker Soon You'll Be Gone feat. Thomas Oliver
16 Cinnamon Chasers Luv Deluxe (Jody Wisternoff & James Grant Remix)
17 Icarus Hiding
18 Sienna YNTOO (Tom Middleton Mix)
19 Icarus Home feat. Aurora (Lane 8 Remix)