Above & Beyond at RC Cola Plant on Thurs., Mar. 17 During Miami Music Week 2016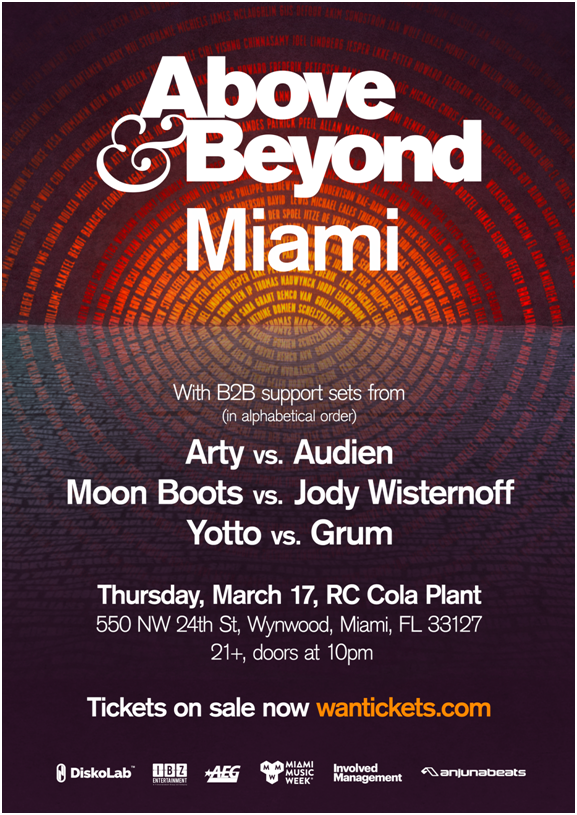 Anjunabeats trio Above & Beyond makes their grand return to Miami Music Week with another headlining performance in 2016.
On Thursday, March 17, Above & Beyond will take to a new location in Miami, the RC Cola Plant located at Northwest 23rd St. Arty vs. Audien, Moon Boots vs. Jody Wisternoff, and Yotto vs. Grum will accompany the guys for their headlining MMW 2016 event at the artistically designed RC Cola Plant.
In 2015, Above & Beyond delivered a We Are All We Need showcase at Mana Wynwood. This year, the troupe returns to the Wynwood Arts District for what's certain to be another emotional journey, chock full of special guests and surprises.
The powerhouse trio recently appeared at the 58th annual Grammy Awards where they earned a nomination for Best Dance Recording with "We're All We Need" featuring Zoe Johnston. With close to a dozen successful singles from their 2015 smash, We Are All We Need, which was released through their Anjunabeats label, the guys released "Blue Sky Action," "Sticky Fingers," "All Over The World," "We're All We Need," "Peace Of Mind," "Hello," "Fly To New York," and "Counting Down The Days."
Following the release of their newest installment in their famed Anjunabeats compilation series, Anjunabeats Volume 12, which was mixed by Jono, Tony and Paavo, the group released their latest single, "A.I."
Later this year, Above & Beyond will release an acoustic album, Above & Beyond Acoustic II, which is the follow-up to their successful 2014 acoustic release. Coinciding with the album release, the band embarks an Acoustic Tour, which is slated to stop at The Beacon Theatre (New York), Hollywood Bowl (Los Angeles), Royal Albert Hall (London), Greek Theater (Berkeley, CA), and more. More information about Above & Beyond Acoustic Tour can be found here.
Tickets for Above & Beyond Miami 2016 are on sale Wednesday, February 17 at 12 PM EST via Wantickets.com. Doors open at 10 PM for patrons ages 21 and above.
For more information on Above & Beyond, visit aboveandbeyond.nu.