10 Acts Not to Miss at Governors Ball NYC 2015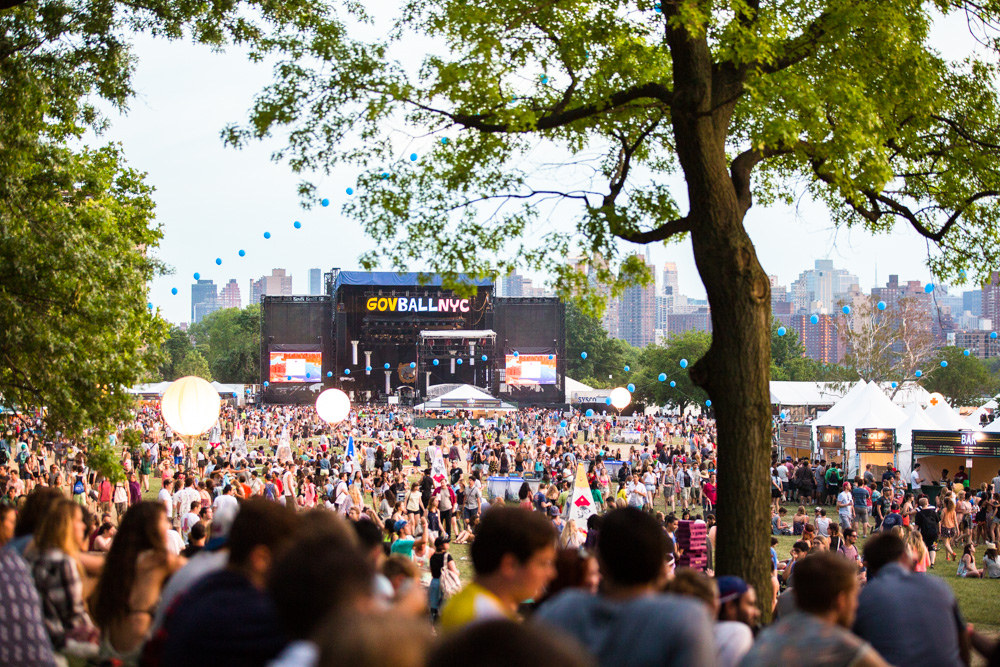 Chromeo
A definite Gov Ball highlight is the return of Chromeo. Making their debut on Randall's Island in 2012, their grand return to the grounds is sure to offer music enthusiasts a refreshing experience. Always raising the bar with their live performances, David Macklovitch and Patrick Gemayel continuously fuse elements of dance, pop, rock, and disco. Creating their own distinct signature sound, the electronic live duo has released four full-length studio albums with the most recent being "White Women," which was released in May 2014.
Deadmau5
Festival performances from Joel Zimmerman are far and few between these days, which is what makes his Governors Ball set something to truly look forward to. Always bringing an intensely distinct live aspect to his DJ sets, including Deadmau5 in The Nocturnal Times acts to catch at Governors Ball 2015 was inevitable. Having just released his latest artist album "While(1<2)" in 2014, Deadmau5 has produced seven unique full-length studio albums in the last decade. Additionally, Zimmerman is responsible for famously releasing hit singles "Strobe," "Ghosts 'N' Stuff" feat. Rob Swire, "Move For Me" with Kaskade, "Raise Your Weapon" feat. Greta Svabo Bech, "Some Chords," "The Veldt" feat. Chris James, "Arguru," "Sofi Needs A Ladder" feat. SOFi, "Avarita," and "Professional Griefers" feat. Gerard Way, among others.
A-Trak
Groovy beats and proper mixing are a guarantee when it comes to A-Trak. The multi-talented Canadian producer and DJ has been fusing elements of dance music and hip-hop for nearly two decades. It's a family affair for the Macklovitch clan as Alain joins his brother David of Chromeo whom is also on the Gov Ball roster. The Fool's Gold label creator is praised for his DJ sets, which often incorporate a wide variety of high-energy dance music. A-Trak is also one half of the electronic act Duck Sauce alongside Armand Van Helden.
Flume
If you're looking for diversity in a DJ set, look no further as Flume has you covered. The 23-year-old Australian DJ and producer, born Harley Streten, is most commonly known for his solo performances and productions as well as his former What So Not junction alongside Emoh. Flume's self-titled debut artist album fuses a wide array of EDM sub-genres, shattering all musical barriers.
Gorgon City
Following live performances at Ultra Music Festival in late March at Coachella in April, Gorgon City returns for another spectacle at Governors Ball. Dominating the Ultra Live Stage in Miami and the Gobi Tent at Coachella, Gorgon City is sure to wow concertgoers with another live ensemble. Bringing out live vocalists Jennifer Hudson, and Jess Glynne during recent performances, Gorgon City is always full of surprises, which is what makes them an act at Gov Ball you won't want to miss!
Lana Del Rey
Acclaimed singer-songwriter and New York native Lana Del Rey will take to the Governors Ball Main Stage for a headlining performance on Sunday, June 7. The uniquely distinct artist possesses an exotically tasteful poise, which is a testament to her innovative and divergent character. Her tantalizing charm eloquently accompanies her musical diversity, which shines through her material. Teaming with GRAMMY-Award winning DJ and producer Cedric Gervias on "Summertime Sadness," Del Rey is no stranger to the dance music community. A slew of her original songs have seen remixes by some of the biggest names in EDM, including her single "Young & Beautiful," which was included on the soundtrack for The Great Gatsby. You won't want to miss Lana at Gov Ball for what's sure to be an empowering ensemble.
Drake
Fresh off his Coachella headlining spot, Drake will take over the Gov Ball Main Stage for what's sure to be an event highlight. Following a publically controversial make out session with Madonna during his live performance at Coachella, the hip-hop icon will dominate Randall's Island. Earlier this year, Drake released his newest LP "If You're Reading This It's Too Late" at midnight as a surprise to fans, causing uproar amongst fans that couldn't wait to get their hands on the release. Having released a plethora of original singles, most notably Drake is known for "Best I Ever Had," "Hold On, We're Going Home," "Started From The Bottom," "Over," "Take Care," and "Headlines," among others.
Big Gigantic
Known for incorporating live instruments with electronic beats and sounds, Big Gigantic puts a unique twist on dance music. Culminating jazz, hip-hop, and dance music elements, the electronic duo have become increasingly popular among their fans for their live performances. With showcases at some of biggest music festivals in the world including Bonnaroo, Firefly Music Festival, Camp Bisco, Ultra Music Festival, Electric Forest Festival, Coachella, Voodoo Festival, Lollapalooza, Austin City Limits, and many more, Big Gigantic's Dominic Lalli and Jeremy Salken are sure to bring an intense instrumental component to Gov Ball.
Hot Chip
It's been 15 years since Hot Chip exploded onto the scene, changing the face of alternative dance music forever. Typically difficult to classify the group as a specific genre, Hot Chip has innovatively displayed their diversity throughout the course of their musical career. With already five studio albums under their belt, Hot Chip is slated to release their sixth full-length LP "Why Make Sense?" on May 18 through Domino Recording Company. The British electronic band is a surefire act to catch at this year's Gov Ball.
Odesza
Seattle-based indie electronic and electropop DJ duo Odesza consisting of members Harrison Mills and Clayton Knight will surely bring an eclectic element to Randall's Island this year. Upon their formation in 2012, the guys released their debut album "Summer's Gone," which lead the start of a cult-like following. Subsequently, Odesza released their "My Friends Never Die" EP in 2013 and their second artist album "In Return" last year. Their second full-length album resulted in several acclaimed singles, including remix releases of "All We Need" featuring Shy Girls and "Bloom." What makes Odesza stand out within an all-star lineup is their diversity and ability to tackle whatever style they set out to conquer. Odesza's latest remixes include Zhu "Faded," Sia "Big Girls Cry," and RAC "We Belong" featuring Katie Herzig.
Purchase tickets for Governors Ball NYC 2015 here.