Gabriel & Dresden to Embark on Classics Only Tour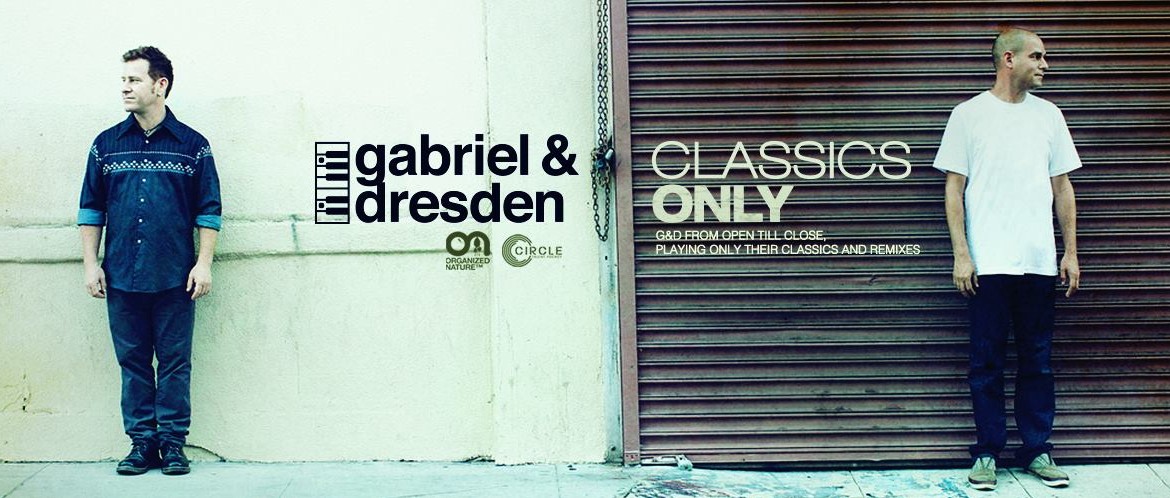 Iconic DJ and production duo Gabriel & Dresden has just revealed plans to embark on a Classics Only tour. Playing only their classic and renowned productions and remixes, dates for the upcoming North American Gabriel & Dresden Classics Only tour will be announced soon. Following a brief separation hiatus in 2008, Josh Gabriel and Dave Dresden reunited in 2011 and have released joint productions since their resurrection.
Gabriel & Dresden recently closed the Anjunabeats pool party at The Raleigh Hotel during Miami Music Week 2015. Familiar with the legendary trance trio and Anjuna creators Above & Beyond, G&D has previously collaborated with the UK-based conglomerate for "No One On Earth."
Following their Classics Only set in Miami, the pair have decided to embark on a classics tour, which will showcase original material from their extensive discography. With more than a decade of electronic dance music experience, G&D have customarily become known for their emotional productions and remixes. Often accompanied by heartfelt lyrics and enrapturing vocals, Josh and Dave have achieved success through their diverse and eclectic array of material.
Familiar for their participation in Motorcycle with JES, working alongside Andain, remixing and collaborating with Armin van Buuren, Above & Beyond, Markus Schulz, Dido, Britney Spears, Jewel, Rachael Starr, Deborah Cox, Sarah McLachlan, Evanescence, Depeche Mode, Annie Lenox, and more, G&D's new tour will take fans back in time. Familiar original creations "Tracking Treasure Down," "Dangerous Power," "As The Rush Comes, "Zocalo," "Without You Near," "Arcadia," "Play It Back," "Rise Up," and more can be expected.
Popular remixes from the California-based duo include: Way Out West "Mindcircus;" Andain's "Summer Calling," "Promises," "Turn Up The Sound," and "Beautiful Things;" Paul Oakenfold "Southern Sun;" Tiësto "In My Memory;" Nalin & Kane "Beachball;" Rachael Starr "Till There Was You;" Robbie Rivera "Float Away;" The Killers "Read My Mind;" and 68 Beats "Replay The Night," just to name a few.
One thing is certain, if the fans want classics, Gabriel & Dresden will give them classics. Gabriel & Dresden Classics Only is presented by Organized Nature and Circle Talent Agency.
GABRIEL & DRESDEN'S CLASSICS TOUR DATES
5/16 – Whiskey Bar – Portland, OR
5/30 – Avalon – Los Angeles, CA
6/06 – Monarch Theatre – Phoenix, AZ
6/27 – Kingdom – Austin, TX
7/2 – Bespoke – Calgary, AB
7/3 – The Mod Club – Toronto, ON
7/4 – The Mid – Chicago, IL
7/10 – Ruby Skye -San Francisco, CA
7/11 – Foundation – Seattle, WA
7/24 – Cielo – New York, NY
7/25 – Stereo Live – Houston, TX
7/31 – Opera – Atlanta, GA
8/1 – LeVu – Dallas, TX