The Weeknd "Starboy" Delivers Eclectic Array of New Music With 18-Track Album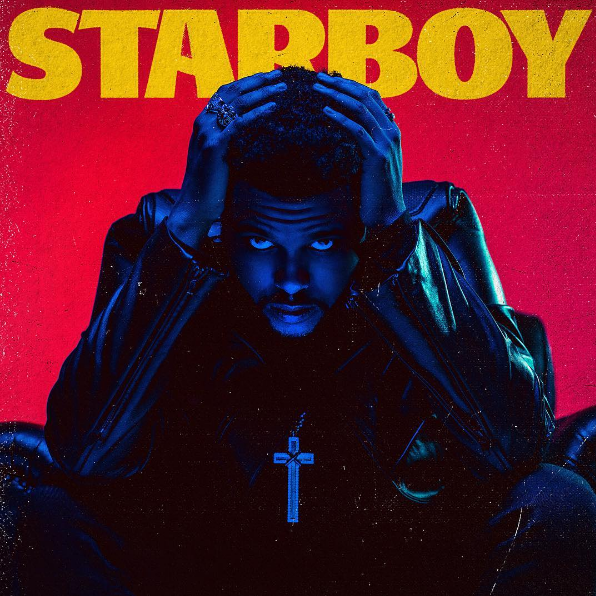 From the moment R&B superstar, Abel Tesfaye, better known as The Weeknd, announced that his third studio album would be entitled "Starboy", it was clear that his career had officially reached epic proportions.
After skyrocketing into fame after the release of his 2015 triple-platinum album, "Beauty Behind The Madness," it was clear that the once sad, mysterious, sex-and-drugs-crazed Toronto native had transformed into a true, international "starboy," drawing on more upbeat mainstream pop influences. Despite the few darker, more abstract moments on BBTM that were more reminiscent of his groundbreaking "Trilogy" series, long time fans criticized The Weeknd of "selling out." While on the surface these criticisms could be deemed true due to his transformation into a modern day Michael Jackson, even slightly deeper examination reveals that The Weeknd has never strayed far from his raw, drug-influenced roots. We can't forget the chorus in 7x-platinum hit "The Hills," "when I'm fucked up that's the real me" or 5x-platinum, chart-topping single "Can't Feel My Face," a song dedicated to the singer's love affair with cocaine.
"Starboy" seems to be the perfect sonic middle ground between Abel's pop superstar self and his elusive, alt-R&B self. Through a combination of borderline-cheesy, upbeat dance hits and casual sex n' drugs bravado, he creates the perfect metaphor to encompass the entire album, and allows for diversity that surpasses all of his prior projects.
The first single off the album, "Starboy," is a glamorous, upbeat track introducing his newfound pop star identity done in collaboration with the iconic French dance music duo, Daft Punk. The single has quickly become a chart-topper and tropical house music producer and DJ, Kygo, has already released an official remix. Along with "Starboy," Daft Punk collaborated on a second single, "I feel It Coming," which features a super-groovy baseline and an all-around more sophisticated and radio-friendly sound than the majority of The Weeknd's music. It's clear that EDM-influenced beats played a major key in the creation of "Starboy" as a whole, as seen in songs such as "Rockin'" and "Love to Lay," produced by hit master Max Martin, as well as "Nothing Without You," produced by dance music giant, Diplo.
While the album definitely has a more 80's dance party feel to it, there is no short of hip-hop influence, witty wordplay, and references to drugs and strippers. It appears that while he is happy reaping the benefits of mainstream pop stardom, he also hates the politics that come with fame. In the song "Reminder", Abel pokes fun at the massive success of "Can't Feel My Face" by saying "I just won a new award for a kid's show/talkin' 'bout a face numbin' off a bag of blow." "Party Monster," the third track to be unveiled from "Starboy," reminds us that Abel hasn't completely departed from his occasionally over-indulgent self, with lyrics describing a cocaine and liquor induced paranoia, "bitches in my new spot crowdin' up my space, had to check the safe, check the dresser for my chains". One of the most anticipated tracks since the release of the track listing, "Sidewalks," features Kendrick Lamar on a jazzy, electric guitar-laden beat while describing his road to fame. The album also features two songs with Future, including "All I Know," and soon-to-be strip club anthem "Six Feet Under."
Two days before the release of the album, The Weeknd dropped a 12-minute visual piece, "Mania," teasing multiple songs from "Starboy."  Directed by the same person responsible for the "Starboy," "The Hills," "Can't Feel My Face," and "Tell Your Friends" videos, Grant Singer, we see a black panther, the personified version of Abel, in the opening scene. Shortly thereafter we see him driving a sports car to a nightclub in which he is seen dancing with a French supermodel. Just as things heat up, he takes a trip to the bathroom where he is almost murdered by a jealous onlooker. In the final scene, we see Abel, covered in his hitman's blood, and dancing rather dad-like to the upbeat, happy single "I Feel It Coming". The entire film felt like a very accurate visual representation of the album as a whole, and continuing the story we were introduced to in the "Starboy" music video.
"Starboy" has already reached #1 on almost every music platform in over 80 countries, and currently holds 7 slots in the US Spotify top 10 charts. The single "Starboy" is currently #1 on the Worldwide iTunes Song Chart, for the 12th consecutive day, and The Weeknd has been streamed tens of millions of times of times over the last few days on Spotify alone. While it is too early to know what first week sales will be like, they are sure to be of massive quantity. The Weeknd's ability to merge mainstream pop music with his old, gritty, raw sound through production assistance from Max Martin, Cashmere Cat, Daft Punk, and Benny Blanco, and with influences from Prince and the Romantics, leaves fans both old and new satisfied. "Starboy" features his broadest sonic palette yet. And when it works, it's genuinely irresistible.
The Weeknd Announces 'Starboy: Legend of the Fall' World Tour
To accompany his newest album, The Weeknd has also announced the "Starboy: Legend of the Fall" world tour that begins in Europe in February 2017. Purchase tickets here.