We The Fest 2017: Indonesian Music Festival Doubles In Size Over One Year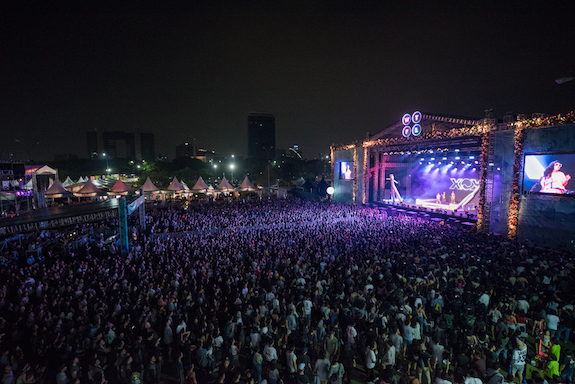 We The Fest 2017 doubled in size over the course of just one year following a relocation to the heart of Indonesia's capital city, Jakarta. Switching from two days to three this year, We The Fest drew more than 50,000 attendees, which is double the 25,000 party-goers in 2016.
This year's 100% increase in festival-goers for Indonesia's premier live music festival comes as the event changes locations to the new JIExpo Kemayoran. Wrapping up this year's festivities on August 16, We The Fest saw patrons from South East Asia, the Asian territory, USA, UK, Australia, Italy, and Brunei Darussalam, atop of the local markets, Indonesia, Singapore, Malaysia, Thailand, and Japan.
Festival organizers, Ismaya Live brought headlining performances from The Kooks, Phoenix, G-Eazy, Big Sean, Charli XCX, Epik High, ZHU, Jonas Blue, and Dua Lipa. And the music wasn't the only thing to rave about at What The Fest this year. The country's popular president, Joko Widodo, made a surprise appearance next to the main stage. "It certainly was the highlight of the festival," said event organizer and head of Ismaya Live, Christian Rijanto. "Things were running smoothly, weather was nice, there were a lot of happy faces even though it was just the first day, then he – the president – showed up. It was perfect."
There's also a "Beyond The Music" initiative, which is We The Fest incorporating other elements of Indonesian culture within the festival, including food, art, fashion, decor, and more.
We The Fest 2018 tickets and lineup announcements can be found on wethefest.com.
Featured photo: Vinodii