Voodoo Music and Arts Experience 2016: The Weeknd, The Chainsmokers, Die Antwoord, DJ Mustard, Porter Robinson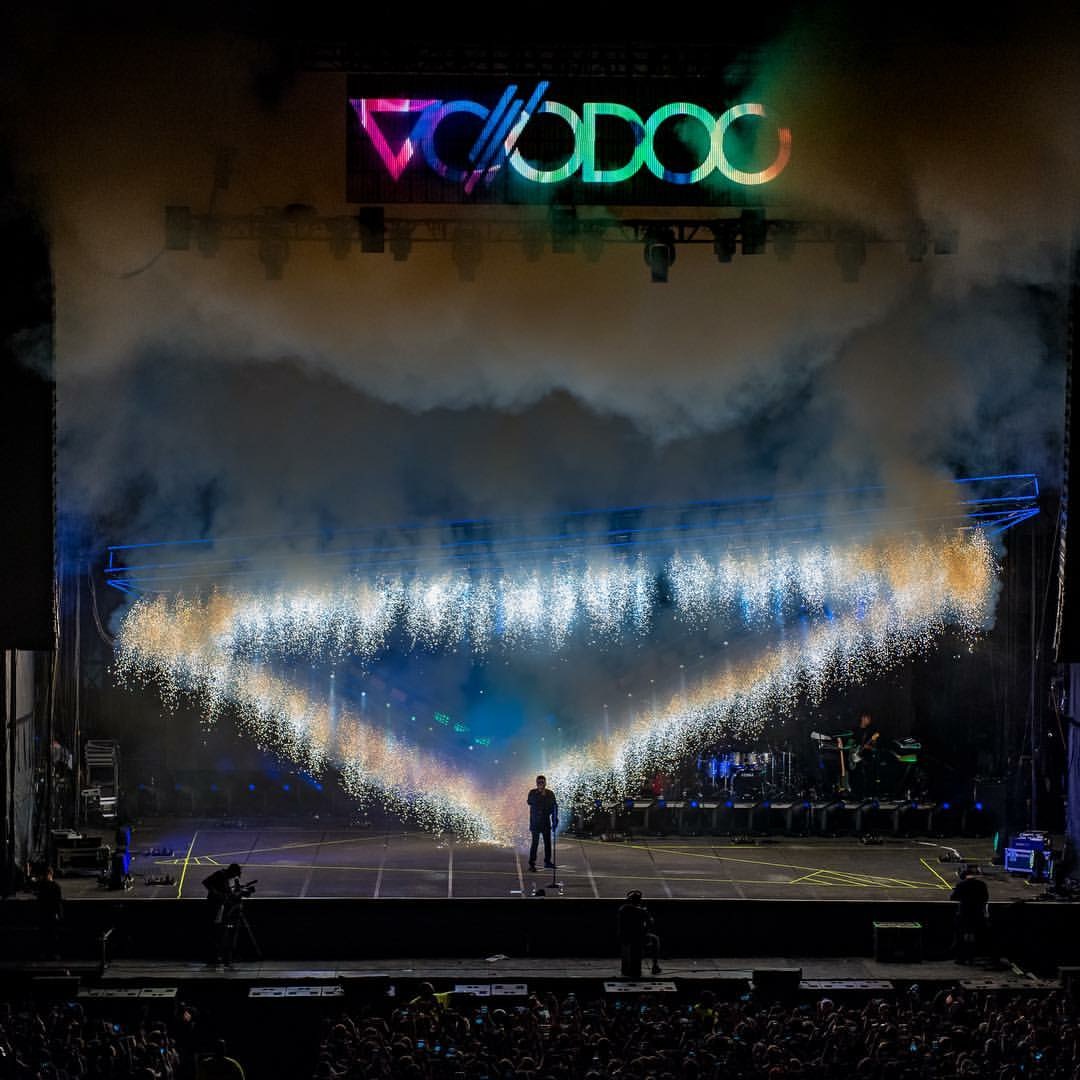 Voodoo Music and Arts Experience returned to New Orleans' City Park for its seventeenth installment over Halloween weekend
Since its 1999 Halloween weekend debut, the annual event has become a Halloween tradition to many diverse music fans, both locally and to others who journey from all over the world. Throughout Voodoo's run, over one million festival goers have gathered to "worship the music" and see performances from upwards of 3,000 different artists. This year, attendance reached over 90,000.
This was also the first year that a new production company, C3 Presents, took over operations at Voodoo. The company offered a vast number of improvements to the festival from years past, including improvement in sound bleeding between stages, copious clean and flushable bathrooms, an expanded food selection, and a creepy cemetery/mortuary themed interactive installment complete with animatronic zombies, professional actors, and a haunted house which helped to turn Voodoo into a truly Halloween-themed festival after a historical lack of spooky installations.
Voodoo boasted a star-studded and diverse lineup with headliners including The Weeknd, Tool, and Arcade Fire. Each immensely different headliner set the tone for the individual days of the festival; Friday was quite hip-hop and R&B heavy (The Weeknd, Rae Sremmurd, G-Eazy, Tory Lanez), Saturday was full of psychedelic rock and distortion (Tool, Ghost, Bully, All Them Witches, even Die Antwoord and Cage the Elephant, to an extent), and Sunday showcased local diversity (Preservation Hall Jazz Band ,Beats Antique, Anderson .Paak & the Free Nationals, The Chainsmokers). Each day also included a stacked lineup of electronic music artists including Porter Robinson, Carnage, Black Tiger Sex Machine, Gramatik, and more.
Friday's lineup included The Weeknd, Tory Lanez, Porter Robinson, Carnage, MuteMath, What So Not, Slander, Mayer Hawthorne, and more.
In the midst of his wildly successful Shelter Live Tour, Porter Robinson made an appearance at Voodoo on Friday with a beautiful and epic live set. Opening his set, traditionally, with "Sad Machine" and "Divinity", fans were immediately singing along to the euphoric anthems. While the set was nothing short of amazing, it remained extremely similar to other festival sets I've witnessed Porter play; melodic and feels-y interludes complete with confetti cannons, rainbow lights, and anime graphics broken up by filthy drops, CO2, and strobe lights. Other hits played included "Spitfire," "Fresh Static Snow," and "Say My Name."
The Weeknd headlined Friday night after the cancellation of two major events earlier this month; The Meadows Fest NYC, and Austin's Formula 1 U.S. Grand Prix. It's easy to say that the multi-Grammy Award-winning superstar had the biggest crowd of the entire weekend, debuting an all new stage featuring a massive triangle-shaped hanging fixture which featured lights, lasers, pyrotechnics, and even tilted up and down; reminiscent of Kanye West's floating stage at his Saint Pablo Tour. Opening with seven-time platinum hit "The Hills," the crowd exploded with excitement, reciting every word of the song. The entire set was the perfect combination of dark and sexy as well as flashy and upbeat. A good combination of songs off Trilogy (Glass Table Girls, The Morning, High For This), as well as feature songs (Or Nah, Low Life, Might Not) were performed among all the hits off his wildly successful second album, "Beauty Behind the Madness". The set was closed out with his latest hit, "Starboy," which features the iconic French duo, Daft Punk.
Saturday's lineup included Tool, Die Antwoord, Cage the Elephant, Excision, Alison Wonderland, DJ Mustard, Black Tiger Sex Machine, and more.
Despite being a day in which a large portion of festival attendees could be seen sporting band tees, the "Le Plur" stage served as a sanctuary for electronic music lovers with a few solid bass music artists, including one of the argued "kings" of dubstep himself, Excision. 2016 has been a crazy year for Excision, from the Paradox Tour; a 50-date tour featuring his all-new megastage featuring over 150,000 watts of PK sound, to the release of the 2016 Shambhala mix, and his latest album, "Virus." Excision threw down a super filthy set featuring a ton of new tracks, as well as plenty of old bangers including "Bring the Madness" and "X up."
Before this headlining turn, it had been 15 years since the Los Angeles-based quartet, Tool, last played Voodoo. As usual, the band did not appear at all on any video screens, but instead, mesmerizing visuals depicted the undertones of each song. Similar to how their music takes its time building and releasing tension, so did the visuals: Openers "Third Eye" and "The Grudge" showed absolutely nothing on the screens, "Opiate" featured a stained glass window pattern to match its pseudo-religious lyrical undertones, and "Parabola" featured complex visuals from Alex Grey's psychedelic symmetries of textbook human anatomy to drive the message home: "We are eternal / All this pain is an illusion."
Sunday was filled with loads of diverse talent including the Preservation Hall Jazz Band, Beats Antique, Anderson .Paak & the Free Nationals, The Chainsmokers, Arcade Fire, and more.
Experimental world-fusion and electronic music group Beats Antique delivered a funky, psychedelic, and beyond entertaining set on Sunday evening. Complete with belly dancers, an acted out story featuring a Chinese dragon, trippy stage production, and a surprise appearance from the Preservation Hall Jazz Band on a collaboration called "Let it All Go", Beats Antique's performance felt more like music theater than a festival set.
Closing out the Le Plur stage, The Chainsmokers delivered a high energy performance to what was easily the largest crowd the stage saw all weekend. Fans who arrived late to the set has zero chance of getting anywhere near to the stage as thousands packed in to dance under fireworks and confetti to smash hits like "Closer," "Don't Let Me Down," and "All We Know" to close out their Halloween weekends.
Voodoo Music and Arts Experience 2017 is already in the works. For more information, visit voodoofestival.com/, and stay connected on Facebook, Twitter, and Instagram.
Photos courtesy of Voodoo Music and Arts Experience Facebook