The Power of Moksi [The Nocturnal Times Exclusive Interview]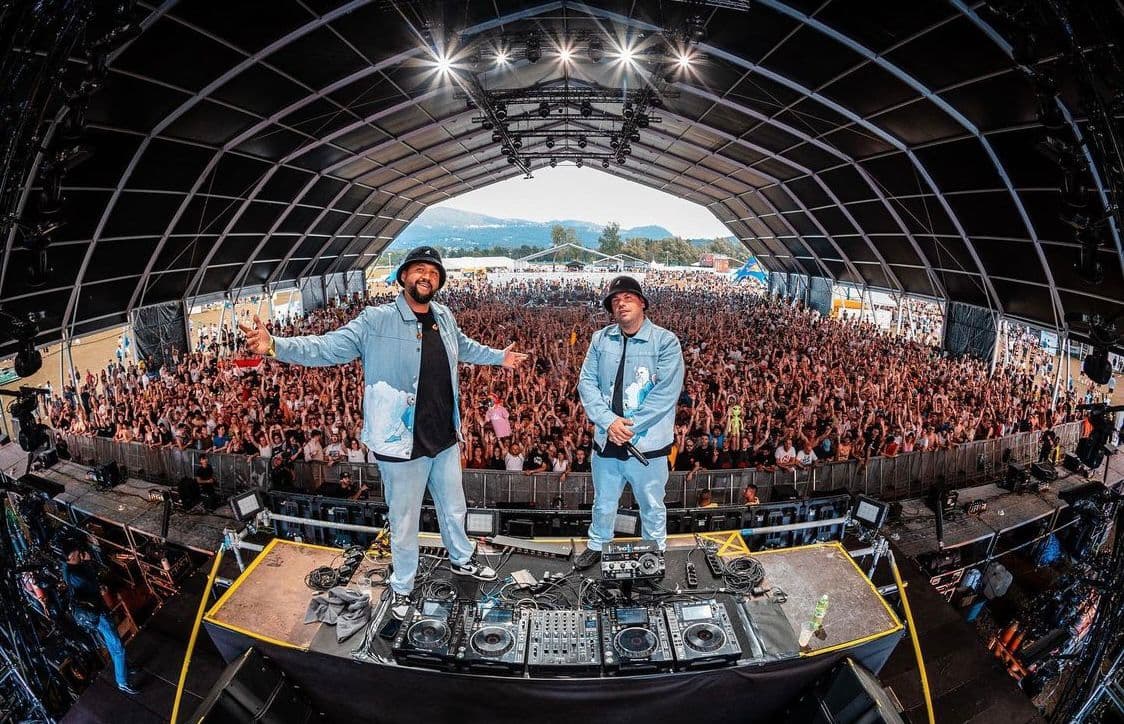 An Interview By Guest Writer Sandra Kuretzki
For years now we have been traveling to various festivals meeting people, dancing to great music and foremost making long lasting experiences. During our endeavors we usually travel with our German friends Sebastian and Sandra. Both of them are huge fans of Moksi and and like to travel to loads of their shows. Sandra's dream has always been to meet up and do an interview with these two legends. A wish we naturally granted our party companion. Here you can read all about the love she has for this duo and how much of a fan she is.
Hi my name is Sandra Kuretzki and the Dutch DJ duo Sam and Diego, better known as Moksi, have fascinated me for several years. The power they bring across at every gig, the music and their positive nature make me feel really lucky. The track that caught me the most and also shaped my relationship means so much to me that I even got a line of lyrics tattooed on me.
These last couple of years I've seen and heard both of them countless times, especially the gigs in Germany and the Netherlands, I always try to visit them. Last year the Moksi & Friends Party at Grenswerk in Venlo was the first club night that was possible since or during the pandemic. The evening was really great because finally several people could meet each other again. Luckily this year it looked different. A special highlight for me this year was meeting them two consecutive days at PAROOKAVILLE, first the preparty on Thursday and then on Friday in the Cloudfactory. At PAROOKAVILLE they where so kind that they had gifted us their iconic Kangool hats. A couple fo weeks ago we where lucky to catch up with them at the Slime Party at the Bootshaus. Last weekend the two got people dancing and singing along at the Blacklist Festival in Oberhausen. An crazy show that once again showed why I love this duo so much. Now more than ever are we in the mood for their party at Amsterdam Dance Event next week.
Now I want to give you the opportunity to learn a little more about Moksi. I was allowed to conduct an interview thanks to my friends here from Nocturnal Times.
Hi Sam and Diego, Thank you for taking the time. Your last two shows at Bootshaus and Blacklist Festival was amazing! I enjoyed it to the fullest!
Sandra: How are you?
Moksi: doing great thank you!
Sandra: You just got back from the US. How did you like it?
Moksi: USA is always on fire. The shows there are high in energy and the people love the Moksi sound. The people are super nice and the cities are impressive.
Sandra: Did you have a good time in US?
Moksi: Yes! They know how to throw a party!
Sandra: Welcome back in Germany. First at Bootshaus now here on Blacklist Festival. How is it for you to be here again?
Moksi: Germany holds a special place in our hearts. The German fans are top 3 streamers worldwide for us and we do the most shows per capita in Germany. Its humbling. The energy is always 10/10.
Sandra: I saw your track T.T.Y.N will appear on the new Fifa Game. First of all congratulations! How did that happen?
Moksi: We got an email from EA Games asking us to license the track. Easy as that! We didn't have to think about it. Ofcourse we wanted it!
Sandra: Only 1 weeks until ADE – you have your own party again – and it's already sold out. What can the lucky ticket holders look forward to?
Moksi: it is gonna be the usual concept. Dj booth in the middle of the room and a 5hr open to close set with friends stopping by to b2b!
Sandra: Thank you for your time and see you again at ADE.
Moksi: We are counting on it.
Moksi will be playing the 19 of October at the Amsterdam Dance Event with their Moksi & Friends party at Desmet Studio's. Since the party has sold out completely we advise you to buy/search for tickets through officials channels like Ticketswap.