The Nocturnal Times Exclusive Interview: Ramsey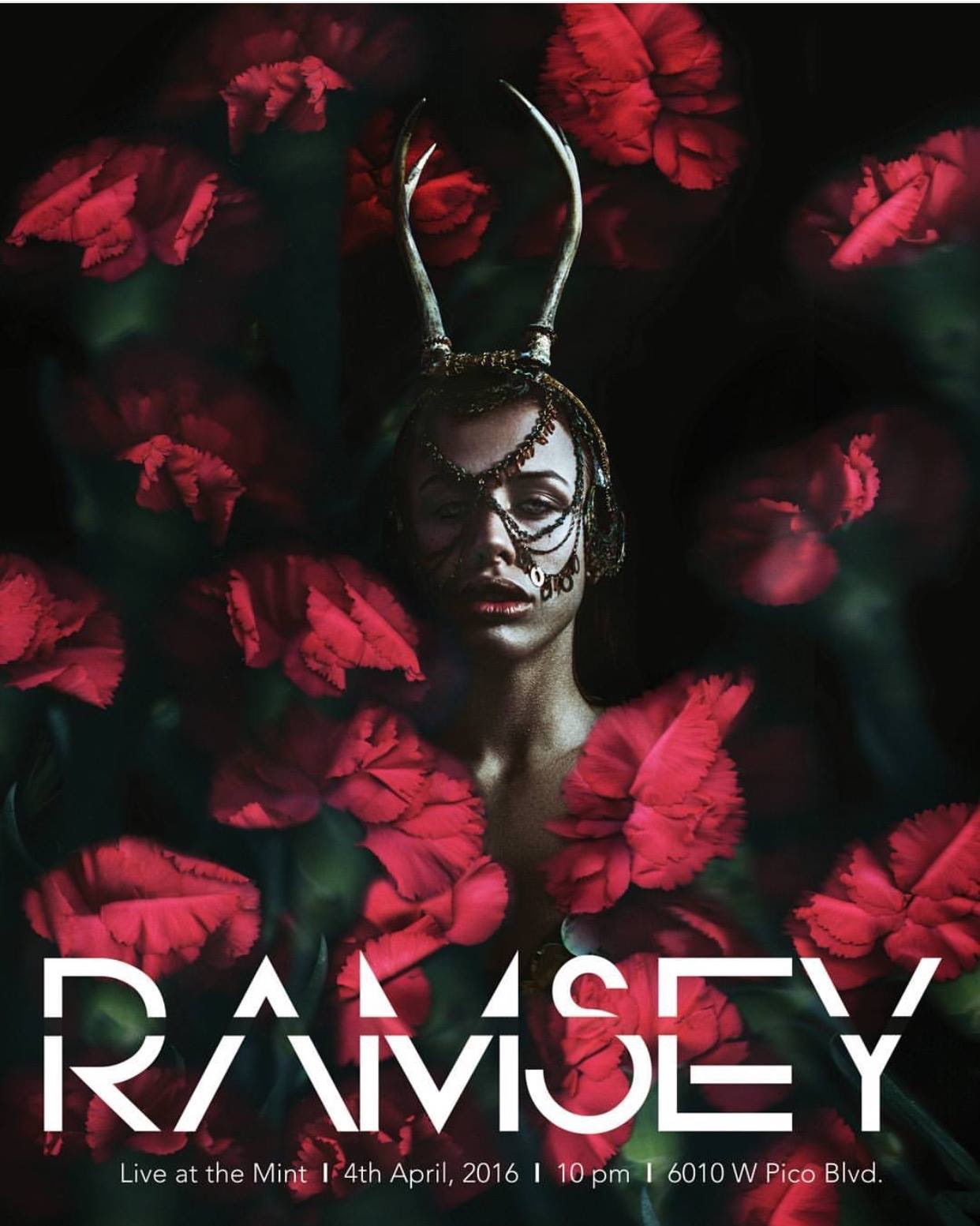 The Nocturnal Times got the chance to talk with one of LA's newest stars, Ramsey, ahead of her first ever live performance at The Mint on April 4
Ramsey represents true artistry in every aspect of her music. She does it all; sings, writes her own songs, and produces the instrumentals to each of her tracks. In a world of ghost producers and a long list of background support, Ramsey is set on doing it her own way.
Her authenticity has caught on to the masses, racking up nearly 1.5 million plays on her Soundcloud page. Not bad considering it's only been live since January. Ramsey's previous singles "Slave," "2am," and "Cover Up," were just a taste of her original sound, proving to be a clear indicator that the people want more. Now that the artist has built up quite the repertoire, she will be doing a free live debut performance this Monday, April 4 in Los Angeles at The Mint.
Ramsey has just released her newest single "Pay," and somehow manages to push contemporary music boundaries even further with this alarmingly intimate hit. Giving the listener a dose of raw emotion, you're almost taken aback by the sheer honesty in her lyrics. Matched with Ramsey's beckoning voice of a Siren, "Pay" delivers the perfect vengeance song.
THE NOCTURNAL TIMES: How and when did you first begin exploring music?
RAMSEY: I've been singing since I was little. I was always in choirs and bands growing growing up and about 9 months ago I discovered Logic on a computer I brought off Craigslist. And that's when I started producing myself.
Are you classically trained at all? Would you say that your hometown has influenced your craft?
RAMSEY: No. And yes…in a way. I never had any classical training. I learned a couple of things in choir (on the rare occasion that I was paying attention and not skipping class). My hometown influenced my craft. Not because there's a big music scene there or anything, but because it's Vegas and there's just so much darkness and fucked up shit that goes on there…it makes for good lyrics.
Who would you deem some of your greatest musical inspirations?
RAMSEY: Kurt Cobain. Lauryn Hill. Little Dragon. Leslie Feist. Josh Homme.
What would you say sets you apart from the rest?
RAMSEY: I don't want to put myself up against other artists or people or compare myself to them.
"Pay,", your newest single, was just released. How does this differ from your releases like "Slave," "Cover Up," and "2am"?
RAMSEY: It's not that it differs, for me it's a way of expressing an experience, or the idea of an experience, that may or may not have happened and hopefully someone somewhere will find value in that expression.
https://soundcloud.com/ramseysound/pay-remastered
What can you share about working alongside Darryl Swann? How much creative say did you have in the studio?
RAMSEY: That song would not be what it is had I not worked alongside Darryl Swann. He made that song come to life, and went above and beyond to make it what it is. And as a matter of fact that goes for all of my songs. Darryl is a huge sounding board for me and one of the only opinions in the world I care about. Every single one of my songs has a Darryl Swann influence. He has sort of become my teacher without even realizing it. As far as creative say in the studio goes, my studio is in my bedroom. So I have about as much creative say as I damn well please and intend to keep it that way.
You're making your live debut showcase at The Mint in Los Angeles on April 4. What do you have planned for the LA show?
RAMSEY: I'm going to go on a stage and sing. Haha.
https://soundcloud.com/ramseysound/slave
What vision (if any) do you have in mind for your debut album?
RAMSEY: In a perfect world I will drop this album and it will blow up and change the world and everyone will live happily ever after.
Let's discuss short-term goals. What do you wish to accomplish by the end of this year?
RAMSEY: To be completely honest, I'm just trying to make it to the end of each day.
Where do you see yourself five years from now?
RAMSEY: On my couch watching True Blood eating a molten chocolate cake trying to decide if I want to perform at The Forum or at the Madison Square Garden.
Follow the rise of Ramsey on Facebook, Twitter, and Instagram.
Show support for Ramsey and buy her new track "Pay" and previous singles HERE.