The Nocturnal Times Exclusive Interview: MaRLo at Ultra 2015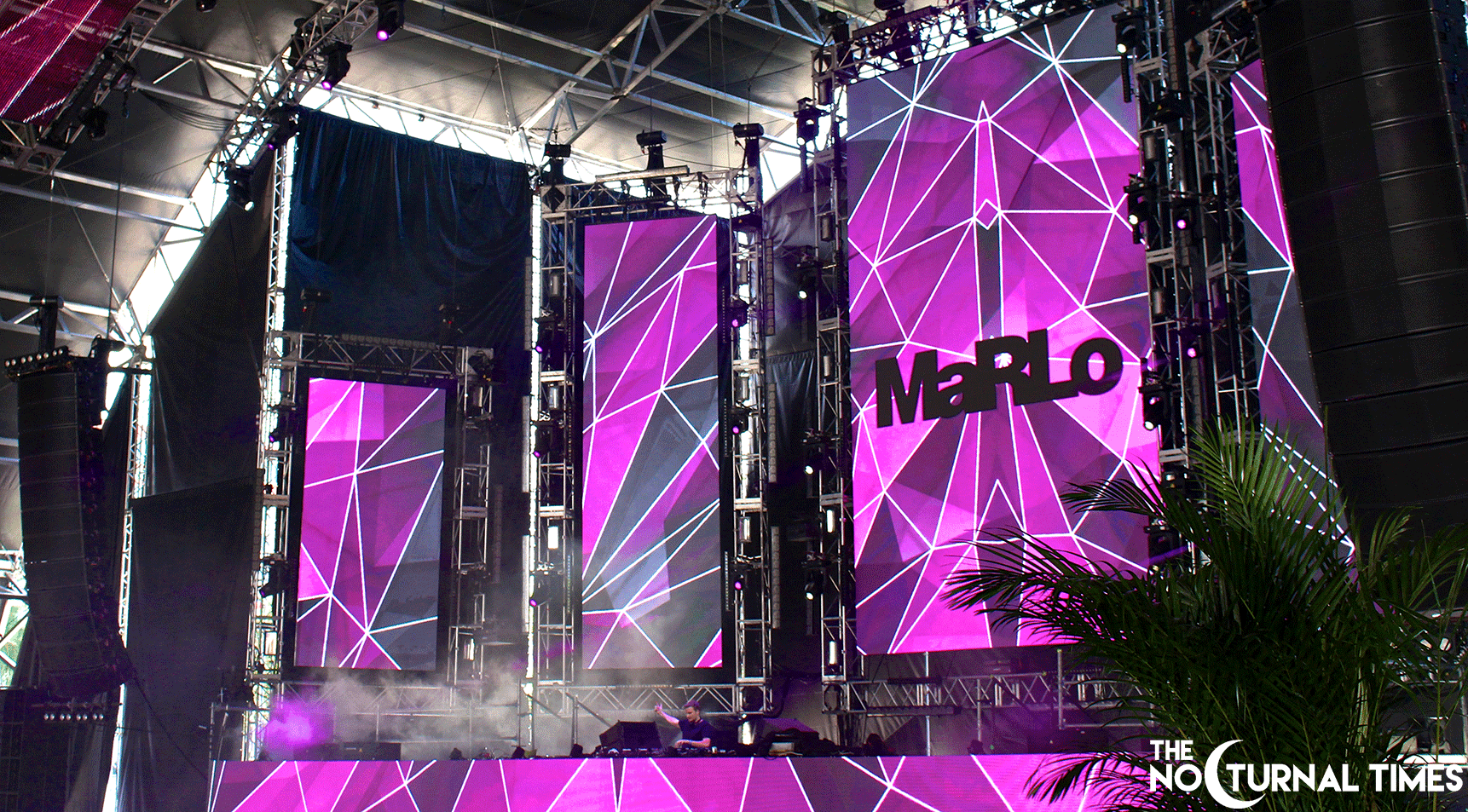 Dutch-born Australian DJ and producer Marlo Hoogstraten—known to fans as MaRLo—sat down with The Nocturnal Times just moments before taking the stage at Ultra Music Festival. Honored to be chosen to play at the annual ASOT event in the legendary Megastructure, MaRLo joined DJ peers Andrew Rayel, Paul van Dyk, Eric Prydz, Markus Schulz, Andrew Bayer, Heatbeat, Mark Sixma, and of course, the originator, Armin van Buuren.
Creator of the popular instrumental club-banger "Visions," which was an anthem contender from ASOT 650, MaRLo discusses the creation with Nocturnal Times in addition to places he finds inspiration and what goes into making a track from start to finish.
MaRLo's most recent vocal release, "Hold It Together," which features vocals from Christina Novelli, is slated for release on April 6. The mega-talent is also planning an instrumental, club-banger, and follow-up to "Visions."
The Nocturnal Times: What made you first begin your exploration of dance music and who were some of your earliest musical influences?
MaRLo: I first fell in love with electronic music when I fell in love with The Prodigy. Their first album "Experience" just blew me away and from that point on I started exploring other dance music like Aphex Twin and Basement Jaxx. When I was old enough, I started going clubbing. My heroes are guys like Sander van Doorn, Marcel Woods, Tiesto, Armin van Buuren, Ferry Corsten, and Mauro Picotto. Those acts sort of inspired me and it got to a point where I decided this is what I wanted to do for the rest of my life.
NocTimes: In what ways do you tend find inspiration for productions, remixes and studio sessions?
MaRLo: I find inspiration from everyday things and from how I'm feeling. It's more about what kind of mood I'm in is what comes out in the studio. If I'm in a really happy mood it's fun and upbeat and it can also sometimes be darker as well. For me, sitting in the studio and making music is way for me to express how I feel and also for me to have a good time. I really enjoy it. Instead of playing a video game or something sometimes I'll just produce a track. When I was kid I used to do a lot of drawing and both of my parents are artists as well so, the creative side has always been in me.
NocTimes: You're back with Armin van Buuren for more ASOT in Miami after joining him for ASOT700 Sydney. What can you share about your ASOT fest experience in Australia?
MaRLo: It was a feeling of full circle. It started for me in Sydney, actually. I started producing and playing in local clubs and playing warm-up sets and stuff like that in Sydney. I live in Melbourne now; I've lived in Melbourne for five years. To get invited to play at the biggest trance party in the world, right before the biggest DJ in the world in my opinion, Armin van Buuren, in the place where it all started for me and having thousands of people chanting my name, it was just such a special moment for me. I actually had a tear in my eye at one moment… I won't lie.
NocTimes: You also performed at ASOT700 in Utrecht as well. What can you share about your ASOT experience in Holland? 
MaRLo: Yes, I played the main stage in Utrecht and I closed the night on one of the two main stages. I wanted to bring something different, especially because all of these sets are live broadcasts. So, that's why, today at Ultra and ASOT Miami, I'm going to bring a totally different set. At the Dutch show I brought it a little harder than I usually do.
NocTimes: Is there one song you always try to incorporate in your sets no matter what style or direction your performance is heading?
MaRLo: Yes, I always have to squeeze my own track "Visions" in, definitely because the crowd is waiting for it. It was a big breakthrough track for me and I think it's the track that got me heard around the world. It's definitely the biggest track I've had so far. My next single with Christina Novelli will be released on April 6.
NocTimes: How did your new song with Christina Novelli "Hold It together" come together and what can you share with us about the collaboration? Did you have any say in the lyric writing pocess?
MaRLo: I'm really excited about this one. I've been in love with Christina Novelli's voice since I first heard her sing on "Concrete Angel" with Gareth Emery. I met her when I was doing a tour with Dash Berlin, when Dash invited me to come on tour with him to do stadium shows. Being on tour with him, his whole vocal team was there and I sort of got to know Christina quite well. So, I sent her a track and she loved it and wrote vocals for it. The track I originally sent her though sounds absolutely nothing like the finished product. It's the same chords but that is it! There are about 25 versions of this song that I did before finalizing it. I started working on it two years ago now.
NocTimes: Are there any plans for "Hold It Together" remixes?
MaRLo: Well, I've done my own tech energy remix of it, which is a more energetic version of it.
NocTimes: Do you and Jano plan to collaborate again in the future?
MaRLo: Absolutely. We're working on a track together right now called "The Dreamers," which I opened up with in Sydney. At the moment it's just a breakdown and intro edit. In the intro, I just play piano and she sang on top of it. Even though that's all we've got right now, that's definitely the follow-up for our last single together, "Haunted."
NocTimes: What are your plans for the remainder of the year as far as music releases, remixes, or upcoming gigs?
MaRLo: I've got a lot tracks coming out. One is a follow-up to "Visions," which is an instrumental track, non-vocal, stadium-trance track. I'm also hoping to do a track with Roxanne Emery later in the year and of course, a few other things I cant talk about just yet. My schedule is already full through October and I'll be all over Europe this summer. I'll also be back in the US playing at EDC New York in May as well.
NocTimes: What types of music do you enjoy listening to when you're not listening to dance music?
MaRLo: I like silence a lot. Because I spent 12-15 hours in the studio at once when I'm at home, every minute I have in the studio is so valuable. So, when I'm not in the studio, I like to go for a walk, take my dog for a walk, or just chill out.
NocTimes: What is one of your favorite non-dance songs of all time?
MaRLo: I like "Something Only We Know" by Keane, I like a lot of Coldplay stuff, Lana Del Rey, and it's pretty varied. I like softer, chilled-out rock because it's mellower.
NocTimes: Where do you see MaRLo five years from now?
MaRLo: For me, the most important thing from the start was to do what I love to do. I've never been focused on anything else. Right now I'm doing what I love to do, so I'm really happy. Five years from now if you sit down to talk to me and ask if I'm still doing what I love to do, then I've achieved my goal. I'm ambitious and I want to see how far I can take this but I'm not competitive in the sense that I want outdo anybody or care about any of that. I love what I do; touring, making music, the studio, and playing gigs. So, if I can still be doing this in five years time I'll be a happy man.
For more information about MaRLo, visit http://www.marlomusic.com. Follow on Facebook, Twitter, and Instagram.
Featured photo: Mark Mancino
Bottom photo: Mason Siegel (MaRLo with The Nocturnal Times Founder/Editor-in-Chief Mark Mancino)