The Nocturnal Times Exclusive Interview: Gareth Emery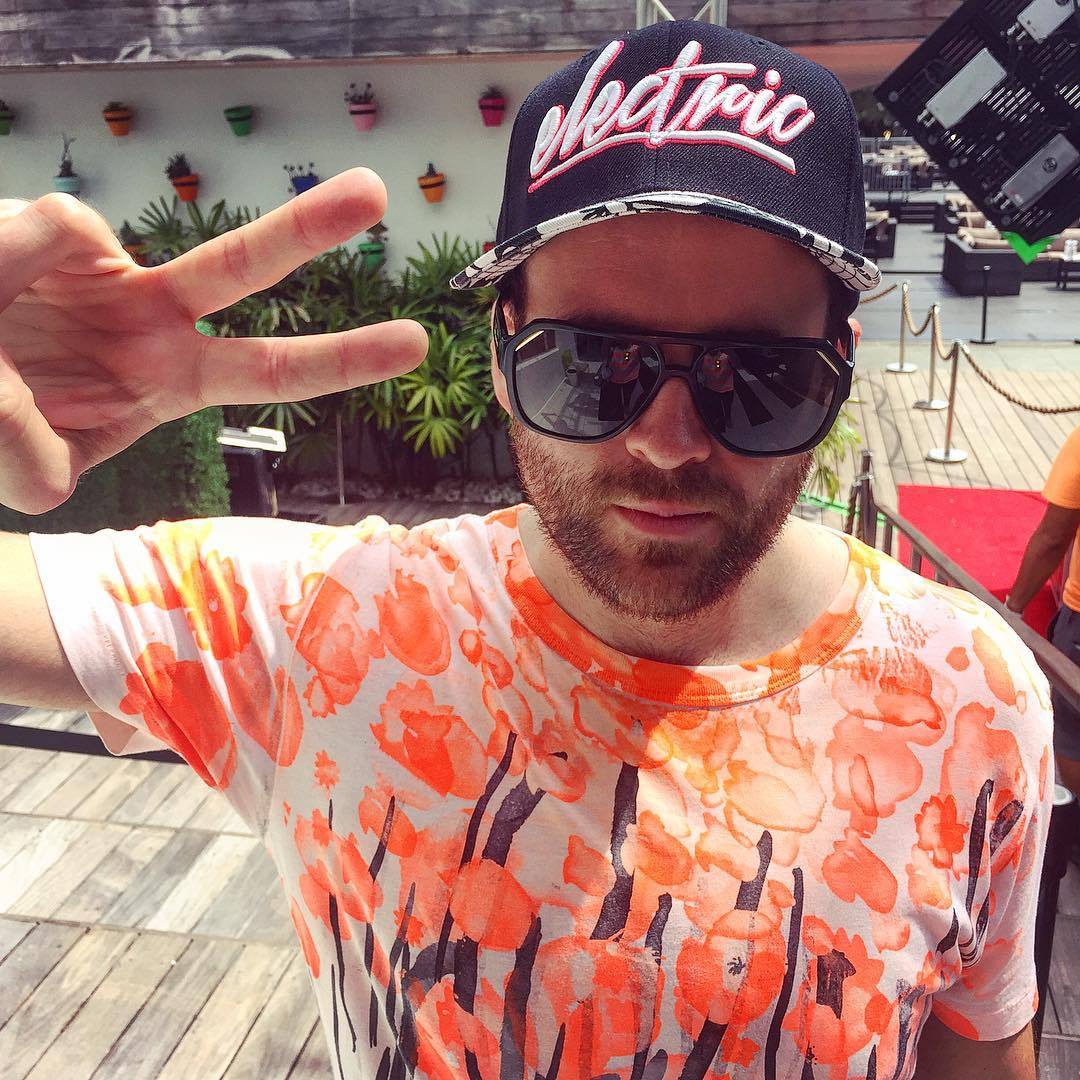 Gareth Emery sat down with The Nocturnal Times during Miami Music Week
Every year in March, thousands of DJs and producers gather in Miami for countless parties and events, meetings and conferences, and fun in the sun. Taking a break from his chaotic schedule, Gareth Emery sat down with The Nocturnal Times to fill us in on what he's got in store in the coming months.
As of this year, Emery has exploded back onto the scene (even if he never actually left) with an explosive new single release, a masterful CVNT5 collaboration with Ashley Wallbridge, and a clever social media countdown for his brand new artist album, 100 Reasons to Live.
The Garuda Music founder has started off 2016 with quite a bang; having just released his single "Reckless" feat. Wayward Daughter. The track is the lead single from his forthcoming artist album, 100 Reasons to Live, which sees its official release through Garuda Music on April 1, 2016. Pre-order 100 Reasons to Live on iTunes.
Gareth has become familiar to a majority of electronic dance music (EDM) enthusiasts for his massively successful artist albums, Northern Lights, and Drive, with his latest, 100 Reasons to Live, coming soon. He's released noteworthy singles, such as: "Concrete Angel" feat. Christina Novelli; "U" feat. Bo Bruce; "Sanctuary" feat. Lucy Saunders; "On A Good Day (Metropolis)" with Above & Beyond; "Citadel;" "Too Dark Tonight" feat. Roxanne Emery; and "Lights & Thunder" feat. Krewella. The latest releases added to his repertoire are "CVNT5" with Ashley Wallbridge and "Reckless" feat. Wayward Daughter.
The Nocturnal Times sat down with Gareth Emery just hours before his Electric For Life event took place at the SLS South Beach. Emery's Miami Music Week pool party dominated Hyde Beach Club along with Arty, Ben Nicky, Cash Cash, Michael Woods, and special guest Ingrosso, among others.
THE NOCTURNAL TIMES: When did you get your start in electronic music and which came first for you — DJing or producing?
GARETH EMERY: I guess producing, you know, I've been doing music pretty much my whole life. I started playing piano when I was like 4 years old, and I did classical training and played in bands and stuff like that. I never really intended to make electronic a career. When I was like 21 and 22 I was playing guitar in a band and also making some outside records on the side and it just happened.  I got the record deal for an electronic track first, and fifteen years later we're still here. I guess DJing came later, I picked it up over the years.
100 Reasons To Live will be released in April, what was the inspiration behind the album title and social media posts? What can you share with us about your third studio album, which will be released on your Garuda Music imprint?
EMERY: It's just kind of an expressing of positivity, I guess. I kind of realized in the last two years that it is very easy to be kind of fucking miserable. You run into so many DJs and producers who are often pissed off because they're traveling all the time, they're tired, they're angry they didn't get on the right line up or their grey goose wasn't chilled to 35 degrees. There are times when I feel myself turning into that person, despite being successful I was always pissed off about stuff. I just realized it was an obnoxious, sucky way to live my life, so I decided to change and embrace gratitude and realize I'm pretty fucking lucky to be doing this as a job, making music and traveling the world, playing for people. It's such an incredibly fortunate thing to be doing. I also think the arrival of my daughter around a year ago definitely changed things as well, so I sought to make a record that was an expression of positivity and love of life. It was originally just called Reasons To Live but I thought it was kind of cool to have 100, so that's how it came about.
Which vocalists and producers did you work with on 100 Reasons To Live?
EMERY: Oh wow, I mean there's so many. Gavrielle from Los Angeles, there's Cloudline with Joseph who is another band that hasn't really done EDM. Christina Novelli, Wayward Daughter, and a couple of male vocals from Corey Sanders. Lawson, a big band from the UK. London Thor, who sings Hands, my single from last year. There's like nine or 10 vocal tracks on the album, and then there's collabs with Ben Gold and Ashley Wallbridge.
Which of your new tracks are you most excited to share with your fans?
EMERY: I've been really excited about "Reckless," the first single off 100 Reasons to Live, that one's doing really well. Also a song with Christina Novelli which I think is a really exciting track. People have been waiting for another trance track, like "Concrete Angel," and this is kind of the follow-up. There's a great variety of stuff on the album, it really covers a lot of different styles. There are a lot of strong songs, it's very musical, and I think everyone is going to have their own favorite, which is cool.
We love "Reckless." How did the track come together and how did you first team up with Wayward Daughter?
EMERY: I try to find vocalists who haven't really done electronic music before, that's what I like to do. Christina Novelli had never really done dance music before Concrete Angel, Bo Bruce hadn't before U. Wayward Daughter was touring with my sister, Roxanne, she was a live act herself like four or five years ago, and they had amazing voices, but knew nothing at all of electronic music. We sat down together and conversed and developed Reckless. I'm sure you'll be hearing them on a lot of electronic tracks in the future.
We know you are hosting Electric For Life Miami today. With such a stellar lineup, do you have any surprises in store for today's show?
EMERY: We've got a lot of amazing, flashing merchandise, Electric For Life (EFL) gear, and when it gets dark and we've reached the sunset part of the day, we're gonna get the whole crowd glowing. It's something we like to do at all of our EFL events, it's all about lighting up the crowd. Today is such an amazing line up. We've got Louie Vivet, Apek, Carl Nunes, Breathe Carolina, Michael Woods, Arty, Ben Nicky, Sebastian Ingrosso is our special guest, it's just a ridiculous line up, so I think with such big artists today, the music is going to be pretty special.
What do you envision for the near future of Garuda Music?
EMERY: You know, to be perfectly honest, I don't really want to be too involved on the label side going forward. I've been thinking about it a lot recently, and there's so many different things I'm involved in, whether it's my own music, EFL, and I have a few other projects going on, and I just kind of want to step away a little bit from the A&R side of Garuda. I've been releasing other people's music on my record label for like the last 12 years, and I enjoy it but I've done it a lot and it's time consuming, so I've been thinking about handing over the reigns to Garuda to the rest of the guys. My sister, Roxanne, will be a big part of it and there are some other talented people that work at the label, and just kind of step back a little and let them do their thing. They're really amazing at finding new music, they're always online listening to new vocals and new artists. To be honest, they're probably doing more than me, and I've been spending all my time in the studio doing my own stuff. So I'm going to take a little step back and see how it goes.
We know your daughter, Sansa, just celebrated her first birthday. Did Game of Thrones have an influence on you and your wife choosing the name Sansa?
EMERY: It totally did! I've loved the name since I heard it there, and when I looked up the meaning, I loved that as well. I said to my wife, Kat, I would love to name her Sansa, do you think that's stupid? And she was like, no I love that name, I loved it from the moment I heard it! We talked about it a lot, and we were kind of like, everyone's gonna say its from Game of Thrones, but at the end we just decided, fuck it we don't care, its a cool name and a good fit. The thing is, in like 5 to 10 years, it will just be a cool name, Game of Thrones probably won't be as big as it is now.
Who are your favorite characters from Game of Thrones?
EMERY: I really like Bronn, and it was kind of sad to see him step aside from recent shows. Jon Snow is another great character. It's weird with Game of Thrones, because all the characters are kind of equally good and bad. I don't think it's often black and white, which is what makes it such an amazing show.
So, what's the deal with these CVNT5?
EMERY: I don't know! They look kind of obnoxious to me! They're not something that I'm at all interested in. I did hear though, they did just release a really dope new track on Soundcloud with like DJ Khaled, somebody was telling me. I haven't heard it myself, but that's all I know!
Watch Gareth Emery & Ashley Wallbridge "CVNT5":

For more information on Gareth Emery, visit GarethEmery.com.
Gareth Emery is on Facebook, Twitter, and Instagram.
Photos courtesy of Gareth Emery's Facebook page