Steve Aoki Delivers My Chemical Romance Remix For "Welcome to the Black Parade" 10-Year Anniversary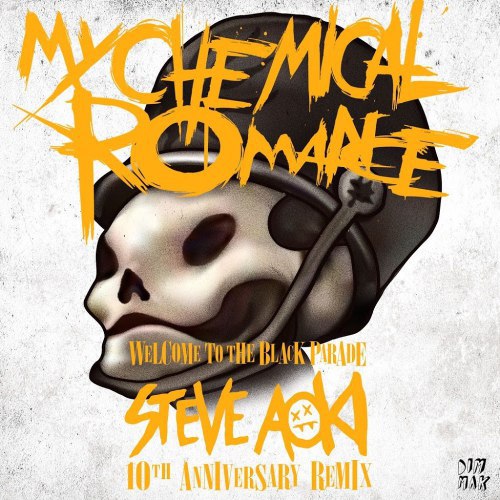 Emo fans rejoice: My Chemical Romance has received the Steve Aoki remix treatment celebrating the 10th anniversary of "Welcome to the Black Parade," out now via Dim Mak Records
Before the resurgence in dance music in the States, the millennial population was fixated on punk rock genre characterized as "emo." It's interesting to see how the culture has shifted, and to merge old and new, top ranking DJ and the master behind Dim Mak brand and label, Steve Aoki has teamed up with My Chemical Romance to breathe new life into their single "Welcome to the Black Parade," celebrating its 10th anniversary since its release in 2006.
Aoki adds his signature electronic spin to the classic recognizable vocals of My Chemical Romance's lead singer, Gerard Way. The anticipation and energy of this collaboration are amplified compare to a traditional release, where Aoki and Way are live-streaming a head-to-head battle in the multiplayer shooting game Overwatch on Twitch, the world's premier online portal for live gaming. The stream will take place on Aoki's birthday (November 30th), and to coincide with 'Giving Tuesday' this week, the victor will win $10,000 to donate to the charity of his choice. Adding a charitable element, and reaching the millennial target through a popular live gaming platform is a unique and respectable way to showcase this epic union of past and present.
Mixing rock and electronic music isn't new, its' the match up with sub genres like 'emo' which will appeal to a large fan base, mostly in a nostalgic manner. The popular record 'Welcome to the Black Parade', reached #1 on Billboard's Rock Albums chart in 2006 before receiving a Grammy nomination for its limited-edition box set. The LP went on to be certified Platinum and spawned the "Welcome to the Black Parade" single, which followed suit by selling over 1,000,000 copies. The track was eventually named one of the Rock and Roll Hall of Fame's 500 Songs That Shaped Rock and Roll, among other major accolades. This type of monumental track deserves to be celebrated on its' 10th anniversary in an epic way.
Most fans may not know that Steve Aoki's roots derive from punk music, with solid experience in remixing popular rock and roll songs, so the team up with My Chemical Romance is a great match. Back in August, he released a rework of Blink-182's classic "Bored to Death" before performing the track live on MTV's brand new Wonderland series. He has also worked alongside Linkin Park, Fall Out Boy, Rivers Cuomo of Weezer, and Luke Steele of Empire of the Sun. Aoki just celebrated the 20th Anniversary of his own iconic brand Dim Mak, by throwing official events in 20 global hotspots over the course of 2016. Be sure to check out the track yourself and relive your emo glory days!
My Chemical Romance (Steve Aoki 10th Anniversary Remix) is available HERE.