Secret Project Presents Carl Cox Hybrid Live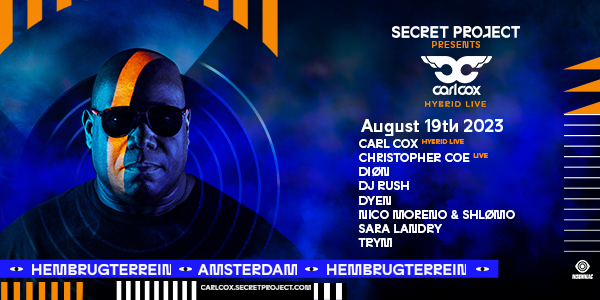 European people can be excited for a special treat. The one and only Carl Cox is coming to the Netherlands on August 19, 2023. The people behind Secret Project will bring the legendary Carl Cox for a special event to the capitol of dance music in the Netherlands.
Secret Project presents Carl Cox Hybrid Live. This Hybrid Live set from Carl Cox is a truly special event, exemplifying that true legends consistently work on their craft. Through the use of both software and hardware components to incorporate live elements into his DJ'ing, a dynamic night of sound is coming in hot. This night will see veteran Carl Cox and many of his friends like Christopher Coe, DJ Rush and many others behind the elusive turntables. One can be sure to see an on-the-fly performance using electronic music instruments. This will all take place on one main stage, in Hembrugterrein, Amsterdam.
Tickets for Secret Project presents Carl Cox Hybrid Live are available here.