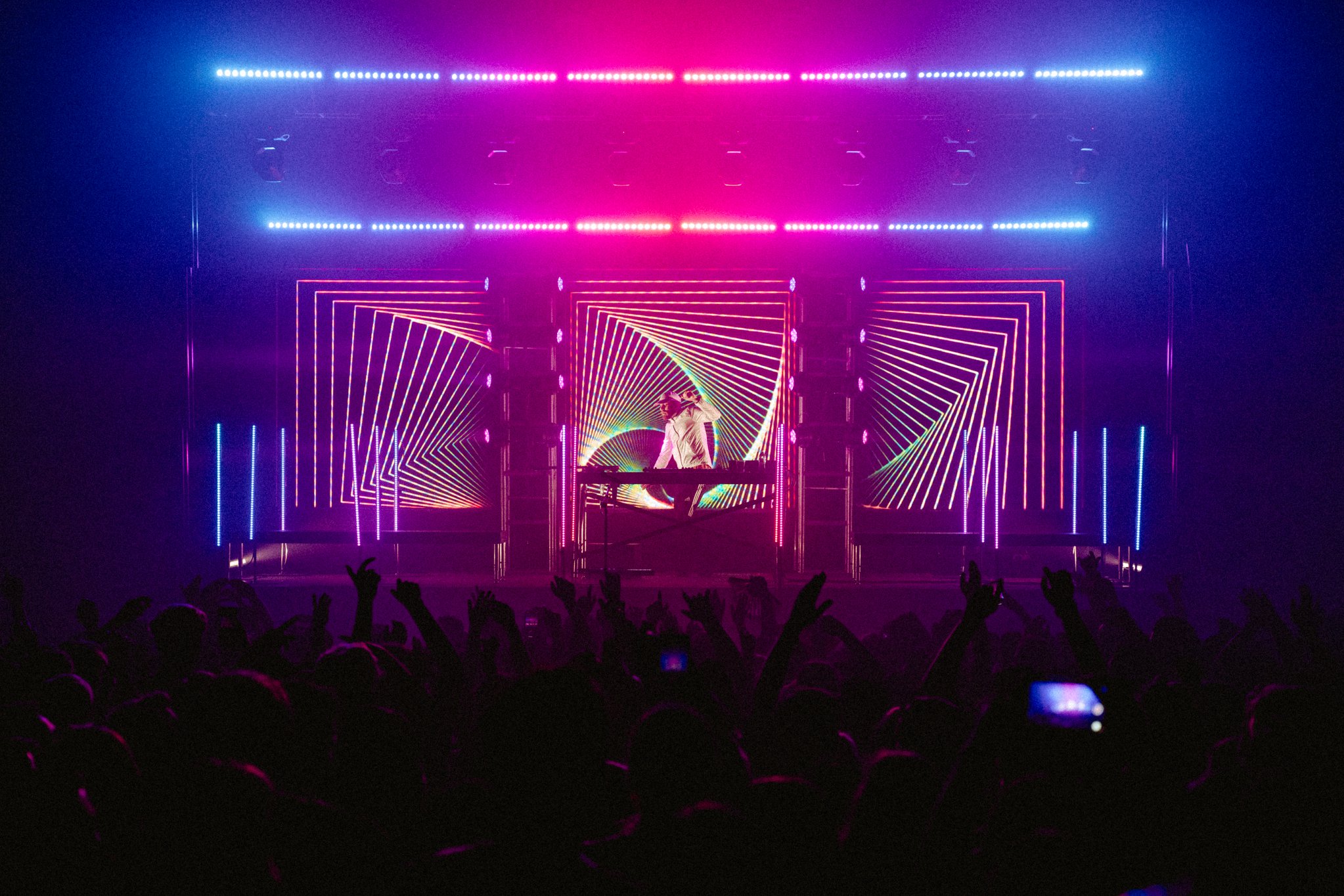 San Holo's Evolution Since 'album1,' Touring & New Projects Before His Set at Marquee NYC [Interview]
San Holo, also known as Sander van Dijck, is a Dutch DJ, producer, and co-founder of popular record label, bitbird, based in the Netherlands. Since album1 launched last September, the musician has reached many milestones in his career between a successful album1 tour in the United States along with an upcoming album1 tour in Europe this fall. Many fans have witnessed a creative transition take place with San Holo's music recently, and he continues to share his positivity by reminding us all to "stay vibrant" which is a simple message of spreading love and enjoying the present moment.
We had the chance to talk with San Holo before his set at Marquee NYC this past Saturday, August 10th, to discuss his adventures since album1, tour schedules, and impressive new projects which left us feeling (100% blessed). Since album1, he released a new single "Lost Lately" in June, and came out with the pure alternative version in July.
Between consistent shows and new music, San Holo is zooming at full speed ahead with a loyal fan base to support his creative fusion of organic and electronic sounds. His worldwide audience is looking forward to seeing what's next in the coming months.
Read The Nocturnal Times full Q&A with San Holo below:
Nocturnal Times You're playing Marquee NYC tonight and have had a busy tour schedule this past year! Are you excited to play tonight and are you looking forward to your next album1 tour in Europe?
San Holo: I dropped album1 a year ago in September and ever since then we've just been touring! I think the first 7 months were just a long tour schedule, but it's been amazing and beautiful. I wouldn't want it any different, even though it's been exhausting and tiring, it's been beautiful as well. Now, we're kind of off the album cycle and we're just doing these one-off shows like festivals, clubs, just to keep going. When I write music, I like to just write and sometimes when we can just go somewhere to a different city, I can get inspiration and go back to writing, so that's what I'm doing now. Tonight is Marquee New York! I do a lot of shows in Las Vegas too. My album1 tour shows are the most fun since I get to do 100% my own thing. What you see in live clubs, and I feel like DJs who are trying to do something new and creative would agree with me, is that you kind of have to play to a different crowd since it's a mix of people there to party along with my fans. It's always a challenge to please both groups haha, but it makes it fun!
Nocturnal Times: It sounds like your tour schedule is not slowing down and neither is your music creation. How have you seen your journey evolve since album1? What were some highlights, and how have these moments transferred over into your recent release, "Lost Lately?"
San Holo: "Lost Lately" was really about the constant touring cycle and feeling out of touch with everything that you first loved. First, I loved playing my music in front of people and at some point, because you have done it so much, you start to lose touch with what it was all about-the love for music. It becomes this routine which is very dangerous and then you lose the feeling. As far as the highlights, we sold out Terminal 5 in New York which was one of my favorite shows! I never expected it to sell out or just sell so many tickets in general on this tour. When I started the San Holo thing, I never thought it'd be like this!
Nocturnal Times: That's amazing how successful your tour has become and the creative direction that you have taken with your music. You play guitar live now in your typical album1 set. How have you seen your live performances change, and did you receive a lot of support from the start?
San Holo: I've always been a guitar player, I started on it about 15 years ago. I stopped it when I got bored of it and I started doing electronic music. Then, at some point electronic music didn't do it for me anymore just the same with what happened with guitar. Back then, what I started doing with "We Rise" was fun, but it didn't inspire me anymore, so I decided to bring back the guitar and create something new. album1 really showcased this, there's a lot of guitar in there, which was kind of scary because it's not really an "EDM" kind of instrument. For a long time, I made a lot of videos explaining what I wanted to do and people really embraced it. I feel like it's only the beginning of a bigger merge between the guitar indie world and the EDM world.
Nocturnal Times: You also just teamed up with Cymatics to release the project, "Vibrance." What can you tell us about the inspiration that went into creating that sample pack?
San Holo: I dedicated a lot of my time into sounds. Sounds have always been the motivator. Sounds can make me sad or happy. I am very specific about sounds and they have to make complete sense with my emotions. We thought that there's a lot of sample packs out there, but you don't have the sample packs that incorporate so many organic elements. I added a lot of electronic sounds, but also a lot of organic sounds. There's real violins and real guitars that I all played, as well as real drums that we recorded in the studio as opposed to digital samples. The pack features digital and organic worlds, which is San Holo in the end.
Nocturnal Times: Moving forward, do you think you are going to continue to grow your sound or continue to work on the sound you have built so far?
San Holo: If it were up to me, I think I would start like 6 side projects right now. There's so much stuff I want to do. I am more interested in finding a way to build something for the San Holo project that allows me to do something all under the same name. It's very complicated, and the truth is I love acoustic guitar songs, but I also have this history now of electronic music that I have to combine to make sense of things. I am excited about it, and I want to keep breaking the boundaries. I just have to be careful to not try and do it too fast or put out anything too different. A lot of things are attached to it, such as my shows and where I play, so everything is intertwined. A lot of DJs dedicate their life to the EDM scene, but I have never been that EDM guy. It's not about house, dubstep, or Future Bass, it could be about anything. I just hear music as music, but I know that not everyone hears it that way, so I have to keep my audience in mind. This is the most complicated thing of it all, to not lose yourself while pleasing people. In the end, I want to tell my story, but on the other hand, if my story doesn't make sense to anyone, then why am I telling it. I always have to find that middle ground.