The Nocturnal Times Exclusive Interview: Sweater Beats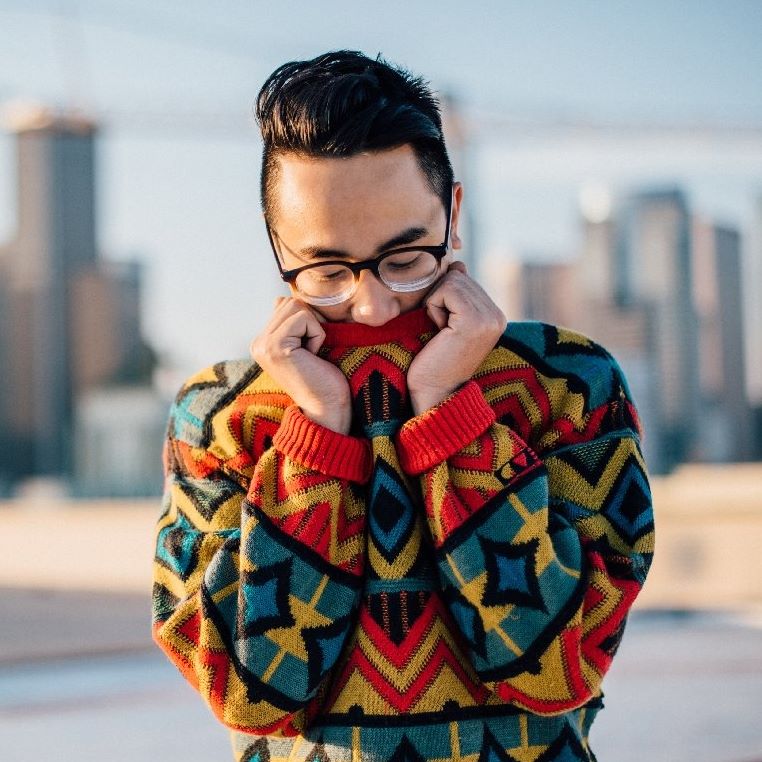 We sat down with Sweater Beats ahead of his tour stop at Venue 578 in Orlando for an exclusive interview
Sweater Beats stopped in Orlando, Florida last Thursday marking almost the halfway point in his North American tour. The artist played a packed show downtown and definitely brought his A-game with him. The show was reminiscent of an old fashioned "one man band" as the talented artist skillfully played keyboard, electric drums, and guitar all while DJing his own original music. The musician has no lack of expertise when it comes to the individual instruments, and all together it created a soulful, jam-worthy performance. The best part of the show was undoubtedly the artist's enthusiasm.
It was impossible to not dance along and smile, if not for the music itself, then for the pure love that Sweater Beats has for playing his music to eager and excited fans. The producer played several of his newest singles including "Did You Wrong" featuring MAX as well as "Better" featuring Nicole Millar and Imad Royal. These tracks were definitely highlights of the evening as everyone in the crowd sang along and danced to the catchy lyrics. Altogether Sweater Beats put on an excellent show and continues to prove his expertise and artistic talent as an up and coming musician.
We sat down with Sweater Beats ahead of his set at Venue 578 to talk about how he got his start in electronic music, his new single, and where he sees himself five years from now. Read our full exclusive interview with Antonio Cuna, better known as Sweater Beats.
The Nocturnal Times: What initially caused you to pursue producing electronic music, and how long have you been doing so?
Sweater Beats: I guess long story short, I grew up in bands and always wanted to make music, but come college time all my friends moved out of state and I didn't have anyone to jam with. So I started making beats on the computer, I didn't have a drummer so I made my own beats, and played guitar over it. The production stuff snowballed from there; I discovered electronic music, which I had never heard before. It was strictly a hobby but I think after putting stuff up on SoundCloud things started picking up from there.
The Nocturnal Times: How was the name Sweater Beats originated and what is the significance behind it?
Sweater Beats: When I started making those really shitty beats when I first started out; I went by 'I Sweat Everybody'. When I started taking it more seriously I shortened it to Sweaters, but you couldn't really Google me, so I added Beats to it.
The Nocturnal Times: You are currently on your North American "For The Cold" tour, and this is your first time playing live while traveling. What made you decide to incorporate the live element into your performances? 
Sweater Beats: I think I just missed the days of being in bands and shredding a guitar, and that emotion you get when you actually play something. I wanted to try it out. This whole set is 100% Sweater Beats, and I'm playing along with it. I just wanted to try something different.
The Nocturnal Times: What has been your favorite part of getting to play across the states and Canada at what is soon to be over 30 different venues?
Sweater Beats: My favorite part is the scenery I think. We drive so much. There are parts of America that I've never been to and it's really cool to stop in there and play shows for fans that I didn't even know existed.
The Nocturnal Times: Can you tell us about the inspiration behind your newest EP with Big Beat Records, "For The Cold"?
Sweater Beats: My biggest inspiration was just to break out of the beat scene, of my SoundCloud stuff, and go more pop music oriented. I really just wanted to inflect my style on pop music and make stuff that I'd love to hear on the radio.  Make songs instead of beats, essentially.
The Nocturnal Times: How was the experience working with the very talented MAX for your newest single "Did You Wrong"?
Sweater Beats: MAX is a character; I love the dude to death. He's the man, nicest dude ever. Our first session together was when we were recording "Did You Wrong" and something just clicked, we got along right away. I think he's just like that with everybody but we kept in touch afterwards and I'm sure we will be making more stuff. We also go bowling together on Thursdays. We have bowling nights.
The Nocturnal Times: Where do you draw most of your inspiration from when producing new music?
Sweater Beats: What I hear on Spotify to be honest. I like to see what's out there and just start digging deeper and hearing as much music as I can. Also cool sounds. I start music just from hearing one cool sample.
The Nocturnal Times: How does it feel to have tens of millions of people listening to your music across the world? 
Sweater Beats: It's the best feeling in the world to have something that you created enjoyed by other people. I just want to keep doing it forever and ever.
The Nocturnal Times: Are there any big plans for the near future that you'd like to share with us?
Sweater Beats: Next year touring Australia and Asia, to make more music with Big Beat Records, and just keep growing from there.
The Nocturnal Times: Where do you see yourself in regards to music in the next five years?
Sweater Beats: I'm just going to tour as much as I can, make music, make singles. But at the end of the day I want to be like Pharrell or Timbaland, and just be in the studio all day everyday. Have the most talented people come in and say 'let's make music together' and I could do that until the day I die.
For more information, visit sweaterbeats.com. Follow Sweater Beats on Facebook, Twitter, and Instagram.