Marshmello Brought The Ritual Tour to New York With Ghastly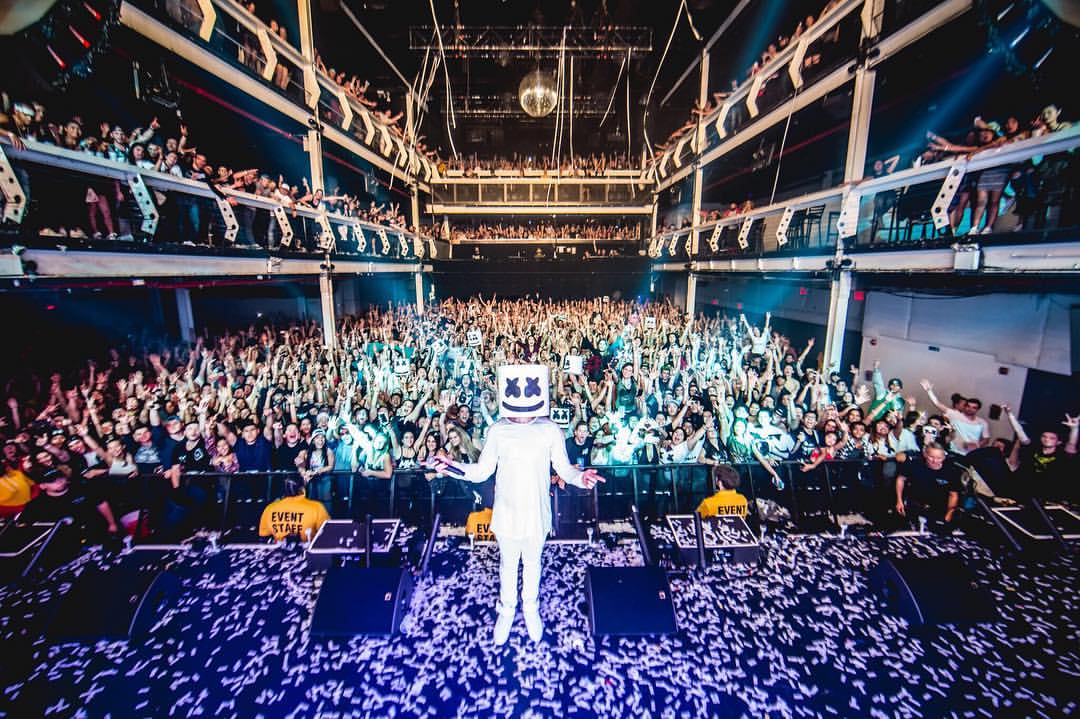 What happens when a marshmallow and a ghost decide to put on a concert at one of NYC's top music venues? Something totally sweet, thrilling, and epic would be the best way to describe Marshmello and Ghastly's Terminal 5 event last Friday, Nov. 18th.
Marshmello has created an EDM movement that remains unrivaled in recent years. His original "happy trap" sound has attracted music enthusiasts from all over the world and support from superstar DJs such as Skrillex, DJ Snake, Dillon Francis, Ookay, and many more. It's been a big year for Mello with the release of his album, "Joytime," in January and loads of new music that was just released within the last couple of months. So far, Marshmello's Ritual Tour has received much love and success as he recently sold out three nights in a row at The Shrine in Los Angeles. Not only did he bring his best DJ friends to grace the stage at his side, but he successfully managed to pull off an epic mannequin challenge involving the entire crowd. As the video went viral, the anticipation for his NYC event quickly grew, especially since Ghastly would be accompanying him for the show.
Ghastly has proven himself to be a rising force in the EDM industry as he continues to score on major labels,  play the hottest clubs, and serenade thousands at the world's biggest festivals with his eclectic sound. His music has no genre and no boundaries, making him an extremely unique artist that has quickly attracted a large fan base that is rapidly growing. Although he is a newcomer to OWSLA, Skrillex's huge record label, he has managed to stick out amongst some of the best DJs in the game. With so much love and support, his NYC appearance was sure to be a must-see event.
Able to hold a capacity of 3,000 people, Terminal 5 was completely sold out and packed wall-to-walk with the most dedicated members of NYC's Mellogang. Ghastly kicked off the night at 10 PM. His set encompassed multiple genres of music including hip hop, trap, dubstep and rock. A major highlight of the night was his track "Ghosts N' Sharks," a collab with his good friend, Jauz. His background in rock shined through as he dropped remixes of the famous rock songs, "Last Resort," and "Let The Bodies Hit The Floor." Ghastly's remix of the Chainsmoker's "Don't Let Me Down," and "Bitch You Guessed It," were also major crowd pleasers. Finally, he had the whole venue singing along in unison to none other than, "Because I Got High," as he ended his set.
At promptly 11:15 the mysterious, masked mello-bandit jumped behind the decks, immediately kicking off his set with his famous mashup of "KnOw ME," into "FinD Me."  All three floors of the venue, littered with homemade Marshmello helmets and Mellogang gear, exploded as fans chanted the words to his tracks. The crowd bounced to his remixes of "Flash Funk," "Where Are Ü Now," "Take You There," and "Oops," and sang their hearts out to his popular remix of Ann Marie's "Alarm," Third Party's remix of "Other Side," and "Keep it Mello." Kendrick Lamar's "m.A.A.D City," Mello's remix of "Work," and Ookay's "Theif," hyped the crowd to a new level. As it neared 1 AM, it was no surprise that he would close the night with his newest hit song "Ritual," Mello's favorite song that he's ever made. With their hands raised in the air and eyes closed, everyone sang along the heart felt song as Mello danced across the front of the stage.
Marshmello and Ghastly put on a show that NYC won't soon forget and we can only hope for their speedy return.
For more information visit www.marshmellomusic.com. Follow Marshmello on Facebook, Twitter, and Instagram.