The Nocturnal Times Exclusive Interview: Matoma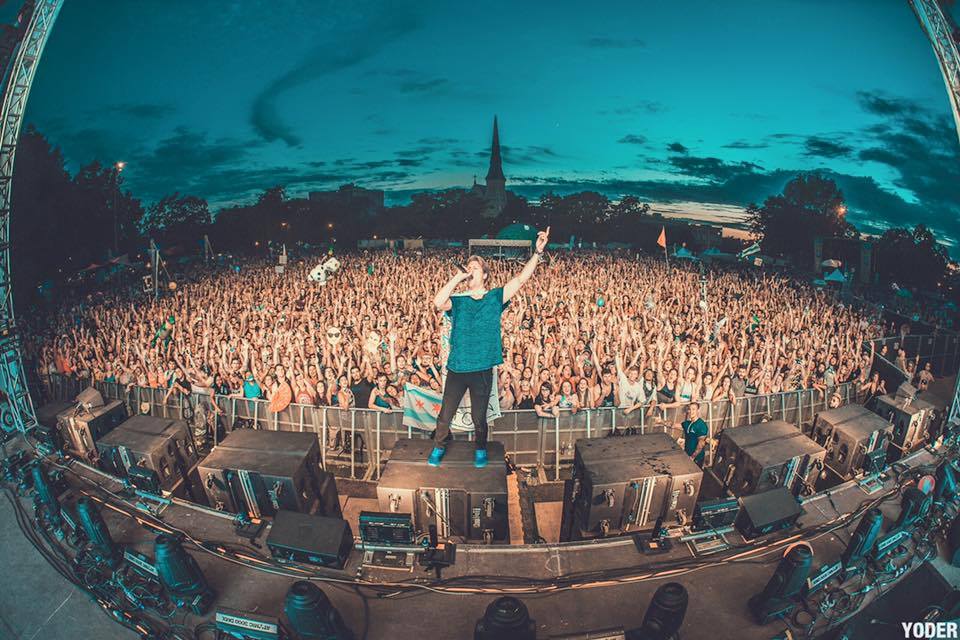 We caught up with electronic breakout sensation Matoma moments before his Electric Zoo NY debut
As cool, calm, and inspiring as his musical creations, Matoma took some time out of his hectic schedule to sit down with The Nocturnal Times just before his festival set in New York last weekend. Electric Zoo made its return to Randall's Island for its eighth installment and Wild Island themed edition. One of the festival highlights? Matoma at the Hilltop.
The humbled music fan possesses a strong passion for artistry and the music itself. As a fan of all different genres and styles of music (not only EDM), Tom Stræte Lagergren—known by fans as Matoma—finds inspiration from various forms of music. One thing's for certain when it comes to Matoma: It's all about the music!
From his recently released Hakuna Matoma album, which was uniquely released as a continuously updated playlist, to his latest single "False Alarm" with Becky Hill, the powerhouse is preparing for his very own bus tour. The Matoma Party At Your Place Fall Tour 2016 kicks off Sept. 15th in Philadelphia and wraps up on Oct. 22nd in Vancouver. The supporting acts joining Matoma on his tour include Cheat Codes, Steve James, Steve Void, and BAYNK.
This year's Hilltop stage saw a transformation which resulted in a Crystal Cave display. Following our discussion with the 26-year-old Norwegian DJ and producer, he took center stage in the Cave where he witnessed the wild animal crowd with their hands-in-the-air from start-to-finish. We concurred: What better way to close out the summer than with a tropical-inspired, multi-genre experience from Matoma at EZoo?
The Nocturnal Times: You mentioned that you just came from Ibiza. How is Ibiza? We would love the chance to visit one day!
Matoma: Oh, it was amazing! I had a pina colada on the beach with my girlfriend and then changed for my gig with Steve Angello at Ushuaia Ibiza. Next thing you know, we're flying to New York for Electric Zoo! I've been sight seeing the whole week, actually. We've been roaming all over Manhattan, visiting places like the Empire State Building—and I'm scared of heights! We even went to Staten Island!
The Nocturnal Times: Wow, Staten Island! What made you venture off to Staten Island?
Matoma: Well, we actually ended up there by accident. Have you ever taken the Staten Island Ferry? We accidentally got on the wrong ferry. We thought the ferry that we were taking was for the Statue of Liberty, but we ended up in Staten Island. It was actually cool. We walked around for about an hour and then we took the SI Ferry back. After that we walked to the World Trade Center.
The Nocturnal Times: Was this your first time visiting New York?
Matoma: Actually, this was my third or fourth time visiting. I've been here before, but it was only for a day or two. I've played at Webster Hall a few times, it was sold out a few times. I also played at the Billboard Hot 100 Festival in 2015.
The Nocturnal Times: How and when did you first begin exploring dance music?
Matoma: I started writing music when I was 14 on the piano, but producing I started when I was 16 or 17. During the summer, I had a job mowing the lawn for older people in my hometown, but I made a lot of money. After that I bought myself a computer, a sound card, and speakers. I did that for fun for a couple of years and then after that I went into the Army. I also received my bachelor's degree in music production. During my bachelor's, I was tired of studying all the time. So, in my spare time, I started remixing and producing and releasing on SoundCloud.
The Nocturnal Times: Do you prefer one over the other? DJing or producing?
Matoma: Well, I just love music! I like jamming; I like playing; I like producing all different kinds of music.
The Nocturnal Times: You incorporate many different styles and genres into your sets, mashup's, and remixes. Do you have a musical preference?
Matoma: Dance music is my favorite. But, I love rock, classical, film music, and so many other styles. I really do love it all!
The Nocturnal Times: Who are some of your favorite artists?
Matoma: I really love Michael Jackson. I also love Earth Wind and Fire, Foo Fighters, Up In Flames (the Swedish metal band)…I love a lot of different things [laughs].
The Nocturnal Times: Do you have any routines you carry out in the studio?
Matoma: SPREAD THE LOVE! Good energy in the studio is what it's all about. I think that a lot of people in the music industry today are too serious and they're very business orientated. I'm very much about the music. Whenever I go into a studio session, I go in with the idea that I'm going to have fun, not that I'm going in to make a hit. My mentality is go into the studio and make fun, good music. Don't rush the process. I probably have about 190 demos just sitting on my computer, and the labels thought a few of them were hits. I mean, to me, it was still so much fun making them that it's a learning process. Maybe I discovered a new song, or maybe I can incorporate that into an upcoming project. There's so much to experience and develop.
The Nocturnal Times: What was the inspiration behind your unique Hakuna Matoma album?
Matoma: I remember when I signed to Atlantic, we talked about having a new platform where it was different for electronic artists to release their material. This may not necessarily work for artists who have chapters in their career. Take Adele for example, she's [chronicled] her career with albums like 19, 21, 25. These were chapters in her career as an artist. For me, as an electronic producer it's a little bit different. For example, a few days before I played Coachella I went into the studio with Sean Paul because we had a session together. At that time, I didn't know what was going to come from the session, but we ended up having a great, great tropical-vibe track that was the perfect fit for Coachella. We wanted to have a moment at Coachella where we could release it and have Sean Paul perform it. We actually released it the same day so that people could listen to it the same day just as soon as they got home. That's where the concept of the album originated, so that people can have access to the new music immediately and constantly. All they have to do is subscribe to the album as a playlist. Once you log onto Spotify or iTunes, you can get a notification whenever I update the album playlist and release a new song.
Subscribe to Matoma's Hakuna Matoma album on Spotify, here:

The Nocturnal Times: Do you have future plans to release an artist album?
Matoma: Of course! When I feel it's time to wrap up the Hakuna Matoma album, I'm going to probably release the album in physical form. Maybe it'll be two CDs, with bonus tracks and music that I've been working on when I'm on the road.
The Nocturnal Times: You've recently released "False Alarm" with Becky Hill—with a brand new music video. How did you first get together with Becky?
Matoma: My manager knew about Becky Hill from the UK with an amazing voice. The passion and crispiness in her voice really gets you!
The Nocturnal Times: You're about to kick off you're Matoma Party At Your Place Fall Bus Tour. What can you share about the upcoming tour and your current string of dates?
Matoma: Well, I'm playing a bunch of shows before I start my own tour. I'm playing a bunch of festivals and things like that before my first bus tour. The concept is that I'm coming to your place and let's have a party!
The Nocturnal Times: Do you have any rituals when you're on tour?
Matoma: Literally all about having a good vibe! Life is too short to be serious. Of course, you have to follow your heart and be true to yourself, but be sure to always treat all persons with respect. You and I have the same morals and values in life, we are equal. You have your life and I have my life, but we are equals in it. So that doesn't change anything. Whenever I go on tour, I love interacting with people and getting inspired by them. Coming here has inspired me to want to go home to Norway for a bit to see my family. I'm a big family guy, very family-oriented. All of my friends know that I love to interact with people. It's hard in Norway though right now because when I'm in Norway I have to be Matoma. It's nice to have the support and encouragement from my fans and people around me—especially the locals. But it's also nice to just be Tom! Don't get me wrong, I love to party, but I also love to play basketball and things like that.
The Nocturnal Times: Well, how long have you been pursuing music professionally?
Matoma: About three years. I was a student DJ, while getting my bachelor's degree before I started DJing professionally.
The Nocturnal Times: Where do you see yourself five years from now?
Matoma: I hope to be where I am today! I always want to be developing and building, but all of the accomplishments I have are already so huge that I couldn't even ask for anything more. I'm living a dream life where I get to do what I love to do. From here I just want to keep building and stay true to myself. I have such a hardcore, supportive fan base, that without them there would be no Matoma, and I really appreciate them. Hopefully I'll still be around five years from now with the music industry progressing the way it is. There are so many new talents out there to discover, every single day.
Electric Zoo Festival's Evolution Continued in New York With Wild Island Edition
For more about Matoma, visit matomamusic.com.
Matoma is on Facebook, Twitter, and Instagram.
Photos courtesy of Matoma's official Facebook