The Nocturnal Times Exclusive Interview: Andrew Rayel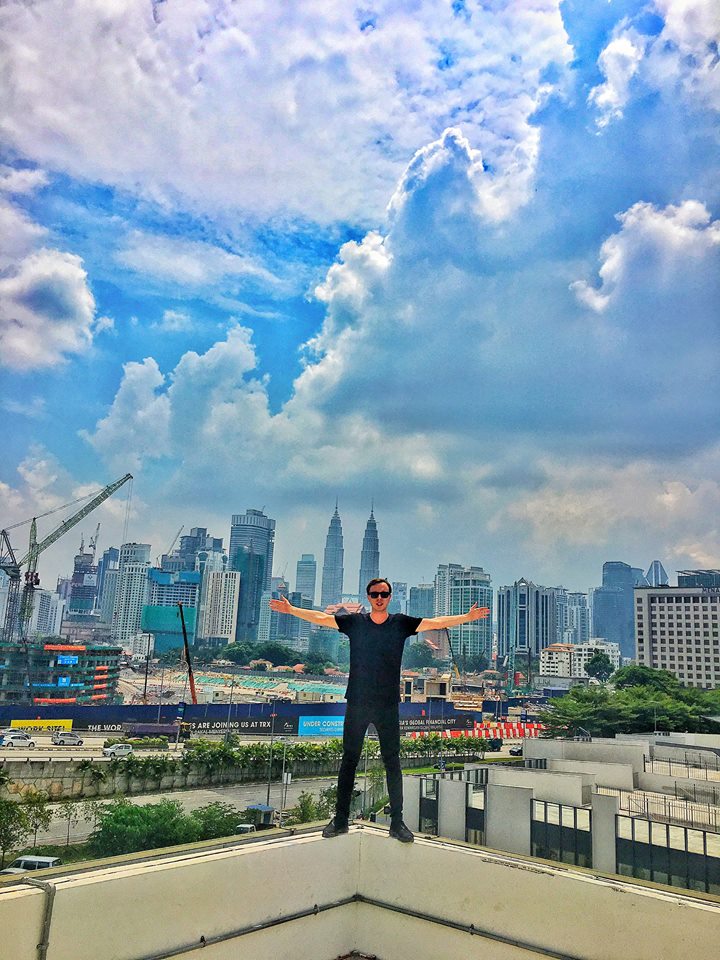 We sat down with Armada Music's Andrew Rayel as he was preparing for his Electric Zoo set in New York
On the third and final day of the Electric Zoo 2016, Andrew Rayel prepared for his first-ever set at the buzz-worthy New York festival—and it was a main stage performance. Taking his place behind the decks of the Temple of the Cobra main stage at 5 p.m., Rayel's one-hour showcase included some of his own productions and some festival-ready edits.
Andrew kicked things off at EZoo with a former single release, "Once In A Lifetime Love" feat. Kristina Atuna, from his forthcoming LP, with NLW "Home." Rayel also included his own 2016 release, "Epiphany," Mark Sixma's remix of "Exploration of Space" by Cosmic Gate, and a closing with Kaskade's remix of Galantis' "Runaway (U & I)."
The trance titan pinned mashup king played his own mashups at the Wild Island main stage, including The White Stripes "Seven Nation Army" with Dimitri Vegas & Like Mike vs W&W "Arcade," and his own "Daylight" feat. Jonny Rose with Tove Lo "Habits."
During our exclusive interview with Andrew Rayel in early September, he revealed that he was working on finishing tracks for his upcoming studio album, the follow-up to the acclaimed "Find Your Harmony" album. What seemed like moments later, Andrew was premiering one of the album tracks for the very first time during his very own Electric Zoo debut.
The Nocturnal Times: Since we last spoke earlier this year, a lot has happened for you. We're going to begin by asking you about Armin van Buuren, which we're sure you get asked a lot. You were called upon by Armin to remix the title track from his album, "Embrace," as well as his new Rising Star track, "Again" feat. Betsie Larkin. Does Armin usually call you to work on remixes for him or because you're one of Armada's biggest producers, does the label request your remix?
Andrew Rayel: Well, for "Embrace," Armin asked me to do a remix because, as he always does, he was doing a remix album for his studio album, Embrace. I think everyone is doing the same these days. It makes sense to remix your original material and do an album with those remixes. He obviously chooses the best of the best to remix his tracks. For "Embrace," I was honored to remix the main track—the main theme behind the album. I did the same thing for him with "Intense." Yeah, he asked me himself if I would do the remix. I was happy to do it because it's one of those tracks that is classically oriented. It has the classical melody, trumpets, and piano strings—I like that. With his track "Again" with Betsie Larkin as Rising Star, it happened again. Spontaneously, when he released the track, I fell in love with the vocals on the track and then asked him if he would send me the vocals from the track. With the vocals I originally intended on doing a mashup or something because I really liked the vocals. As I started working on that mashup, I started throwing things on top of it and putting loops in. I thought after a couple of days that I should probably do a remix. So, after about three days, by myself, without anybody asking me or telling me—because I felt it was right for me and I was wired by the vocals and the melodies—I did my very own remix of it. After that happened, I sent it back to [Armin] and he said, "Hey, I thought you said you were going to do a mashup?" But, he absolutely loved it and said he definitely wanted to release it. It was actually perfectly timed—completely by accident because we didn't discuss the track release date—with the release of the track. Everything worked out perfectly, I really like it!
The Nocturnal Times: Is the process different for you or do you feel more pressure when you know you're working on a remix or collaboration with a DJ as big as Armin van Buuren?
Rayel: No, I don't think it's different or that I feel more pressure because of the name. If anything, it's different because of the song. If I feel that the song is very good and there's nothing that I can really change in it to make it better—which is the whole point of remixing a track for me—to take it and make it my own, my point of view. I want to make it better and give it a different flow and different vibe. The vibe is different when a track is super good and I love it so much that I get a little bit scared about doing something even better than the original one. When the track is a little bit weaker, it's easier to top an original mix.
The Nocturnal Times: Do you keep alternative versions of your released tracks and remixes in your song bank? Would you ever go back and play an alternate drop on a familiar track?
Rayel: I would say I do usually create different versions of tracks and then I test them before I release them, sure. You might have them at some point in a live broadcast, but then once I release it, it's completely different. It's probably because I wasn't totally happy with that version so I changed something in it before I released it. It could mean that I've road-tested it and decided something should be different. If you take a look at my recent collaboration with KhoMha, "All Systems Down," the version that I played during Ultra Music Festival in Miami is different from the one that was released.
The Nocturnal Times: Was the first time you played "All Systems Down" with KhoMha in Miami?
Rayel: Yes, the first time I played our collab was in Miami. Actually, the day before, KhoMha sent me the vocals—because he's the creator of the vocals—and I fell in love with the track instantly. I let him know I needed to do something with the track for my Ultra set. So, three hours before my flight to Miami, I started doing it and created a basic demo, pretty much with the same drops from the final version. In those three hours, I replicated them pretty well even though I left them for the final version. The break was completely different on that version, though. If you listen to the song from the Ultra set, it's completely different from the final version.
The Nocturnal Times: Did you and KhoMha know before Miami that you wanted to release "All Systems Down" together as a collaboration?
Rayel: It was actually very quick! When I get excited about something, I really don't care. There's always people calling me—managers, agents—asking me, "Why did you play that when you know you're not supposed to?" or "You know you're supposed to ask before you play new music!" It's new music! I want to play new music; I have to play new music! KhoMha did the same exact thing! We both agreed in Miami that we were going to play it. We both wanted to play it and we decided just before we went on that we were both going to play it. It was a three second deal. Of course there's always those [on the business end] that are upset when that happens because of what goes into releasing a song behind the scenes. There's the marketing plans and things like that, but I just want to make and play my new music!
The Nocturnal Times: Do you ever go back into your unreleased material or incomplete projects and decide to work on them again or use pieces of those in your live sets?
Rayel: No, I don't really like to do things like that. Maybe sometimes it happens, but I usually don't like to do that. Once I'm done with one of my tracks I don't usually go back to it. I spend so much time on one of my tracks in the creating process that I can easily get tired of it and I don't want that to happen. It has to keep going. Some people have that problem where they don't know when a track or a remix is finished. They'll work on the same project, they'll go back and change things, and they'll get stuck with it. I've learned years ago that you have to just do it, while you're in the moment, and then send it. If your manager or label likes it, then you release it. If not, then you just go ahead and start working on the next one. You don't have to go back and work on the old projects and try to remake it because it usually doesn't work. As soon as you're moving, you're also evolving.
The Nocturnal Times: In what ways would you say your classical training has an influence on your studio sessions?
Rayel: Massively. I have people who are great producers and they tell me that they spend way more time on creating melodies that I do. Just because some people who have melodies in their head, it may take them a longer time to bring those melodies to life and put the notes on the keyboard. For me, it's very easy because I was trained to do so. As soon as I have something in my mind, I can play it on the keyboard right away. That makes my studio process way easier and way faster. I'm constantly learning—even on the classical and theoretical side—ways to make the process faster and easier for me.
The Nocturnal Times: So far this year you've released vocal tracks "Winterburn" with Digital X feat. Sylvia Tosun and "Once In A Lifetime Love" feat. Kristina Antuna. Will these be on your upcoming album?
Rayel: Well, that's what I'm working on right now—my upcoming album. I have all of September off so that I can go into the studio and finish up working on the album. Right now, it's still going on, it's still in the creative phases and I'm still working on it. I'm really excited about it and I think it's going to end up being way better than the first one because there are so many great vocalists, ideas, and new music. The only show that I have in September this year is Electric Zoo.
The Nocturnal Times: What made you decide to take this one gig at Electric Zoo this month?
Rayel: Well, I've heard so much about Electric Zoo Festival before in the past. And it's all good things, so when they asked me to play—for me it's a pretty special event—I said okay I'll play EZoo, but that's the only show I'm gonna play in September so that I can focus on the album. I landed two hours and I'm leaving in a couple of hours so I can go back home, get into the studio, and finish my album.
The Nocturnal Times: Do you have anything special in store for the EZoo Wild Island crowd today during your set? Will you play any new music today from the album?
Rayel: I can say that I'm definitely gonna play something new, from the new album today during my set—even though I'm not really allowed to. Today we were just having this discussion at the hotel and it came down to: Should I or should I not?
The Nocturnal Times: Is your set being recorded today?
Rayel: Yes, they're recording the set but, I'm going to probably end up just playing it anyway. I have to play at least ONE of the new songs.
Listen to Andrew Rayel's set live from Electric Zoo 2016's Temple of the Cobra main stage:

The Nocturnal Times: What's coming up for Andrew Rayel in the remainder of 2016 that you'd like to share with your fans and readers of The Nocturnal Times?
Rayel: Just be sure to keep up with me on my social media because some great stuff is coming up. The album will likely be released in the beginning of 2017. I'll keep premiering new music during the rest of the sets I play this year. My fans should be surprised because I've got a lot of big names and big vocalists on this project and I'm really excited; it's really great.
Electric Zoo Festival's Evolution Continued in New York With Wild Island Edition
For more about Andrew Rayel, visit andrewrayel.com.