The Nocturnal Times Exclusive Interview: Shaun Frank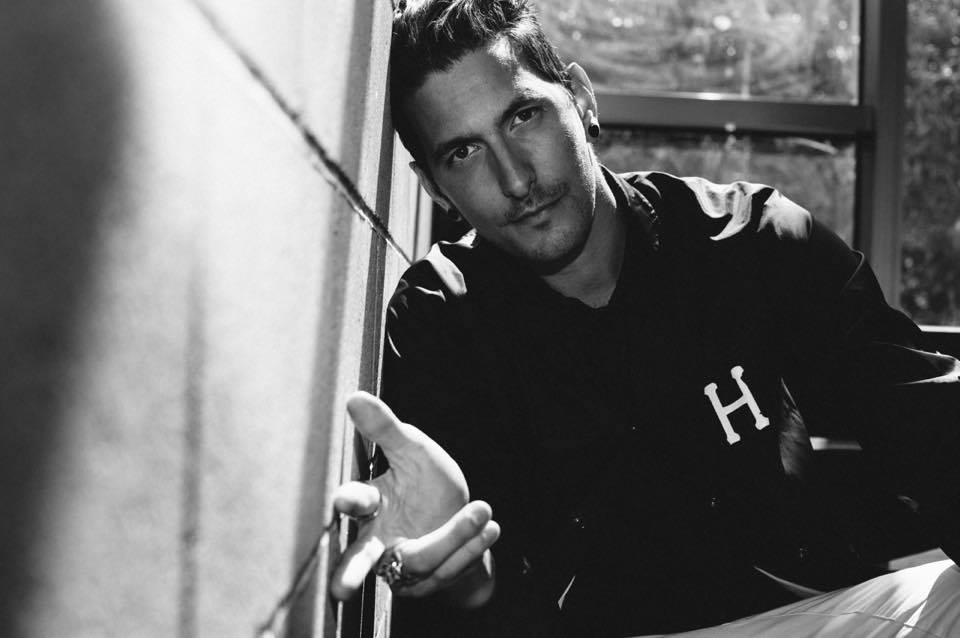 Following his DJ set at Electric Zoo Festival, Shaun Frank sat down with The Nocturnal Times for an exclusive interview
It was the first night (Fri., Sept. 2nd) of Electric Zoo Festival's Wild Island edition at New York's Randall's Island Park this Labor Day Weekend when we sat down with the multifaceted musical talent, Shaun Frank. Seamlessly fitting the role of singer, songwriter, producer, and DJ, Shaun Frank is a multi-talent who's only just getting started.
Already making waves in the music community, Shaun Frank has been touring alongside one of EDM's hottest acts at the moment, The Chainsmokers. After recently wrapping up a gig with Alex and Drew at Red Rocks in Colorado on Sept. 1, Shaun Frank revealed insight into the duo's latest single, "Closer." The Chainsmokers newest hit, "Closer" feat. Halsey, which also includes vocals from the group's Drew Taggart—has already reached #1 on the Billboard Hot 100 chart. As a co-writer of "Closer," Shaun Frank revealed how the track came together on a tour bus along with Louis The Child.
We got the scoop from Shaun Frank about how he got his start in electronic music, his songwriting process, studio sessions, touring with The Chainsmokers, working with Steve Aoki, and where he hopes to be five years from now in this Nocturnal Times exclusive.
THE NOCTURNAL TIMES: HOW DID YOU FIRST BEGIN EXPLORING DANCE MUSIC?
SHAUN FRANK: I started out as a singer, actually. I was playing in bands and there were a few artists asking for my vocals. So, I started going out and performing when I realized how much I was really enjoying the dance community, the live shows, and the festivals more than I was enjoying playing with my band. That's when I decided if I was going to keep doing this then I should probably start DJing. I had already been producing all of the music so that was just my entry point.
THE NOCTURNAL TIMES: WHAT WAS THE FIRST TRACK THAT YOU EVER SANG ON?
SF: There was a track called "We Are" that was released on Armada Music, which was kind of a big one. Then I did another one called "Unbreakable," which was a big one in Spain. My first real record that I did in dance music was probably a club cover. I started doing covers of popular songs and re-recording vocals over the instrumentals. I did one for Coldplay, The Neighborhood, and John Newman. So that for me was the beginning.
DID YOUR UPBRINGING OR HOMETOWN HAVE AN IMPACT ON YOUR DECISION TO PURSUE A CAREER IN MUSIC?
SF: Music for sure! I'm from Vancouver and my mom played every instrument. I was put in music school when I was very young. I play piano, guitars, drums, and bass. My family definitely had a big influence. My uncle was a composer for film and television, too. So those things definitely impacted my decision; it was definitely in my blood.
WHAT DO YOU RECALL ABOUT ONE OF THE FIRST SONGS THAT YOU WROTE?
SF: I think I wrote my first song when I was 12 years old. I was in this ska punk band and I really don't remember too much about the records, but I remember I loved writing the words. Even now, I still write all the vocals, even when it's with another vocalist from one of my tracks.
WHICH OF YOUR WRITTEN TRACKS FIRST MADE YOU FEEL MOST PROUD DUE TO ITS SUCCESS?
SF: I had a couple with my band, but with this project I would say probably "Shades Of Grey" with Oliver Heldens. That one started really putting me on the map. When I would be playing shows people would come up to see me to talk to me about that record. That was definitely the one that set things into motion.
YOU RECENTLY CO-WROTE THE BILLBOARD HOT 100 #1 SINGLE, "CLOSER," BY THE CHAINSMOKERS FEAT. HALSEY. WHAT CAN YOU SHARE WITH US ABOUT THE "CLOSER" SONGWRITING PROCESS AND WHERE DID THE INSPIRATION BEHIND THE TRACK AND ITS LYRICS COME FROM?
SF: We're all friends and we were working on a track together. I did The Friendzone Tour with them, about 15 shows on their bus tour. One day we were super hungover and Drew (The Chainsmokers) was like, "Hey, I made these chords last night with Freddie from Louis The Child, would you help me write the words?" So, we sat down and wrote the song. Actually, I recorded Drew singing vocals on the back of the bus that day.
WAS THE ORIGINAL PLAN TO HAVE DREW SING VOCALS ON "CLOSER" OR WAS THE DECISION MADE AFTER WRITING THE TRACK?
SF: Well, he had never done it before. I guess maybe he had always wanted to. I said to him, "Listen man, what's the worst that's gonna happen? They won't like it?" I fancy myself a vocal producer and that's one of my strengths. Believe it or not, the vocals that are out there on the record, the vocals that are out there right now, those are the actual vocals we recorded on the back of the bus that day, which is pretty wild.
WHAT ARE YOU LOOKING FORWARD TO MOST ABOUT PLAYING ELECTRIC ZOO THIS YEAR? HOW WAS YOUR FIRST EZOO EXPERIENCE?
SF: Today was my first Zoo. It was an awesome first experience, the crowd was awesome today. I had Delaney Jane here and she sang so that was really nice! It was really a good time.
YOU JUST KICKED OFF THE GETAWAY TOUR ON SEPT. 1 WITH THE CHAINSMOKERS AT RED ROCKS. HOW WAS THAT SHOW FOR YOU?
SF: I opened for them at Red Rocks and I played the sunset set. It was about 6 p.m., the sun was going down, the crowd was so LIT. I would say last night's show was probably the best show I've ever played—it was fuckin' amazing.
WHO ARE SOME OF YOUR BIGGEST MUSICAL INFLUENCES?
SF: My biggest musical influence… for some reason I always come back to Radiohead, in a weird way. Their progression over time and how they went more electronic on their last record, they've always consistently been at the edge of my radar.
IF YOU COULD PLAY A BACK-TO-BACK SET WITH ANY DJ, WHO WOULD YOU CHOOSE AND WHY?
SF: Don Diablo is my really good homie and I think he's the most incredible turntablist and DJ. It hasn't happened yet, but I'm sure it'll happen one day, I'm gonna make it happen.
YOU ALSO WORKED ALONGSIDE STEVE AOKI ON "DOPE GIRLZ." HOW DID THIS FIRST COME TOGETHER?
SF: Well Steve called me up because he was putting out an underground EP that he felt would fit my style. So, he flew me out to Ibiza and the whole record was done in Spain. It took a while for it to be released, about a year later.
WHAT CAN YOU SHARE WITH US ABOUT THE GETAWAY TOUR AND WHAT FANS CAN EXPECT? WHICH SHOWS ARE YOU LOOKING FORWARD TO MOST?
SF: I can't wait to play at home. I'm playing at the Hoxton in Toronto, which is really special for me because that's where I came up. I'm looking forward to adding more live elements to my show. I'm going to be bringing out singers to perform their tracks at some of the shows. Also, I'll be incorporating live instruments and a live feel. I'll be playing live at the shows rather than just DJing. I'm also really digging and grinding to find some really dope, unreleased tracks and make a lot of edits to really fire this thing up.
YOUR NEW SINGLE "LET YOU GET AWAY" IS RELEASED ON SEPT. 16 VIA SPINNIN RECORDS. WHAT CAN YOU SHARE WITH US ABOUT YOUR STUDIO SESSIONS WHILE MAKING THIS TRACK? HOW LONG DID IT TAKE TO CREATE?
SF: I like to start the tracks out of the studio, which is how "Let You Get Away" got its start. I started this one at the piano, away from the studio. Ash from San Diego is the singer on this track, who I discovered on an Alex Adair record. I like to write with the singers as well so, I flew up to Toronto and we spent a week together and wrote seven songs. This was one that really shone through to me. We sat together in the living room and just wrote it all, with the chord sand everything.
THAT'S VERY INTERESTING. DO YOU TEND TO WALK AWAY FROM A WRITING SESSION WITH MULTIPLE SONGS? WILL YOU EVER GO BACK INTO THE VAULT TO WORK ON OR RELEASE A TRACK THAT WAS STARTED A LONG TIME AGO?
SF: Yes. We actually wrote a lot of stuff for Delaney Jane's project as well—she's a singer that I work with as well. I find that it's good to write a lot with somebody. There are people who will do this and sit there and write one song with somebody, sure. If you're vibing with someone then there's a groove that you can get into. We were writing about two songs a day when she was up. They're not all finished, but there are ideas flowing. I like to finish things up to about 50-60% and then I'll stop and move on. I have this sort of collection of songs that are completed about 50-60%, and then when it's time for me to make a decision on what my next record's going to be. Then it'll be new and fresh. I don't like working on a record for a year and then become tired of the it by the time it comes out. So this way, it stays way more fresh. Maybe I'll even leave the drop out and put one in when I go back to it later. Music changes so fast. You can make a record right now and then in one year, it's irrelevant.
FROM START TO FINISH, HOW LONG WOULD YOU SAY IT NORMALLY TAKES YOU TO COMPLETE A TRACK?
SF: The first 50-60% usually happens really fast. We'll get the chords down, do the writing, get the vibe right for the track. That can happen in a day or two. But then it takes weeks after that to get the rest together. With dance music and the drops and stuff it's a little bit different.
HAVE YOU EVER MADE A FEW DIFFERENT VERSIONS OF YOUR TRACKS THAT HAVE DIFFERENT DROPS BEFORE DECIDING ON WHICH YOU WANTED TO RELEASE?
SF: Oh yeah, I can make one with more than 10 different drops before I decide which one I want to go with. "Shades Of Grey" with Oliver Heldens is a perfect example of this. I actually have a video that I've never released where I go through all of the different drops.
WHERE DO YOU SEE YOURSELF IN FIVE YEARS?
SF: I hope im traveling the world and playing the biggest shows possible. I hope my music is reaching as many people as possible. I hope it's not just DJing, but that it's much more than that.
IS THAT WHAT YOU'VE WANT TO DO? CONTINUE WITH YOUR SINGING AND SONGWRITING?
SF: Yes, I want to be singing again, I want to be DJing, I want be playing piano and guitar, and doing the whole thing.
DO YOU THINK YOU TOOK THE DJ/ELECTRONIC ROUTE BECAUSE IT'S THAT MUCH HARDER TO BREAK INTO THE SINGING WORLD?
SF: There just wasn't that many avenues out there for vocalists. I wanted to play sets. A singer isn't going to go out there and necessarily play sets, but I wanted to. I wanted to be playing at these types of events like EZoo and EDC. Those were the stages I wanted to be on because I love that energy. I think that was the deciding factor for me. I love DJing, it's so fun.
Follow Shaun Frank on Facebook, Twitter, and Instagram.
Featured image by Joshua Shultz Photography