Nicole Moudaber & Friends to Host "Breed" EP Release Party at The Brooklyn Mirage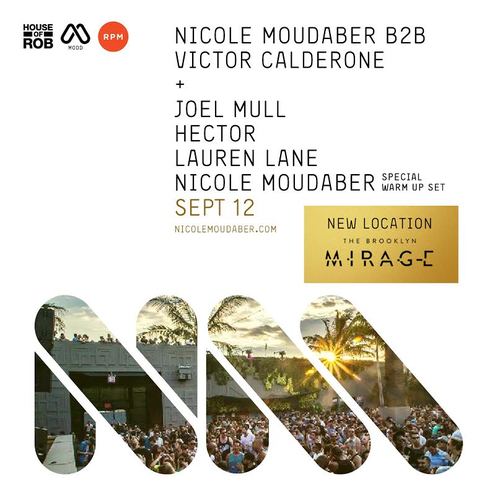 This September, MOOD Records label boss and techno queen Nicole Moudaber is celebrating the release of her upcoming "Breed" EP. Closing out the summer with an official release party for the EP, the DJ-producer has announced a Nicole Moudaber & Friends showcase at The Brooklyn Mirage on Saturday, September 12, 2015.
Originally slated to take place in Coney Island, due to popular demand, the BREED event has been relocated to The Brooklyn Mirage.
Nicole is dedicating this RPM Presents event to the "HOUSE OF ROB," the legacy left behind by NYC nightlife icon and legend Rob Fernandez. Rob was instrumental in introducing Nicole to the NYC stage and championed her as he often did artists that he believed in. His legacy and genius live on in each party and every beat on the dance floor. A portion of the proceeds of this event will go to the Rian Fernandez Education Fund. For more information and to donate, see HERE.
Moudaber explains: "I'm having this show with a lot of sadness in my heart, but also knowing that Rob is above me with a smile. I decided to dedicate this event to him because of the circumstances. I wasn't sure the event was going to happen when Rob left us but RPM wanted to go ahead with it. It is a very special one. It's my first festival and it's in New York City! Rob chose the location. Rob arranged the show. And he won't be there to see it. The only idea that keeps me going is that he would have wanted it to happen. And I want to do everything to channel all the energy on that special day, for Rob." 
Slated to bring beats, eats, and art, patrons are encouraged to experience techno and visually enrapturing displays — and all for a good cause.
The open-air show will include DJ sets from techno and underground players from Swedish connoisseur Joel Mull, to Vatos Locos don Hector and a special warm up set from Nicole Moudaber. Nicole will also perform a back-to-back set with special guest Victor Calderone.
Coney Arty Walls is a museum curated by Jeffrey Deitch and Joseph J. Stitt, which incorporate the works of more than a dozen graffiti and street artists from the 1970s to the present.
Food will be offered by a dozen Smorgasburg vendors, including: Blue Marble, Bon Chovie, Dan & John's Wings, El Gato Nacho, El Super, Excell Kingston Eatery, Home Frite, La Newyorkina, Mile End, Mofongo, Queen Cobra Thai, Red Hook Lobster Pound.
"Breed" EP will see its official release on September 18 on MOOD Records.
Tickets for Nicole Moudaber & Friends at The Brooklyn Mirage are available HERE.