Nicole Moudaber at Drai's Las Vegas After Hours on Sat., June 18th — EDC Week 2016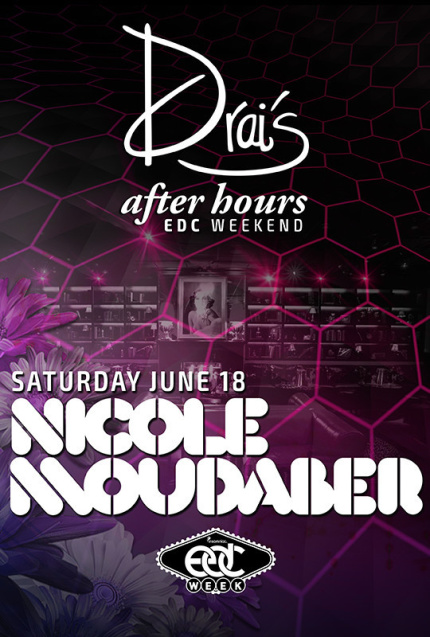 Drai's After Hours brings Nicole Moudaber during EDC Week 2016
Things are already starting to heat up in Sin City, but this weekend it's about to get even hotter as the Queen of Techno, Nicole Moudaber, provides an after hours showcase at Drai's during EDC Weekend.
Nicole has become a dance music staple who is familiar to many for her deep underground vibes and techno sets. Combine this with the newly renovated Drai's After Hours—which continues its reign as the top late night spot in Las Vegas—and you've got an unforgettable evening (that'll go until way after the sun rises the next morning!)
Named one of The Nocturnal Times 10 Must-Catch Acts at EDC New York this year at Citi Field, Moudaber has secured herself a spot as one of dance music's most sought after DJs and producers. Following her MoodZONE takeover at neonGARDEN at EDC NY this past May, it's now time for Nicole to hit the decks at EDC Las Vegas to celebrate the 20th anniversary Under the Electric Sky. In addition to her performance at EDC LV, Moudaber will also be speaking at EDMBiz Conference & Expo at Caesars Palace on Wednesday, June 15th at 4:45pm ahead of Electric Daisy Carnival for the Beyond the Boys' Club: What's Next for Women in Dance Music panel.
The spacious and intimate Drai's Afterhours is a Vegas original that has withstood the test of time as electronic music has become the biggest phenomenon to hit Las Vegas since Frank Sinatra and Elvis Presley decades ago. Revived by internationally acclaimed DJs and producers, Drai's Afterhours—which was created by nightlife impresario and Night Club Hall of Fame inductee, Victor Drai—sets out to offer partygoers a multi-sensory environment taking entertainment and service to new heights.
What better way to end your EDC 20 experience than with a Drai's Afterhours set from Nicole Moudaber?
Tickets for Nicole Moudaber at Drai's Afterhours on Saturday, June 18th during EDC Weekend, are available HERE.
For more information on Nicole Moudaber visit NicoleMoudaber.com.