NERVO Sells Out Haven in Atlantic City During Halloween Weekend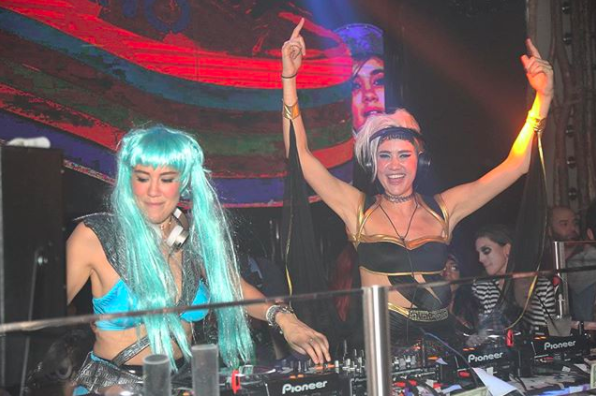 This past Saturday, October 28, superstar electronic dance music (EDM) duo, NERVO, made a grand return to Atlantic City, New Jersey. Thousands filled Haven Nightclub at the Golden Nugget for a sold-out Halloween weekend event with the world-class DJ and production twins, NERVO.
Haven Nightclub took on a Stranger Things motif on Saturday night, as the nightclub's name appeared throughout the venue in the same font as the Netflix series — which just made its season 2 premiere on Friday. The club also sported hanging lights, similar to those that appear in the Stranger Things series. It's safe to say that things got a little strange at Haven for Halloween 2017. Former Cover Girl models, Mim and Olivia Nervo, brought their signature sound to the space, which progressively filled over the course of the night.
Soundtracked by some current electronic chart-toppers and dance tunes of yesteryear, NERVO's Haven Halloween set included tracks from Michael Jackson "Thriller (Steve Aoki Midnight Hour Remix)" and The Voyagers & AABEL "Trunk Banger" to "Shogun" by Holl & Rush.
NERVO placed at number 42 on this year's controversial DJ Mag Top 100 DJs poll, which is voted upon by millions of dance music enthusiasts, annually. Rising three spots from last year, NERVO shows no signs of slowing down anytime soon. The ladies are best known for their original productions "The Way We See The World" with Afrojack and Dimitri Vegas & Like Mike, "You're Gonna Love Again," "Reason" with Hook N Sling, and "Like Home" with Nicky Romero. NERVO released their debut studio album, Collateral, in July 2015 through Ultra Music.
Haven also played host to events during Halloween weekend 2017 with Tony Arzadon (10/26) and 4B (10/27). Next weekend, Haven Nightclub will see sets from Yellow Claw (11/3) and Dirty South (11/4). For more information visit havenac.com.