Laidback Luke Exclusive Interview: We Cover Kung-Fu, Mixmash, Ultra & More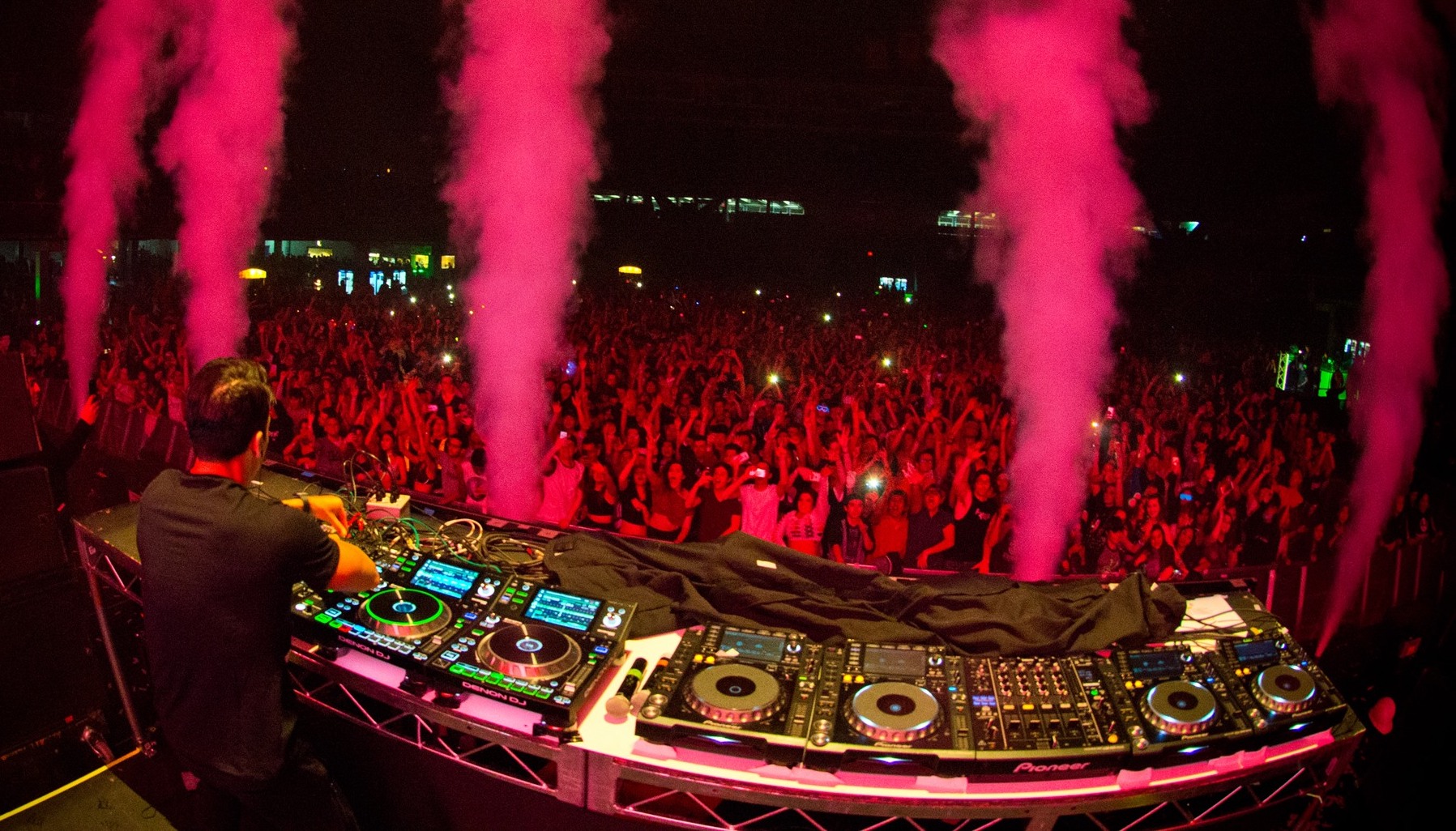 Miami Music Week 2017 was yet another unforgettable adventure for Lucas Cornelis van Scheppingen, better known by his stage name Laidback Luke. The famed Dutch DJ/producer landed in sunny Florida after spending much time in the bitter winter weather of New York.
Just days before flying to Miami, Luke participated, (and scored big) in the Kung-Fu World Championship in Hong Kong. Dominating the force with three Gold medals, two Silver and one Bronze, he shows undeniable talent and skill in his art. Not content with just mastering the field of producing, Luke has excelled in becoming a Kung-Fu world champion as well.
Although he shines in more areas than one, Laidback Luke is most known for his incredible additions to the dance music community. Included in Luke's extensive repertoire of collaborations are tracks with the likes of David Guetta, Steve Angello, Sebastian Ingrosso, Axwell, Dimitri Vegas & Like Mike, Martin Solveig, and GTA among many others. Producing music for close to three decades, he has seen tremendous amounts of success and possesses an outstanding amount of knowledge, making him a key player in the genre and expansion of electronic music.
Thursday morning before sitting down with The Nocturnal Times, Laidback Luke taught a special Kung-Fu class at South Beach's W Hotel. A unique opportunity for his fans to participate in a workshop showcasing his love for martial arts, the class gave a totally new spin on the man behind the booth.
Read all about what went down at The W, plans for Miami, the Kung-Fu World Championship, upcoming releases on Dim Mak, and more in our Nocturnal Times exclusive interview with Laidback Luke.
The Nocturnal Times: How does it feel to be back in Miami for Ultra and Miami Music Week?
Laidback Luke: I am loving it! A lot of my time I spend in New York, and the New York winters are brutal. I just came back from the world championships in Kung-Fu, but my training for that was five months outside in the snow and in the freezing weather of New York, so I am really done with it. Miami feels amazing right now.
The Nocturnal Times: Do you get to stay in Miami past this week at all?
Laidback Luke: I would love to but, no. I am actually right back to Amsterdam, and then back to New York again.
The Nocturnal Times: Tell us what you've got in store for this week in Miami.
Laidback Luke: Actually today we started the day with my Kung-Fu class, which we just invited a bunch of my followers for. It was free and we started the day great, with a great training. Today I have my Mixmash Pool Party at Nikki Beach. And then on Saturday I have Ultra Music Festival.
The Nocturnal Times: How did your Kung-Fu class go this morning? 
Laidback Luke: Really good! So I was surprised because it was at 10 am. I was surprised to see people up, to not see people drunk, to see people put as much effort in as they could, and it's just such a great start of the day to start with a good work out.
The Nocturnal Times: Do you typically start your days with a workout like that? Practicing Kung-Fu?
Laidback Luke: I actually do, yeah. The first thing I do when I wake up is either go to the gym or practice my Kung-Fu. It just sets you up for the rest of the day, and then the rest of the day feels so easy, really.
The Nocturnal Times: How did it feel to teach a class knowing that it's for a room full of your fans? Knowing that they are there because they appreciate your music but also this other art of Kung-Fu that is so important in your life? 
Laidback Luke: It's nothing but love and it's great. Realizing like you say, that these people are my followers, I get a little bit loose on the mic as well and start cracking jokes and it's great. The funny thing is working a crowd like that in a work out is similar to working a crowd when I play a DJ set. During the class I will monitor their energy levels and see if they are distracted or if they need a new exercise. Do I need to amp it up or do I need to tone it down. It's actually very similar to how I DJ. You've got to feel the vibes.
The Nocturnal Times: Congratulations on winning six medals at the Kung-Fu World Championship. What does that mean to you and your family? As far as being both a world champion in Kung-Fu and a world-famous DJ/Ppoducer?
Laidback Luke: The funny thing is it's great, but actually I don't really care as well. It's like winning awards and stuff like that. Winning awards and stuff is great but it doesn't actually add up to the art. You're either that or you're not. And if you're not and you get that award then you're still not. Do you get what I'm saying? To actually be that, you've gotta be that. And that's it. I try my best to be that, and it's great. What does help with those kind of things is that I'm able to inspire people and reach a lot of people, and I'll have proof of you know, "I competed on a high level, and I can do this." With the DJ'ing as well, which brings me to a funny thing. I tweeted about that once. I was looking at some of my YouTube comments about my tutorials and there's 15 year-old kids talking a lot of crap about the tips and advice I try and give. And you know what's funny is it's kind of like when you're in high school and you're doing football, and say your football coach was in the major league for a decade or whatever, and then he is giving you the training and the tips and you as a 15 year-old rookie, you'll go and put him in doubt and say, "Oh, what does he know." So that's a funny thing that occurs in the DJ scene where I have so much experience and I just want to share it, and then there's kids who think they know it better. And it's funny. I don't need to prove myself, and sometimes it's a shame that they block themselves from learning like that.
The Nocturnal Times: What inspired you to start producing music in the first place? What was that first, "This is my calling" type of moment for you?
Laidback Luke: So my job is really old. So this is about 25 years ago I started making music, and I come from a musical family. On both sides of my family there are a lot of musicians and everyone is awesome with an instrument, but I was this kid that always had trouble trying to play the instrument. And I got laughed at. My Dad would say, "Oh, there's no trying to do this." My brother is a really good drummer, and he can drum like an octopus. And whenever I would try and drum a beat, I would always get off beat, and everyone would be like, "Aw, there's Luke again." So in 1992 when I found out that you were actually able to make music with some of the first home computers, I was amazed. I could finally unleash all this music that was stuck in my head, but didn't have the ability to actually play. That was my drive to go and pursue this. The musical talent is in me in terms of how I'm able to hear it, but to actually play it, that's very tough.
The Nocturnal Times: What can we expect in the near future for your music career, or even Kung-Fu? 
Laidback Luke: So I have my new single coming up which is called "Paradise," which I made with Bright Lights and Made in June. It's not made in June but the artist is Made in June – but she's made in June (laughs). But it's going to be released on Dim Mak in about two weeks, and I'm quite excited about that! The cool thing about signing to Steve Aoki's label is that he's promoting it as well, which is a great bonus.
Listen to "Paradise" with Made In June feat. Bright Lights:

The Nocturnal Times: How do you like working with Steve?
Laidback Luke: Well Steve and I have had a long relationship. We're basically friends although we never really get to see each other. But it's really nice to put out a track on his label and get their support.
The Nocturnal Times: Well thank you so much for coming out to speak with us, and best of luck on your week here!
Laidback Luke: Thanks for having me!