Ladies of Trance Lands at Pachita NYC on Sept. 19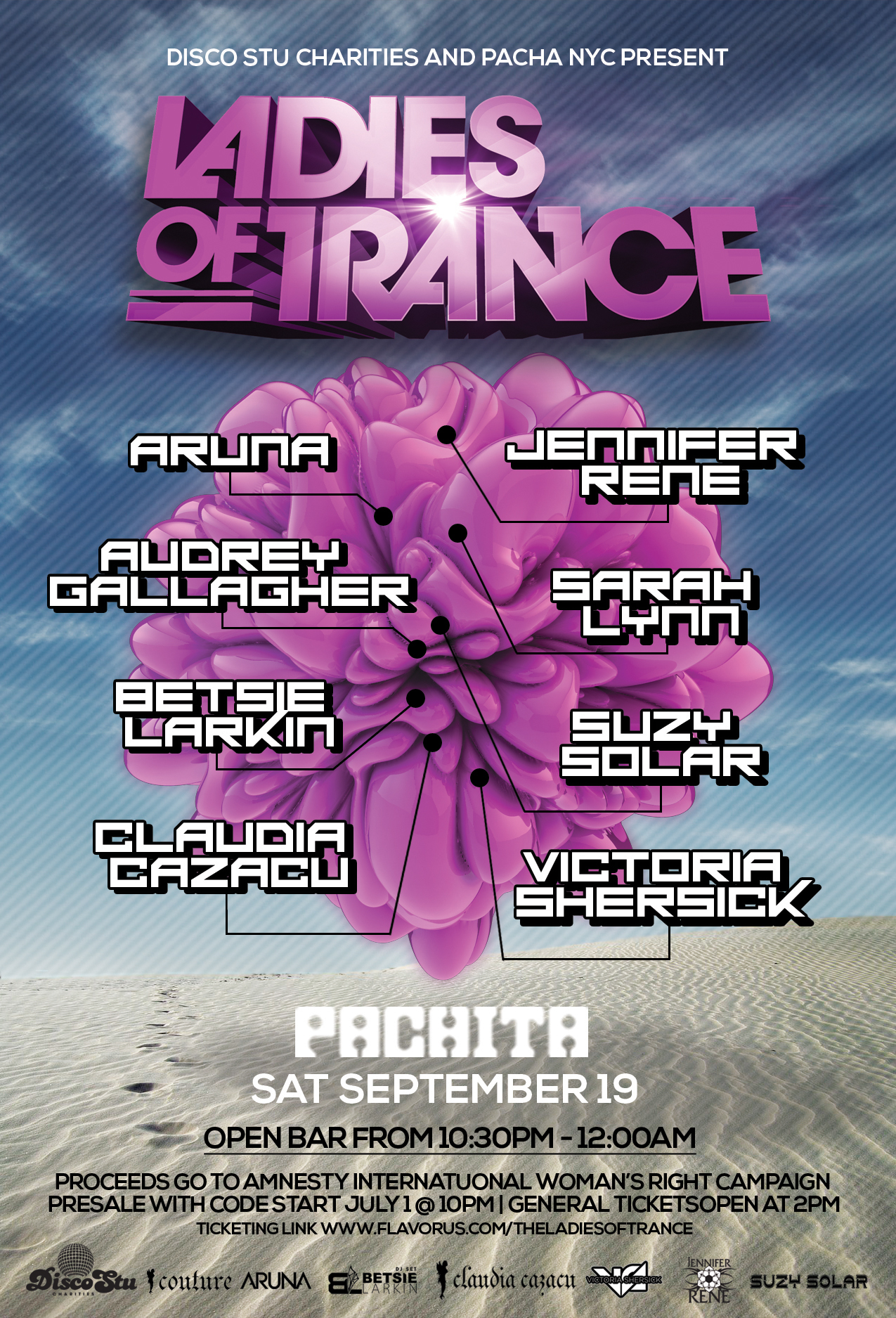 Trance music reigns in the city that never sleeps as the Ladies of Trance dominate Pacha NYC's Pachita space. Consisting of some of the biggest women in electronic dance music (EDM), Ladies of Trance brings top artists as well as a 2-hour open well bar to the iconic W46th St hotspot. Tickets for Ladfes of Trance are available HERE.
The Ladies of Trance event talent roster includes Aruna, Audrey Gallagher, Betsie Larkin, Claudia Cazacu, Jennifer Rene, Sarah Lynn, Suzy Solar, and Victoria Shersick, along with some surprise guest DJs.
Aruna has been a vital piece of the trance music community over the past decade, having provided vocals on tracks for a slew of talent including Aly & Fila, Mark Eteson, and Myon & Shane 54 as Velvetine, among others. Audrey Gallagher has an distinguishable sound, which is easily recognized by members of the trance family. Audrey has releases alongside Armin van Buuren ("Hold Onto Me"), John O'Callaghan ("Big Sky"), and fellow Ladies of Trance DJ and tech-trance giant Claudia Cazacu ("Freefalling").
Betsie Larkin is known for her releases with Ferry Corsten ("Made Of Love") ("Not Coming Down"), John O'Callaghan ("Save This Moment"), Bobina ("You Belong To Me"), and Gabriel & Dresden ("Play It Back"). In 2011, Larkin released her debut album All We Have Is Now, which included collaborations with Super8 & Tab, John O'Callaghan, Sied van Riel, Bobina, Lange, and Ferry Corsten, among others.
Jennifer Rene has provided vocals on countless trance tracks throughout the course of her career. She's teamed up with a number of impressive DJ and production talent as well as earned the support of some of the biggest names in the industry. In 2006, Rene provided the vocals on Jose Amnesia's "Louder," which was heavily played by Armin van Buuren on his A State of Trance radio show as well as in his DJ sets and Armin Only live show. Van Buuren included Rene on his "Imagine" album on the track "Fine Without You." Jennifer has released tracks on prominent trance labels Armada Music, Coldharbour Recordings, Future Sound of Egypt, Subculture, Magik Muzik, Black Hole Recordings, and more.
Tickets for Ladies of Trance at Pachita on Sept. 19 are available HERE.