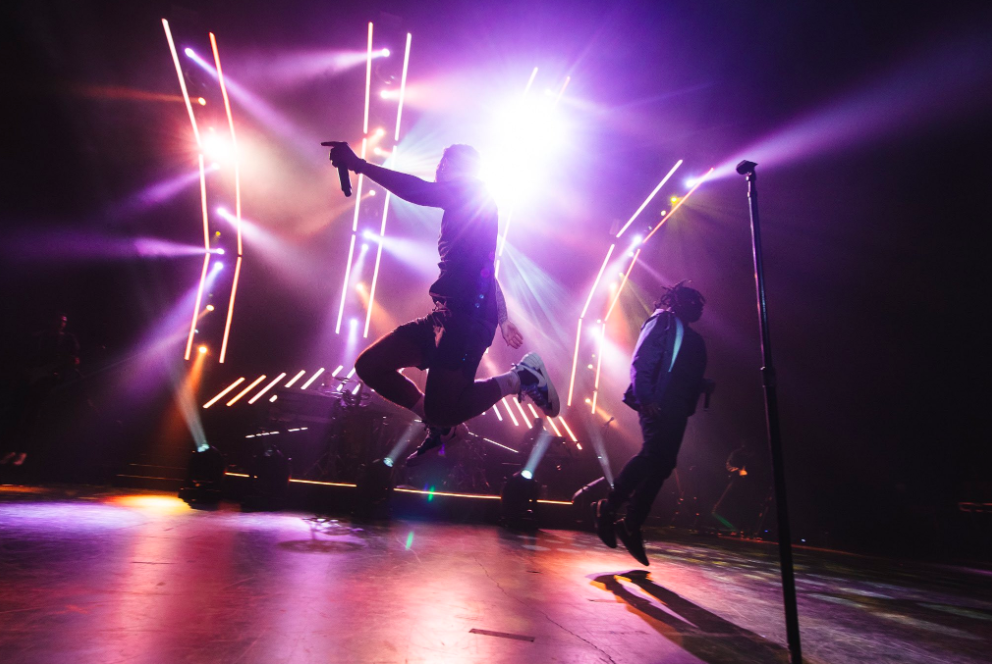 Jon Bellion Proves He's "More Than New Music Friday" with 'Glory Sound Prep' Tour Kick-Off
Only able to slide under the radar for so long, New York-native Jon Bellion kicked off his 'Glory Sound Prep' Tour last night (Wednesday, June 12) at The Met in Philadelphia.
The first night of his highly-anticipated GSP Tour, which is in support of his recently released LP of the same name, was completely sold out — setting the standard for what's to come throughout the remainder of the GSP Tour stops. Opening showcases from Marc E. Bassy and Jon's newly signed Lawrence the Band, warmed the crowd up for their forthcoming GSP session.
Serving as the ringleader and grandmaster of the Glory Sound Prep academy, Bellion and his Beautiful Mind ensemble took each and every attendee to school, properly educating them through a transcending live experience. Reimaging and revamping every one of the GSP album tracks for the live show — except for "Mah's Joint" which was not included in the setlist, but was included among the clever, album-referenced tour merch — the updated arrangements brought new life to each of the album's songs.
Taking the stage just before 9:30pm, Jon appeared center stage to massive uproars and crowd screams, all while donning the outfit and light up jacket from his "Stupid Deep" music video for an edit of "JT." Removing his jacket — and his pants — after the second performed song, "Let's Begin," Jon revealed the jacket is very heavy and is "hot as f*ck." Jon continued the remainder of his hour-long set with shorts, a tee, high socks, and sneakers.
Proceeding with a mixed version of the album's lead single, "Conversations With My Wife," Jon began with the acoustic rendition, only to pick up the energy by transitioning into the original. Next up was "Couples Retreat" followed by an extended version of "Blu." Bringing out his openers, Lawrence sang backing vocals for "The Internet."
Mid-show was for the old-school Bellion tracks. Well, that's if you consider 'The Human Condition' old school. From his biggest hit to date, Jon continued with "All Time Low," to "Overwhelming," into a toned-down, newly arranged "Guillotine."
Showing his fan appreciation, Jon let attendees know that his fans obviously know good music, which is why they were there in the first place. Moved by the GSP chants the filled the venue, Jon appeared choked up, revealing that those chants solidified and confirmed that releasing GSP, the way he wanted to, was the right decision. Rather than cater to the masses and make music for "New Music Friday," he wants to continue making music that *he* wants to make.
The first part of "Adult Swim" — which was actually verse two — lead into a beautiful new arrangement of "Stupid Deep, followed by the second part of "Adult Swim (the song's beginning).
Encompassing a number of musical genres and paying homage to his favorite band, Rage Against The Machine, Bellion's music and live show incorporated all of the styles he's become most known for (and more): rock, hip-hop, rap, pop, alternative, emo, jazz, blues, and many more. Perhaps this is why his fans are so dedicated and devoted to him and his music. Jon Bellion doesn't fit into any specific category, while remaining relatable, through it all.
Bellion proceeded with a Rage Against the Machine-style variation of GSP's "Cautionary Tales," praising his talented band, and saying his goodnight's. Returning to the stage for his encore, to close out the show, Jon performed the high-energy, emotional, sad-boy anthem "Good Things Fall Apart," his new collaboration with ILLENIUM.
The sold-out crowd at The Met in Philadelphia brought an energy like no other, filling the venue with roaring screams, "Jon Bellion" and "GSP" chants, and a sea of people moving along in unison, as experienced from above within The Met's Grand Salle VIP areas. After undergoing a $56 million renovation, The Met Philadelphia, which is operated by Live Nation, re-opened in December with a Bob Dylan event. The 3,500-capacity venue was formerly the Metropolitan Opera House.
Days before the start of the tour, Jon made an announcement from is socials that tour merch would all include a special tag, which was to be kept for an exclusive offer. At this point, it still remains unclear as to what the exclusive merch voucher will grant fans access to.
Also prior to the tour start, Bellion released official acoustic versions of "Conversations With My Wife," "Blu," and "Stupid Deep," along with the new music video for "Good Things Fall Apart," his wildly successful new single with ILLENIUM. And "in case you f*ckin' forgot," Jon also just released his new single "Crop Circles."
Jon's 'Glory Sound Prep' Tour will run through August, with a closing show in his hometown, Long Island, New York, at the completely-outdoor, 15,000-capacity Northwell Health at Jones Beach Theater.
For more information on Jon Bellion and to purchase tickets for upcoming stops on Jon Bellion's 'Glory Sound Prep' tour, visit jonbellion.com.
Photos courtesy of Twitter