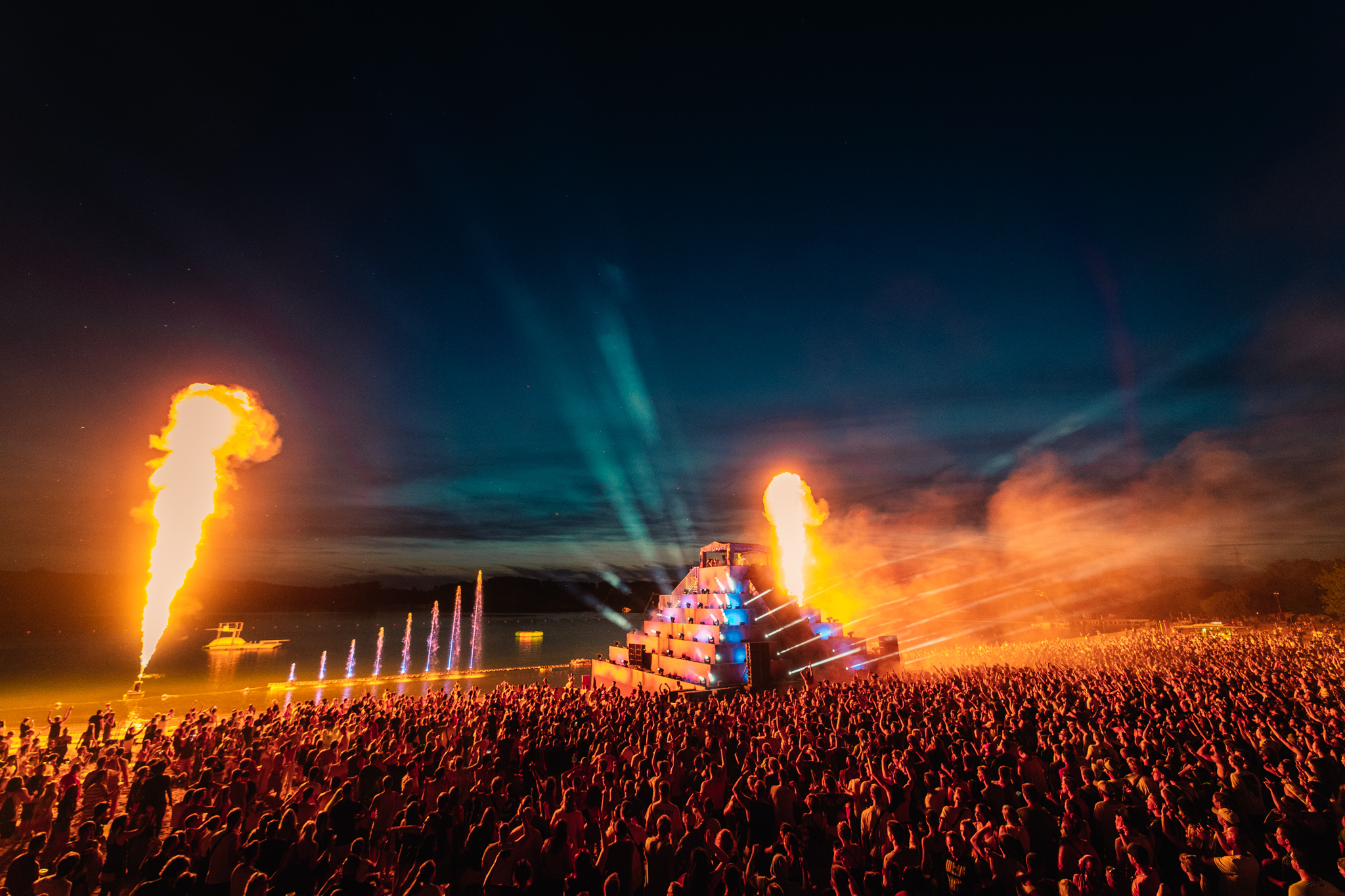 NIBIRII: How a Small Club Event Transforms Into One of the Biggest Festival Surprises of the Year
"A planet beyond – Somewhere out in space.
You can travel there whenever you want to escape reality.
Use your imagination – let your spirit travel."
Or "The story of how a small club event turned in to the be the biggest festival surprise for me this year."
The NIBIRII brand first saw daylight about two years ago. The brand has its main focus on techno, psy, progressive trance, GOA, and drum & bass. After several club events in mostly the Bootshaus, Helios37, Odonien (all in Cologne) and Junkyard (Dortmund) they took it bigger this summer. The location, a beautiful beach in a secluded forest. A massive 45,000 square feet transformed in to three different areas with three massive stages and a line-up worthy of such an event.
The love for the stages was noticeable. Where two (techno and GOA) of these stages where hosted on the water the other one (D'N'B) was located in the forest. Where the techno stage was a fairly normal festival stage the Goa-stage blew my mind. This was by far the coolest most epic stage I have ever seen, and no I am not talking about Parookaville or Tomorrowland standards but just the sheer joy I got from looking at the stage. The stage had the shape of a pyramid with the DJ playing on top of it. In front of the DJ they had an actual working waterfall. The waterfall was roughly the same height as the pyramid. (Picture included) It was great to see the fireworks later on that night illuminating the stage.
For a one-day festival the effort the team put in to it is astounding. Surely you had your regular merchandise stand, and sure there was enough beer and food to feed the masses. But how about getting a tattoo or a piercing there or having a change to dip in the water during this sunny day. Lifeguards standing by. The food and drink stands were greatly spread so there weren't any long waiting lines. Basically, every stage had his own food court and token stand and enough shade to sit and enjoy your food in. After some physical activity (some might call dancing) it was great to be sitting and relaxing underneath some trees on the grass. Although it was a very warm day, I never had the feeling the sun was burning me alive. The mixture between the beach front, an occasionally cooling breeze and the trees was perfect. Where some festivals are very open and hardly give you any chance to hide from the burning sun. It was no problem here to relax with some time in the shade to cool off.
The line-up was massive for such a small event. Whether you liked all three music styles or just one. The entrance fee was well worth it. For a regular club event with one big headliner you pay about 40 euros. So, having three stages with all their own headliner is well worth the trip. I was excited to get a glimpse of Mausio, Neelix, Vini Vici, Pendulum, Gourski and DJ Rush. All of them great artists you do not see very often at the same location.
An odd thing though, was the token price for drinks and food. Tokens are called "NIBS" where as you paid ten euro for seven NIBS and the average price for a drink being three NIBS. One thing I really liked was that you had to pay one NIB extra for the drinking cup, you got that NIB back once you returned the cup. The environment applauds this practice. See more and more festivals do this. I know it will be hard to go all green for most festivals, but every little step is one. Furthermore, I liked the option to have a great selection of food. You had your regular french fries or pizza, but it was great to see that they had vegan burgers and fruit as an option.
Organizer
Nibirii Festival is officially organized and operated by Bootshaus Cologne supported by the event agency Aerochrone and the Cologne based local celebrity Sascha Weber.
Location
Germany, Düreren Badesee (NRW)
Setup
Three stages around a lake in a secluded forest area. The music styles are GOA, Techno and D'N'B. Where GOA was played on the main stage. The whole festival was held along the coastline of the lake with enough space in between the stages so there would be no music from the other stages. Also along the whole line there was enough food, drink and token stands. So no need to walk very far to grab a bite or getting a drink.
Line-up:
GOA Island:
Falex – Rocky Tilbor – Rinkadink – Earthling – Asterix – Neelix – Ritmo -Vini Vici -Blastoyz – Day.Din
TECHNO Beach:
Kevin Arnold – Mausio – Reinerzonneveld (live) – Bjönr Torwellen – Marika Rossa – Felix Kröcher – Sasha Carassi – Klaudia Gawlas – Umek – DJ Rush

D'N'B' Forest:
Wackelkontakt – Rebko – Jaycut – Nogata – Hedex – Macky Gee – Dimension – Camo & Krooked – Pendulum (DJ-set) – Chase & Status (DJ-set) – Gourski
Cost
The ticket price ranges from 34,90€ (early bird) to Balcony VIP Ticket: 80€ at the door. A regular ticket at the door would set you back 60€. Overall not a bad price for such an amazing line-up.
Summary
Pros:
For the first time organizing such a massive event I can only bow my head to such a feat of strength. It took them 2 weeks to build the stages. They booked 30 international DJ's and feed about 15.000 people. If you love either one of the music styles played at NIBIRII this festival is a must go next year. The whole thing worked, the music, the people, the three firework shows and the amazing location.
Cons:
The token price may have been a bit of an odd conversion rate (7 tokens is 10 euro) and they should have put up a sign on how much you had to pay for tokens. You only found out what the price for tokens was at the counter. There was a problem with the digital payment, a server went down. It was a small inconvenience. Overall not that big of a deal for a first-time festival and there was an ATM on site. On another side note was that the organizer would have maybe provided some free sunscreen, I have been to a couple of festivals where they provided free sunscreen to people. Something that would have been nice to see here since it was actually a very sunny day.
Overall from the many events I visited, this one was well organized, no long waiting lines, enough food and drink variety and a decent line-up.
For more information visit https://www.nibirii.com/. Find more about next year's event, here.
Photo Credit: Tobi Holzweiler