Insomniac's kineticTEMPLE Design Revealed For EDC Orlando on Nov. 4 & 5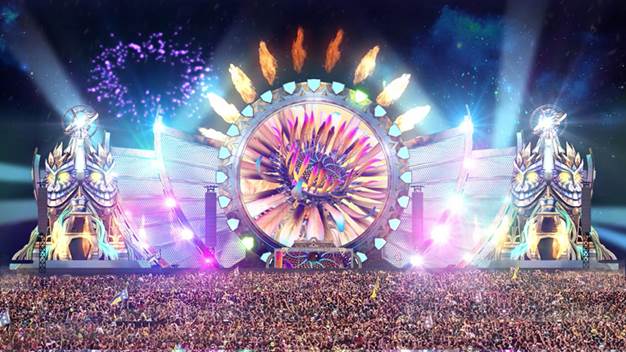 Insomniac has announced they are bringing the kineticTEMPLE stage from Electric Daisy Carnival (EDC) Las Vegas 2016 to Florida. kineticTEMPLE will make its debut at Tinker Field along with two other stage designs never before seen in Orlando.
Following the huge success of the kineticTEMPLE in Las Vegas this summer, Insomniac saw it fitting to bring the magic to the East Coast. A reimagined incarnation of the stage will bring stunning visuals and breathtaking designs. The stage spans 245 feet wide and towers at 80 feet tall, encompassing a massive area. The design also includes 400 huge video tiles across the stage. Some of the world's top DJs will grace the stage along with 26 different lasers and over 20 water fountains. All of this comes to life together to tell the story of creativity, nature, and technology that EDC is all about.
Both circuitGROUNDS and neonGARDEN will also boast stage designs new to the Sunshine State. Another adapted version from EDC Las Vegas 2016 will be brought to circuitGROUNDS. Vegas's 360-degree design will be transformed to be 160 feet in diameter and include over 1,000 pyrotechnic units to accompany all that bass. neonGARDEN's new design will be under the cover of a 150 foot tall circus-style tent. Here Insomniac will devote an entire day to their trance brand, Dreamstate. The energy will be high and side-by-side with deep house and techno house vibes, and no shortage of lasers.
Watch the kineticTEMPLE teaser trailer below:

Check out the lineup for each stage at EDC Orlando 2016:
Two-day and single day tickets are selling fast so visit orlando.electricdaisycarnival.com/ for more information on EDC Orlando and to purchase tickets.
To stay updated about all things Insomniac, visit Insomniac.com.