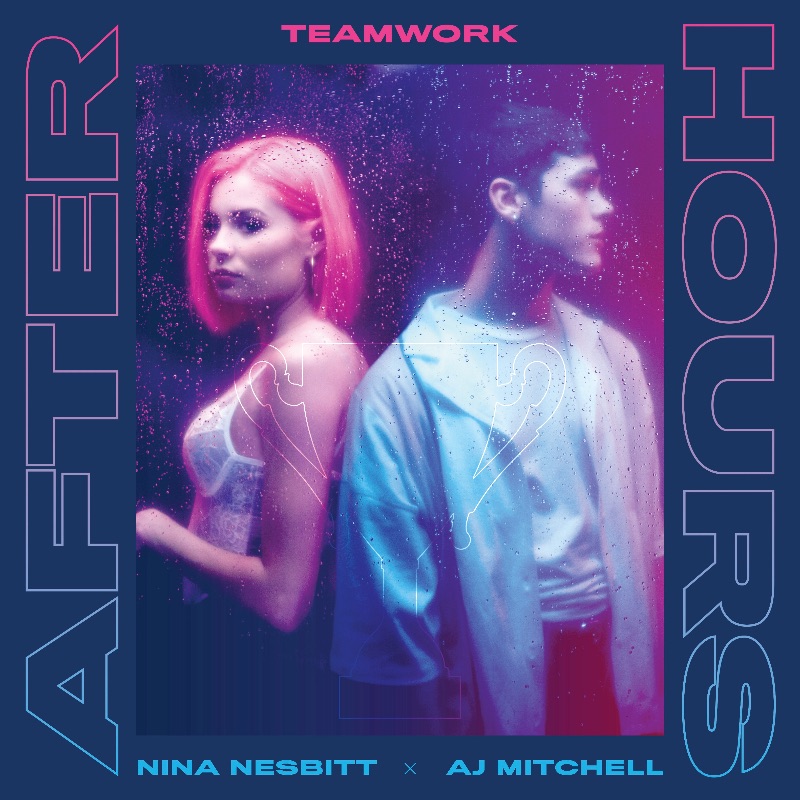 Hit-Making Duo teamwork. Joins Forces with Nina Nesbitt & AJ Mitchell for "Afterhours"
Pop and dance collective, teamwork. have fused creative energies with phenomenon singer-songwriter, Nina Nesbitt, and EPIC's hottest 2018 signing, AJ Mitchell for the release of "Afterhours," out on all streaming platforms via Sony Music Germany's Four Music imprint.
Based out of LA, songwriting and production pair teamwork. have a knack for making hits that join the worlds of dance and pop. They played a role in many bangers including "Secrets" by Tiësto, "Feels Great" by Cheat Codes and Fetty Wap, "Something Better" by Audien and Lady Antebellum, and "Right Now" by Robin Schulz and Nick Jonas. Together the duo has worked alongside Christina Aguilera, David Guetta, and The Chainsmokers, racking in over 1.5 billion streams.
Nina Nesbitt, a Scottish singer, is a regular in the UK charts especially after her criticially acclaimed second album, The Sun Will Come Up, The Seasons Will Change. It features hit singles "The Best You Had" and "Somebody Special." This album has achieved major career milestones by surpassing a quarter-of-a-billion streams. Between support on playlists at both Radio 1 and Radio 2, Nina has exceeded 10 million monthly listeners. She is looking forward to a tour with Jess Glynne as her guest act this summer.
Young but endlessly talented, AJ Mitchell, is an 18 year-old from Illinois who gained attention on Instagram for his silky vocals. He attracted 1.5 million followers and launched his solo artist career last year. He signed to EPIC and has scored major hits with "Used to Be" and his recent track, "All My Friends."
Now their debut release of "Afterhours" on Sony Music displays their unique creativity as they link two compelling top-tier vocal talents from Nina Nesbitt and AJ Mitchell. Their captivating voices enhance the vibe of the lyrics which revolve around a modern-day love affair, but on a more relatable level. Between the smooth synths, punchy beats, and pop-infused hook, this track becomes absolutely electrifying. To listen on all streaming platforms, go here!
The music video itself is quite characteristic of these notions especially with the exhilarating colors that highlight the connection between the vocalists. This visual accompaniment was directed by Seth Michael Stern, and accurately represents the story of two young lovers who have a relationship that exclusively exists in the after-hours.
"Having worked together for a couple of years, the idea of creating teamwork. came about in the summer of 2018. We reached out to a few artist friends of ours about the project and to see if they would be interested in doing collaborations and features. Nina and AJ were two of the first artists we approached as we've always loved working with both of them. We're so excited to have them both on the first single!"

-teamwork.
"This being my first collaborative release, I am really excited to share it with Nina and teamwork. When teamwork. played me the song, I was a fan at first listen. Nina's voice is incredible and I was very happy to jump on the collaboration and add to the magic that they had written. I hope all fans have as much fun listening to the song as we did creating it!"

-AJ Mitchell