Freaky Deaky Brought Massive 3-Day Halloween Event to Chicago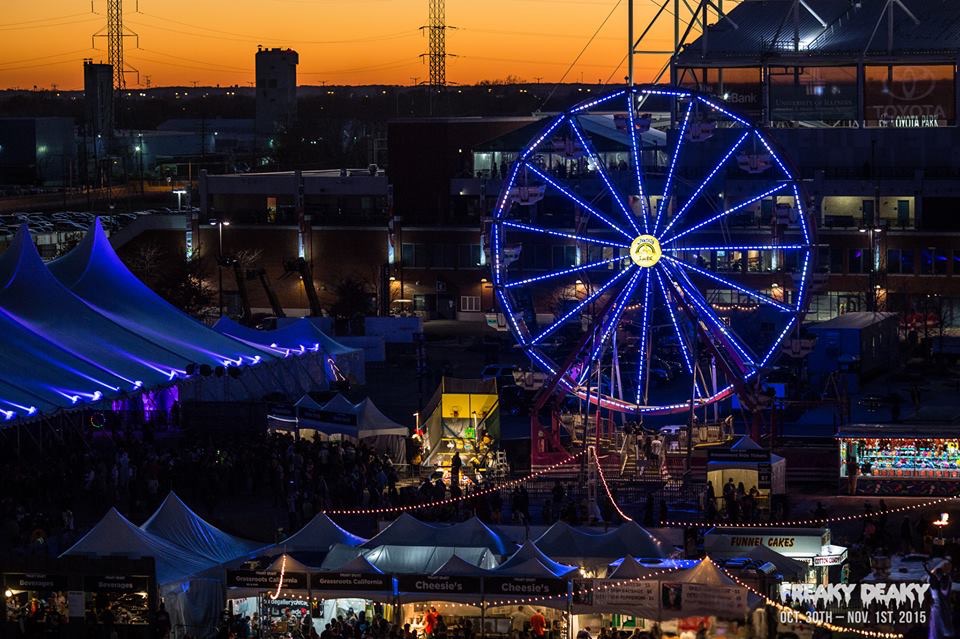 From it's humble roots beginning on Halloween night in 2009 at the Congress Theater in Chicago, it is more than apparent that React Presents has taken the annual Freaky Deaky Halloween event to an all new level. Some crucial changes included moving locations to Toyota Park in Bridgeview, expanding the event to a full-blown three day festival, and booking an enormous amount of extremely diverse hip hop and EDM artists, as well as setting up four official after parties for those of us who wanted to party until the early morning.
Day 1: 
After my 12-hour drive to Chicago and very minimal sleep, I was less than enthused about knowing that I was going to be up all night walking around in the cold, wind, and rain. On top of that, I had purchased tickets to the official Tchami after party at Concord Music Hall for that night. After my hour long commute from downtown to Bridgeview, my mood immediately improved as I drove over the top of the hill leading to Toyota Park and was greeted by the sight of beautiful neon carnival rides, three massive tents with bass already blaring early in the evening, and many other beautiful visual spectacles.
I made sure to head straight to The Shrine stage to catch a bit of Borgeous' intense trap set before exploring more of the festival grounds. I was pleased to find that the tents were surprisingly warm inside and actually enhanced the appearance of the lasers and strobe lights used during each artist's performance. The tents also seemed to help with noise bleed, as it was surprisingly minimal considering how small the festival space was and how loud each stage was throughout the night. Griz was directly after Borgeous, and played easily one of my favorite sets of the entire festival. He brought a little bit of every genre to the table and topped it off with his beautiful saxophone solos throughout the whole set. Everyone was dancing and seemed to be having a great time. I made sure to catch half of 2 Chains performance, before seeing Bassnectar to close out my night. 2 Chains had awesome stage presence and energy and I almost didn't want to leave his set. Bassnectar was incredible, as always, bringing his filthy, face-melting drops and insane visualizers and leaving the crowd entranced.
Leaving the venue and driving to Concord for the after party only took about 20 minutes, thankfully. Tokimonsta opened the after party and definitely got the crowd re-hyped. Unfortunately, Tchami was unable to perform, however, Griz took his place and played an energetic and more dance-y set that was very different from his set at the festival.
Day 2:
I decided to leave downtown much earlier on day two to avoid as much traffic as possible. Day two was definitely the most diverse of all the days and I was happy to see artists spanning from hip-hop (Joey Bada$$, Riff Raff, and Logic), to deep house (Hannah Wants and Benny Benassi), to trance (Armin Van Buuren), and the funky Big Gigantic. Hannah Wants was definitely one of the most underrated sets of the entire festival, as she was able to keep me dancing for the entirety of her performance and the overall vibe was killer. I also liked that she played on the smaller middle stage, as it reminded me more of a nightclub type of atmosphere. Logic also put on an intense and uplifting performance and I was surprised to see how few people were in the tent with me. With Armin and Big G both headlining, I decided to split the two sets in half, and I was happy to see equal support for both of these incredible artists.
Day two also had two after parties: Borgore at The Mid and Armin Van Buuren at Concord Music Hall, neither of which I was able to score tickets to, however, the cold weather and killer lineup for the day had definitely taken it's toll on me so the extra sleep was much appreciated.
Day 3:
Day three was significantly warmer and sunnier than the past two days. I headed to The Big Top right away to catch Goldlink followed by a few songs by AlunaGeorge. Both sets brought about positive vibes and had pretty small crowds so there was plenty of room to dance and have a good time. I decided to check out Chicago's own Vic Mensa shortly after. He easily brought the most energy of any of the hip-hop artists I saw all weekend. His crowd interaction was top-notch and he even went as far as stage diving. Despite most of the festivalgoers being at Datsik at the time, you could definitely feel the hometown love when he played. Mac Miller performed at The Big Top right after Mensa and totally killed his delivery on each and every song.  The two headliners for the night were Pretty Lights and Carnage. I decided to watch Carnage play a few songs, mostly focusing on his super heavy festival trap and hardstyle before heading over to watch the infamous Pretty Lights. I had never seen Pretty Lights before and I wasn't exactly sure what to expect, and man, they sure know how to control a crowd.
Overall, it's clear that React Presents has done an exceptional job at making this Halloween event bigger and better over the years. It definitely lived up to its expectations of being the "biggest Halloween event in the Midwest". I was glad to see that the festival was ran fairly smoothly and that they made sure to think of details such as climate and making the very most out of the visual experience inside of the tents. I also appreciated the diversity of this festival as compared to the fully EDM summer music festival "Spring Awakening" that is also ran by React. I wish that the location of this festival would be moved to somewhere closer to downtown in order to accommodate more hotels and keep people from having to either drive themselves an hour out of the way or pay outrageous prices for cabs and Ubers back into the city. I definitely am impressed with Freaky Deaky and I am excited to see where this festival, as well as other React Presents events, goes in the year to come.