Electric Zoo Radio Returns to SiriusXM, Exclusive Sets From Above & Beyond, Madeon, Adventure Club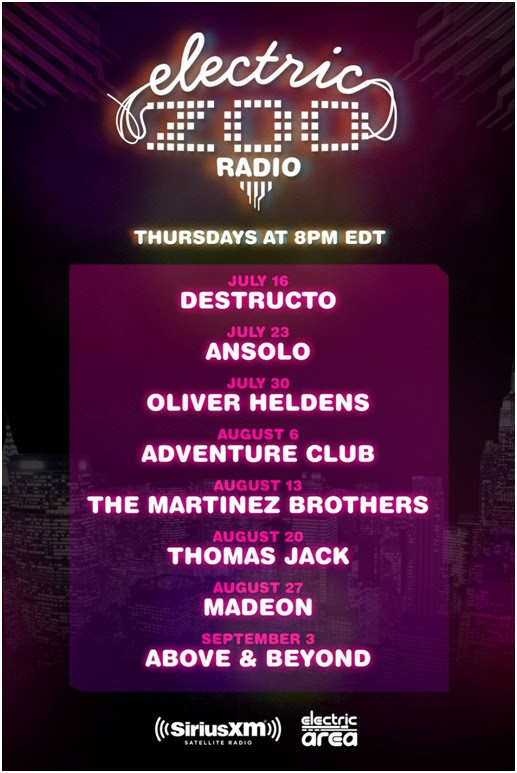 Tomorrow (Thursday, July 16), SiriusXM launches its weekly Electric Zoo radio show. Beginning at 8 pm ET, the inaugural set in the forthcoming Electric Zoo radio series comes from DESTRUCTO.
Additional sets to be included on the hour-long radio show, which airs every week on SirusXM's Electric Area, channel 52, include Ansolo (7/23), Adventure Club (7/30), The Martinez Brothers (8/6), Thomas Jack (8/13), Madeon (8/20), and Above & Beyond on (8/27).
Electric Zoo: Transformed returns to Randall's Island Park in New York City this Labor Day Weekend. Celebrating its seventh annual event in NYC, festival creators, Made Event, have partnered with ID&T, an SFX Entertainment company, to transform the fest.
The re-invented and re-imagined Electric Zoo Festival will include headliners Above & Beyond, Alesso, and The Chemical Brothers. From September 4-6, 2015, the festival will offer attendees a wide variety of electronic dance music (EDM) acts across a multitude of sub-genres. Listeners can also tune into Electric Zoo Radio through the SiriusXM app on smartphones and other connected devices, and online at siriusxm.com.
SiriusXM has been broadcasting live performances from Electric Zoo since its debut in 2009.
For more information on the Electric Zoo: Transformed, please visit: www.electriczoofestival.com. Find out more about SiriusXM here.