EDC Las Vegas to Live Stream 20th Anniversary With EDC LIVE Presented by Smirnoff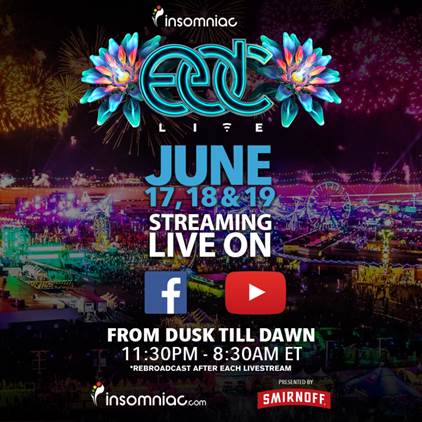 Insomniac Events announces EDC LIVE stream across multiple platforms for EDC Las Vegas 2016
It has been announced today (June 14) that Insomniac Events will broadcast its 20th anniversary edition of EDC Las Vegas 2016. As North America's largest dance music festival, Electric Daisy Carnival (EDC) will live stream over three days from the Las Vegas Motor Speedway. EDC LIVE, presented by Smirnoff, will be available for viewing on YouTube, insomniac.com, LNTV.com, and the official EDC Facebook page via the Live Video API, in collaboration with Grabyo.
EDC Live will broadcast from June 17-19, 2016 from 11:30pm – 8:30am ET. An immediate rebroadcast will follow each live stream. The dusk till dawn event will draw nearly 450,000 partygoers to the Speedway for a neon carnival with some of the biggest names in electronic dance music (EDM).
For those wanting to tune in live from home, from Friday, June 17th to the sunrise of Monday, June 20th, millions of viewers around the world will have access to the incredible three-day experience at Las Vegas Motor Speedway from their homes and on the go, through the YouTube and Facebook mobile apps. Attendees and EDC LIVE viewers can expect to be wowed by immense stage design, impeccable production, great music, and surprise performances.
Check this space for the EDC LIVE artist lineup, which will be announced in the coming days.