Disclosure to Bring Wild Life to Brooklyn for NYE 2017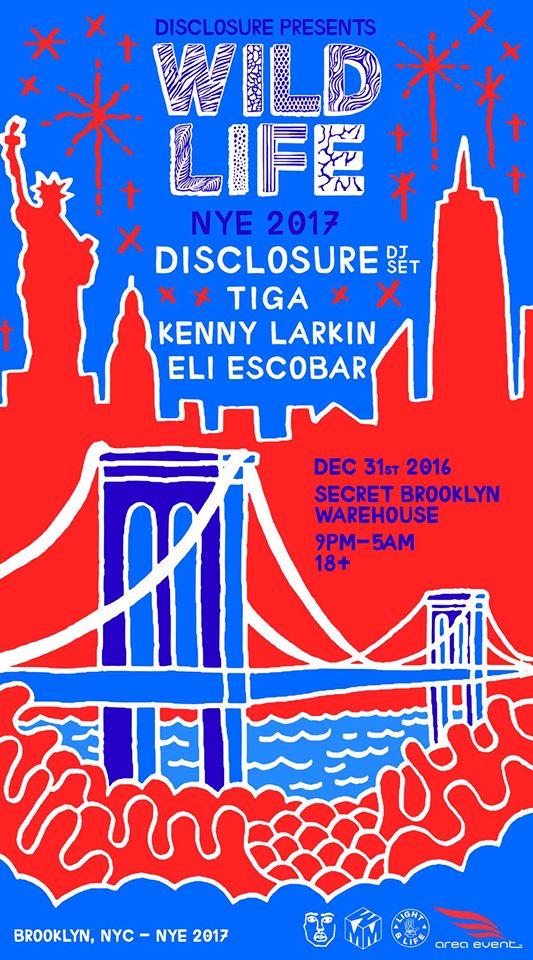 Disclosure is back to the city again, this time bringing their notorious Wild Life party to Brooklyn alongside production company LIGHT & LIFE and Area Events
The Wild Life party has come to New York City on two previous occasions hitting Manhattan and Queens. This time they will be throwing down one of the spots to be for this year's New Year's Eve in Brooklyn, warehouse style. The Wild Life brand is one of the trendiest festivals in UK at the moment, and they've decided to choose Brooklyn as their December 31 performance site. Disclosure will of course be bringing in a well-cultivated collection of artists to help usher in the New Year. To join them in one of the biggest nights of the year will be Canadian producer Tiga, techno pioneer Kenny Larkin, and NY resident himself Eli Escobar.
Disclosure holds a special spot in New Yorkers' hearts as they've played at many of the city's venues throughout the span of their career. They've packed arenas such as the Forest Hill Stadium and the mecca of live events Madison Square Garden, and served as the musical guest with two performances on Saturday Night Live at 30 Rock, where they were joined by Sam Smith ("Omen") and Lorde ("Magnet"). This year they released their EP Moog for Love giving fans a little taste of some vibrant Disclosure house magic. To finish the successful year with a bang they're going out Wild Life style with an undisclosed Brookyln Warehouse gathering.
The event itself will be strictly 18+ and has it operating from 9pm-5am New Year's Day morning. Be prepared to stay in it for the long haul and ring in the New Year with the internationally recognized duo of Disclosure and friends. With the backing of Area Event and LIGHT & LIFE, this event will be one of the top parties to attend in the city on NYE.
Grab your tickets to the Wild Life event featuring Disclosure HERE.
Follow Disclosure for more information on their Twitter, Facebook, and Instagram.