Diplo Brings the Party to Encore Beach Club Las Vegas With Grandtheft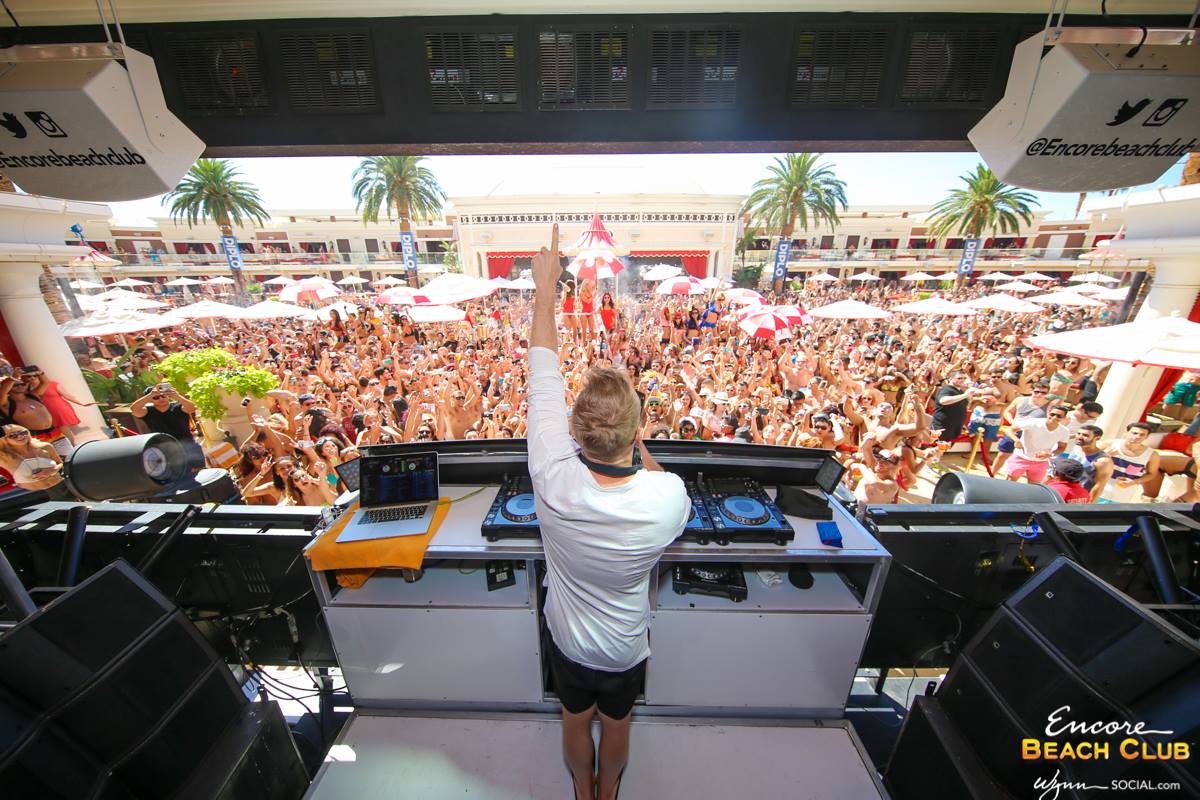 EDC week at the Wynn Hotel & Casino brought about some of the biggest Las Vegas soirees. With a slew of premier and, needless to say, extravagant venues, Wynn events highlighted a massive start to the summer in Sin City. Encore Beach Club provides the perfect outdoor atmosphere for dancing and swimming under the dessert sun. Ahead of the daytime headlining performance from the superstar producer and DJ, Diplo, Grandtheft provided a proper opening ensemble.
Wynn resident and internationally acclaimed DJ and producer Diplo kicked off EDC Weekend with a fun-filled Friday afternoon—fully equipped with lots of twerking. An early tease of Major Lazer & DJ Snake's "Lean On" feat. MØ and Encore lifeguards spraying champagne properly introduced the man of the hour. Diplo proceeded to mix in some pool-ready, big-room tracks, which included Janet Jackson "Go Deep (Tchami Remix)," Wiwek & Gregor Salto "Miami," Valentino Khan's "Deep Down Low," and the Diplo & Grandtheft Remix of Calvin Harris "Summer."
The blazing Las Vegas sun kept attendees splashing in Encore's many expansive pools, while Diplo and Lil Jon turned up the heat in the booth. Hyping up the crowd with one of the most recognizable voices, Lil Jon joined the party to perform some crowd favorites. Live performances of his own songs included Lil Jon ft. Tyga "Bend Ova," Lil Jon & The Eastside Boyz "Get Low," and the Ying Yang Twins & Lil Jon's "Salt Shaker," amongst other hip-hop hits.
Towards the latter portion of his highly energetic set, trap master Diplo showcased his famous twerk tunes. "Express Yourself" featuring Nicky Da B, Diplo featuring Lazerdisk Party Sex "Set It Off," and his new Skrillex collaboration "Where Are Ü Now" by Jack Ü featuring Justin Bieber. Playing an extensive track-list of well over sixty different tracks and samples, the ensemble encompassed everything from hip-hop, trap and even electro house.
Truly the perfect kick-off to EDC Weekend, the Mad Decent creator provided the pool with a penetrating soundtrack. Whether you attended the festival afterwards or continued your party at the Wynn into the night, any day spent at Encore will have you surrounded by a sensational atmosphere, chill vibes, and the sounds of superstar DJs. One thing is for certain: Encore Beach Club epitomizes the ideal Las Vegas pool party.