Disclosure Heats Up Daylight Beach Club at Mandalay Bay During EDC Week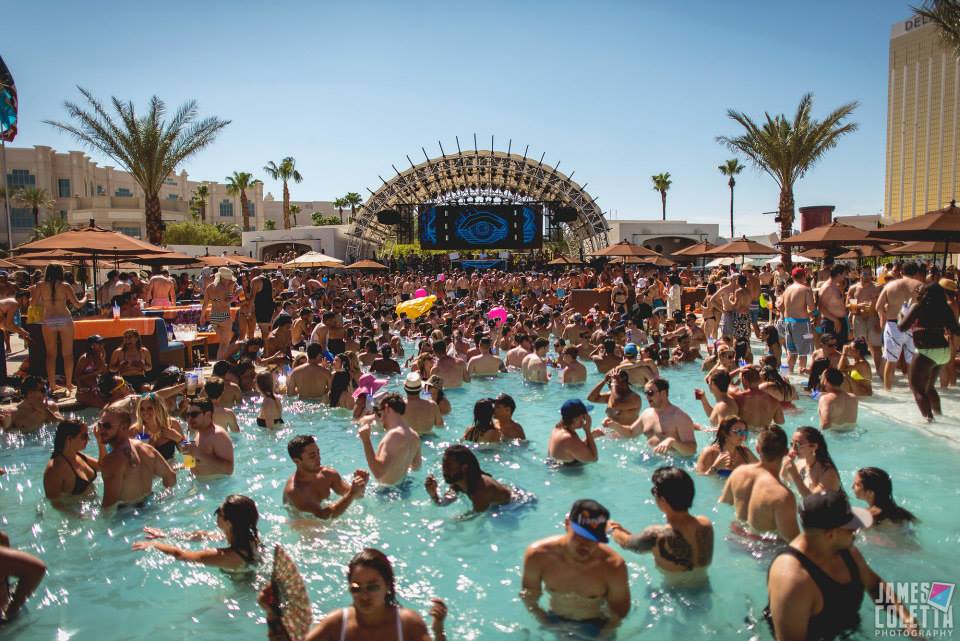 As temperatures neared 110°F in Sin City, that didn't stop partygoers—both locals and travelers in town for EDC Week—from taking to their favorite pool parties. One of the hottest tickets during EDC Weekend was undoubtedly Disclosure's daytime event. The spot: Daylight Beach Club at Mandalay Bay.
Partygoers congregated in and around the main pool at Daylight, which was the center of attention, aside from the headlining act, of course. Guy and Howard Lawrence—better known as Disclosure—who hail from Surrey, England, are best known for their unique signature sound, which fuses elements of various EDM sub-genres and hip-hop. Disclosure released their debut artist album "Settle" in June 2013.
Despite the high temperatures, attendees basked in the dessert sun to the groovy beats Disclosure was providing. Beginning with a deep house selection, the duo progressed with their daytime ensemble, which encompassed some of their album tracks and an assortment of groovy tunes to accompany the sunshine and EDC week-atmosphere.
Disclosure included "Settle" tracks such as "Voices" featuring Sasha Keable, "When A Fire Starts To Burn," and of course, "Latch," which caused an explosive reaction from the crowd—fully equipped with pool-splashing madness. The Lawrence Brothers also showcased their own "Holding On" featuring Gregory Porter and "Bang That," as well as Tiga vs Audion's "Let's Go Dancing," Ennio "Go Insane," Lion Babe's "Jump High (Billon Remix)," and Mason's "Exceeder (Umek & Mike Vale Remix)."
Daylight Beach Club was also home to a number of other massive daytime parties during EDC Week, including Fatboy Slim & Duke Dumont (Thurs., 6/18), Morgan Page (Fri., 6/19), and Carl Cox & Loco Dice (Sun., 6/21).
In addition to the Daylight events, Light Nightclub, which is powered by Cirque du Soleil, hosted acts such as Swedish superstar DJ and producer Alesso (Sat., 6/20), A-Trak with Baauer (Wed., 6/17), and it was time to get WILD at LIGHT with Disclosure's Wild Life event with Dusky and Sasha (Fri., 6/19), among others.
For a listing of upcoming events at Daylight Beach Club at Mandalay Bay, visit http://www.daylightvegas.com.
Photo Credit: James Coletta