Dillon Francis Hits MIXX at Borgata Atlantic City for Electric Adventure After Party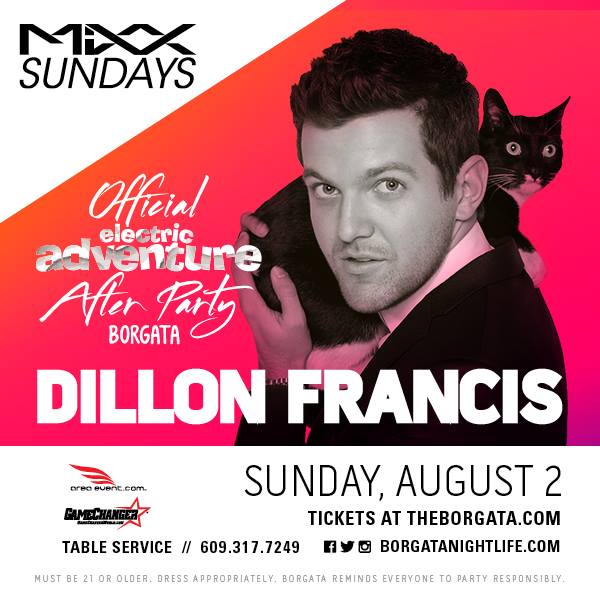 Atlantic City, NJ will transform into an electronic dance music (EDM) oasis the first week in August as Electric Adventure Music Festival draws thousands of partygoers for a multi-genre beachfront experience. On Sunday, August 2, the festival headliner will provide an official after party at MIXX at The Borgata for those looking to keep the party going.
The acclaimed DJ and producer has just released his latest single, "Bruk Bruk (I Need Your Lovin')," which is included on his forthcoming EP, "This Mixtape Is Fire." Francis's new EP will see its official release on Columbia Records (Sony Music) on August 14. Francis recently unveiled a hilarious video titled "Exit Through The Donut Hole," which features the track "I Can't Take It," taken from his studio album "Money Sucks, Friends Rule."
WATCH THE "EXIT THROUGH THE DONUT HOLE" VIDEO
Dillon Francis is one of the headlining acts at the first-ever Electric Adventure Music Festival edition in Atlantic City during the first weekend in August. Electric Adventure has previously taken place at other venues in New Jersey—and this year, it lands on the beach in Atlantic City. The NJ shore will hosts acts such as Pretty Lights, Big Gigantic, Kygo, and Dillon Francis, among a slew of others.
ENTER TO WIN A PAIR OF 2-DAY PASSES FOR ELECTRIC ADVENTURE 2015 FROM THE NOCTURNAL TIMES
Advance tickets for Dillon Francis at MIXX are available HERE.