Dash Berlin Delivers Classics Set at Ultra Europe in Croatia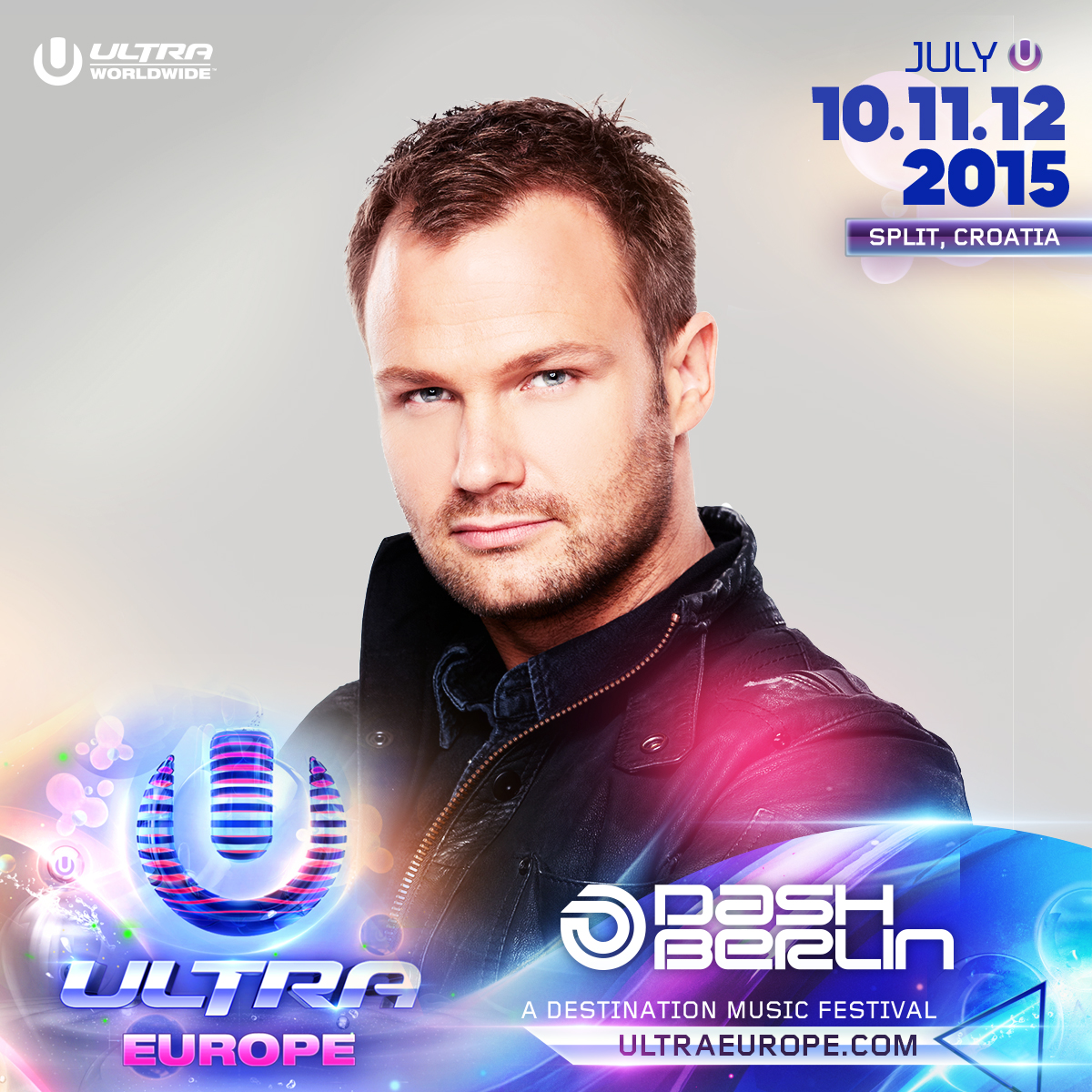 Despite the recent reports that Dash Berlin front man, Jeffrey Sutoris, went missing during a bike excursion in the Mayan Jungle in Mexico, the viral rumors were confirmed to be false. Jeff of Dash Berlin is fine, and to prove his longevity in the electronic dance music (EDM) community, he performed a set last weekend in Split, Croatia, at the massive Ultra Europe festival.
Headlining the Ultra Worldwide Stage, Dash Berlin performed a classics set, which encompassed original productions, remixes, and a few mash-ups. Filled with emotional tunes, the goosembumps-inducing set, which is available to stream live in HD, captures the true essence of Dash Berlin.
Opening the Ultra showcase with the vocal mix of "Till The Sky Falls Down," Dash Berlin's ensemble included "Underneath The Sky" feat. Criston Rigby, "Steal You Away" with Alexander Popov feat. Jonathan Mendelsohn. Dash Berlin remixes of Gabriel & Dresden with JES pres. Motorcycle "As The Rush Comes" and OneRepublic vs. Alesso "If I Lose Myself" were also early set inclusions—all within the first 15 minutes.
Proceeding with Dash Berlin's 4AM Remix of Ferry Corsten's "Not Coming Down" feat. Betsie Larkin into his 2014 "Earth Meets Water" had all Ultra-goers hands in the air. Traveling further back in time, Dash continued with Rank 1 "Airwave (Dash Berlin Remix)," Matt Cerf, Shawn Mitiska feat. Jaren "You Never Said (Dash Berlin Remix)," his Shogun collaboration "Callisto," Alice Deejay "Better Off Alone (Dash Berlin Rework)" and "Go It Alone (Andrew Rayel Remix)" feat. Sarah Howells.
Advancing into "Silence In Your Heart" feat. Chris Madin, "World Falls Apart (Jorn van Deynhoven Remix) feat. Jonathan Mendelsohn, and First State feat. Sarah Howells "Reverie (Dash Berlin Remix)," by the time Jeff showcased Dash Berlin vs Coldplay's "Ticking Clocks (Dash Berlin Essential Warmplay Rework), the crowd was already buying what Dash Berlin was selling.
The feels were real as Dash Berlin's set neared its end, showcasing Band of Horses "The Funeral (Dash Berlin Rework)," "Better Half Of Me" feat. Jonathan Mendelsohn, Armin van Buuren feat. Sophie Ellis Bextor "Not Giving Up On Love (Dash Berlin 4AM Remix)," "Never Cry Again (Jorn van Deynhoven Remix)" and "Fool For Life (Tomas Heredia Remix)."
Causing the real crowd crescendo, what would this Ultra Europe set have been without "Man On The Ramsterdam?" The set concluded with "Waiting" feat. Emma Hewitt, Mike PUSH "Universal Nation Dash Berlin Bootleg)," and "Shelter (Photographer Remix) feat. Roxanne Emery. Heartfelt, reminiscent, nostalgic, and authentic, Dash Berlin's Ultra Europe set is a reminder of why emotional dance still prevails.
Re-live Dash Berlin's Ultra Europe set: