Dash Berlin at Marquee Las Vegas Dayclub on June 18th – EDC Week 2016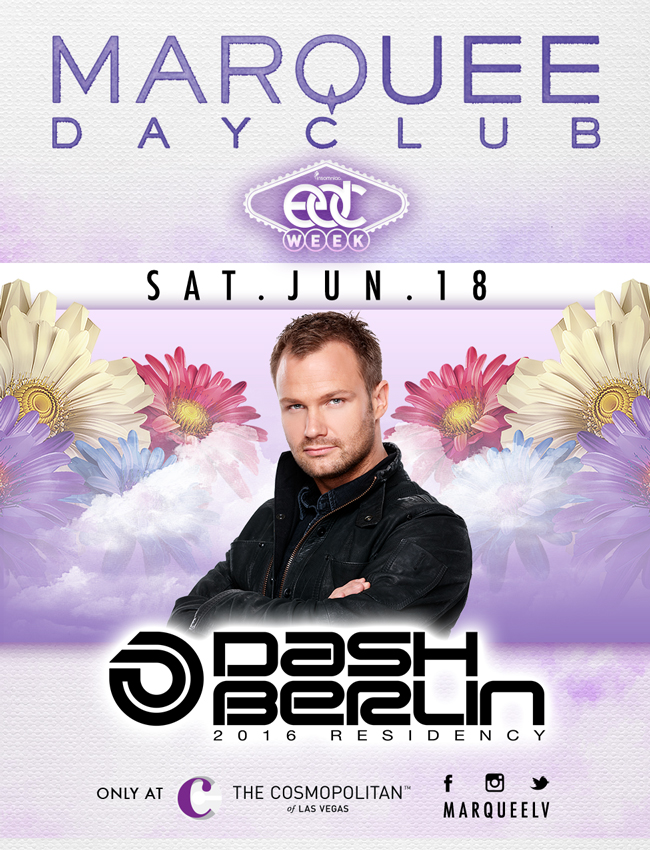 During EDC Week 2016, Dash Berlin returns to Marquee Dayclub on June 18, 2016
What would EDC Week be without a DJ set from the emotional Dutch dance music staple Dash Berlin?
As a music festival headliner and go-to main stage performer, a producer and DJ, and sought-after remixer (just to name a few)—Dash Berlin and front-man Jeffrey Sutorius have transformed electronic music since breaking into the scene more than a decade ago.
EDC Week attendees should anticipate a glimpse into the extensively build repertoire of Dash Berlin during his return to the Marquee Las Vegas Dayclub on June 18th.
From his smash hit singles such as "Till The Sky Falls Down" and "Man On The Run" with Cerf, Mitiska & Jaren; to "Waiting" feat. Emma Hewitt and "Steal You Away" with Alexander Popov feat. Jonathan Mendelsohn, Dash Berlin continues to release quality singles.
But, it's not just quality single releases for Dash Berlin. Donned a true mash-up master, Dash Berlin has become known for fresh variations of trance tunes and signature 4AM remixes. In addition to the slew of tracks set forth by Dash Berlin, the group has released three studio albums, including The New Daylight (2009), #musicislife (2012), and We Are (Part 1) (2014).
Don't miss your chance to catch Dash Berlin during EDC Week! Dash Berlin will also return to Marquee Las Vegas to close out EDC Week 2016 for a nightclub event with Carnage on June 20th.
Tickets for Dash Berlin at Marquee Dayclub on June 18th during EDC Week 2016 are available HERE.
Fresh off an unforgettable string of Memorial Day Weekend events, Marquee Las Vegas is preparing to do it all over again. This time, they're going to go even bigger and even better.
Marquee Las Vegas Delivered All-Star Memorial Day Weekend in Sin City at Dayclub & Nightclub
For the remainder of EDC Week, Marquee Dayclub is slated to host events with Markus Schulz (6/15); Jauz (6/16); Cash Cash (6/17); Carnage (6/19); and Thomas Jack (6/20).
While at Marquee Nightclub, EDC Week brings events with Galantis & Loco Dice (6/16); Andrew Rayel (6/17); Vice (6/18); and Carnage & Dash Berlin (6/20).
View upcoming events at Marquee Dayclub and purchase tickets and marqueelasvegas.com.
For more information on Dash Berlin, visit dashberlin.com.