Bingo Players Bingo Beach at Governors Club NY on June 18th; With Two Complimentary Tickets From The Nocturnal Times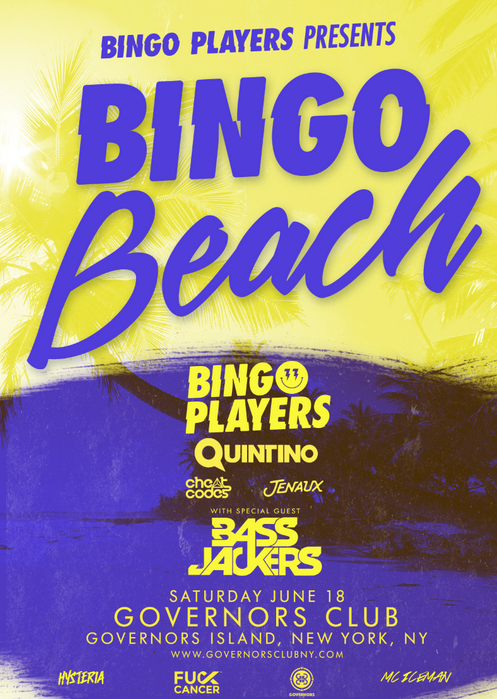 The Bingo Players return to New York City with Bingo Beach at Governors Club on June 18, 2016
With the return of Bingo Players to Governors Island, New York, The Nocturnal Times is giving one lucky reader the chance to join in on the fun and kick off the summer right with Bingo Beach. On June 18th, Bingo Players will take over the waterfront space at Governors Club with Quintino, Cheat Codes, Jenaux, and special guests Bassjackers.
The Dutch DJ duo exploded onto the electronic dance music (EDM) scene in 2011 with their smash single "Cry (Just A Little)" and have since been dominating the space.
Tragedy stuck the duo when Paul was diagnosed with cancer in June 2013 and passed away in October of that year, devastating both Maarten and the entire dance community. Since Paul's passing, Maarten has continued the Bingo Players legacy and has partnered with the Fuck Cancer charity to support prevention and early detection.
Bingo Beach at Governors Club is in partnership with Fuck Cancer; so, get out there and dance for a great cause! Through digital media, programs and events, Fuck Cancer believes its community will be the generation that ultimately improves health outcomes.  To support Fuck Cancer or to learn more, visit LetsFCancer.com or follow @letsfcancer.
The Nocturnal Times has teamed up with Bingo Players to offer one lucky partygoer a pair of tickets to Bingo Beach. Enter to win below.
Enter to win two complimentary tickets for Bingo Players Bingo Beach from The Nocturnal Times:
a Rafflecopter giveaway

*Contest ends on Thurs., June 16th at 10pm EST.
Tickets for Bingo Players presents Bingo Beach at Governors Club on June 18th are available HERE.
For more information on Bingo Players visit bingoplayersmusic.com. Bingo Players is on Facebook, Twitter, and Instagram.