Marquee Las Vegas Delivered All-Star Memorial Day Weekend in Sin City at Dayclub & Nightclub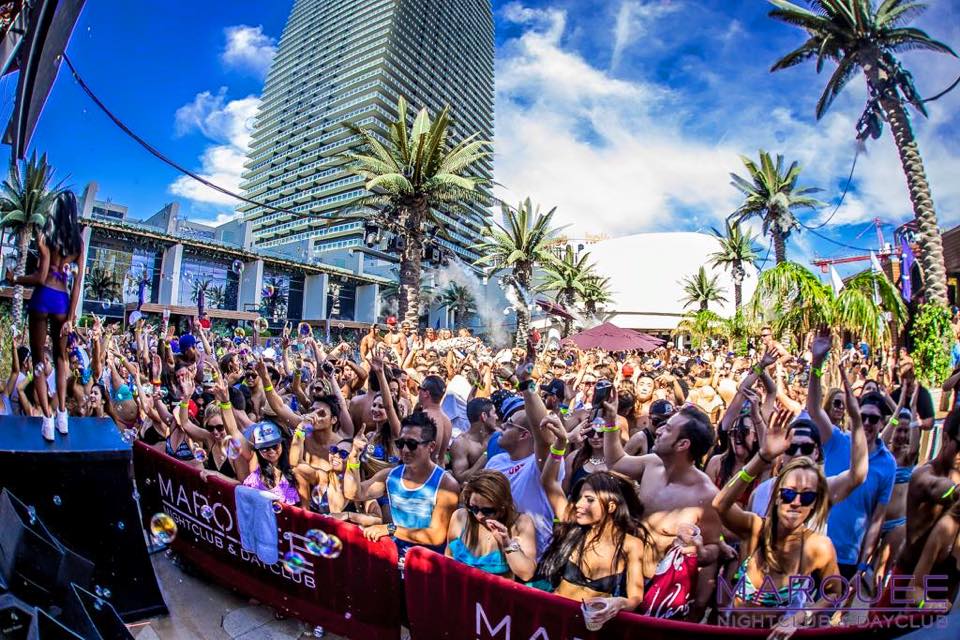 The Nocturnal Times celebrated Memorial Day Weekend at Marquee Las Vegas with Cedric Gervais, Porter Robinson, Andrew Rayel, Carnage, Wiz Khalifa, Cash Cash, Travis Scott, and DJ Khaled
Marquee Nightclub & Dayclub are located in the center of the lavish and chic Cosmopolitan of Las Vegas. This Memorial Day Weekend at the state-of-the-art event spaces were home to unforgettable parties with some of the biggest names in electronic dance music (EDM). Up next for Marquee Las Vegas: EDC Week 2016!
Grammy Award-winning French DJ and producer Cedric Gervais kicked off MDW at Marquee Dayclub on Friday, May 27 with the first headlining performance at Marquee Dayclub. From their multiple pools, breathtaking waterfalls, luxurious daybeds and cabanas, and a top-of-the-line soundtrack with views overlooking The Strip, Marquee Dayclub was in full force from the start of their influential signature weekend.
Cedric Gervais—who is familiar to many for his smash single "Molly"—kept Marquee Dayclub moving from the very beginning as he showcased tracks such as "Summertime Sadness" with Lana Del Rey; "Young & Beautiful" by Lana Del Rey; "Show Me Love;" and Calvin Harris & Disciples "How Deep Is Your Love." Last month, Cedric released his remix of Sigala "Give Me Your Love" feat. John Newman & Nile Rodgers. Listen here.
Later that same night, iconic Worlds creator, Porter Robinson took over Marquee Nightclub, where the energy was flowing throughout the course of the night. Thousands of Vegas-goers were a part of the high octane showcase presented by Porter, which included a handful of some of his biggest electronic creations.
The famed musician has become known for his extensive discography, which includes familiar tracks including: "Sea Of Voices;" "Sad Machine," "Flicker," "Lionhearted" feat. Urban Cone; "Easy" with Mat Zo; "Spitfire;" "Hello" with Lazy Rich and Sue Cho; and what's unquestionably his biggest release to date, "Language."
Additionally, fans grooved in the desert sun at Marquee Dayclub to DJ sets from Cash Cash with Wiz Khalifa on May 28th and the head of The Chipotle Gang, Carnage on May 28. As nightfall struck fans flocked to Marquee Nightclub for Travis Scott on 5/28 and Wiz Khalifa on 5/29.
Armada Music mainstay, Andrew Rayel, took to the Marquee Dayclub on Monday, May 30th for an uplifting close to a buzz-worthy Memorial Day Weekend. As a classically trained musician, Andrew has garnered a highly reputable discography consisting of solo productions, remixes, and collaborations. Rayel's most recent melodic creation, "Epiphany," saw its official release through Armada Music. The track was also included on Armin van Buuren's annual mix compilation, A State of Trance 2016.
During the final Dayclub event of the holiday weekend, DJ Khaled joined in on the fun ahead of his appearance at Marquee Nightclub later that night.
What's next for Marquee Las Vegas? EDC Week. In just two short weeks, Insomniac Events' Electric Daisy Carnival will return to the Las Vegas Motor Speedway. Celebrating 20 years Under the Electric Sky, EDC 20 will deliver 3-days of dance music, which are accompanied by a weeklong string of pool parties and nightclub events.
For EDC Week, Marquee Dayclub is slated to host events with Markus Schulz (6/15); Jauz (6/16); Cash Cash (6/17); Dash Berlin (6/18); Carnage (6/19); and Thomas Jack (6/20).
At Marquee Nightclub, EDC Week brings events with Galantis & Loco Dice (6/16); Andrew Rayel (6/17); Vice (6/18); and Carnage & Dash Berlin (6/20).
View all of the upcoming June events for Marquee Las Vegas, including EDC Week 2016, HERE.
For more information on Marquee Las Vegas, visit marqueelasvegas.com.
Follow Marquee Las Vegas on Facebook, Twitter, and Instagram.