The Chainsmokers "All We Know" feat. Phoebe Ryan via Disruptor Records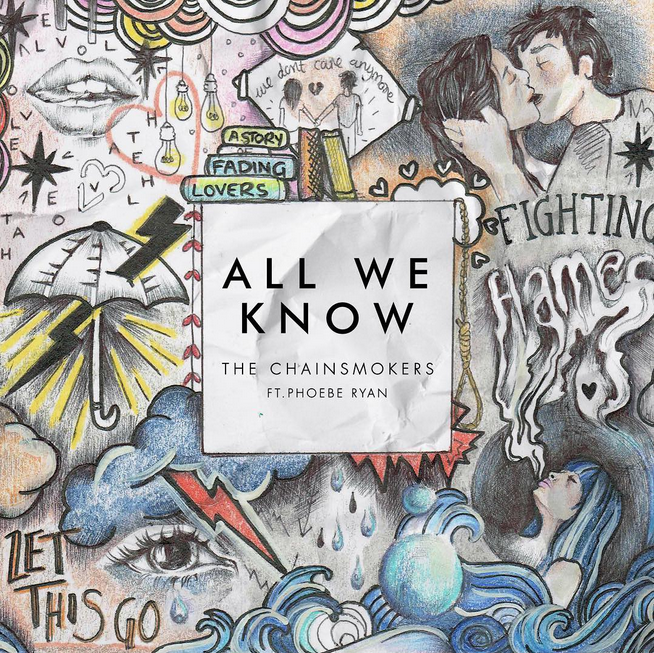 The Chainsmokers release "All We Know," following the release of one of the biggest songs of the year
Alex Pall and Drew Taggart—better known as The Chainsmokers—have announced the release of their latest single, "All We Know" feat. Phoebe Ryan. The pair announced through their social media channels that the track would see its official release tomorrow (Thurs., Sept. 29) at 1 p.m. EST.
As the follow-up to their six-week Billboard #1 hit, "Closer" feat. Halsey, Alex and Drew deliver once again with "All We Know," which is reminiscent of their summer-smash. Featuring vocals from Phoebe Ryan (Tritonal "Now Or Never"), "All We Know" will rapidly make its way to airwaves, dance floors, and the top of the charts.
This year the guys have been basking in the success of a six-week Billboard Hot 100 #1 single, "Closer" feat. Halsey, which is undeniably one of the biggest songs of the year. They've appeared on the cover of Billboard Magazine, performed at the 2016 MTV Video Music Awards with Halsey and on The Tonight Show Starring Jimmy Fallon, and have been headlining major shows and music festivals across the world. From the Electric Zoo NY main stage to just-announced gigs at Decadence NYE in Colorado and SnowGlobe in California, catch The Chainsmokers in a city near you with their upcoming show dates throughout the rest of the year.
For more information on The Chainsmokers and upcoming tour dates, visit thechainsmokers.com.
Check this space for official "All We Know" download details and streaming links as soon as they're made available.