Blink-182 to Headline Coachella 2023 Weekend 2, 'TBA' Act to Close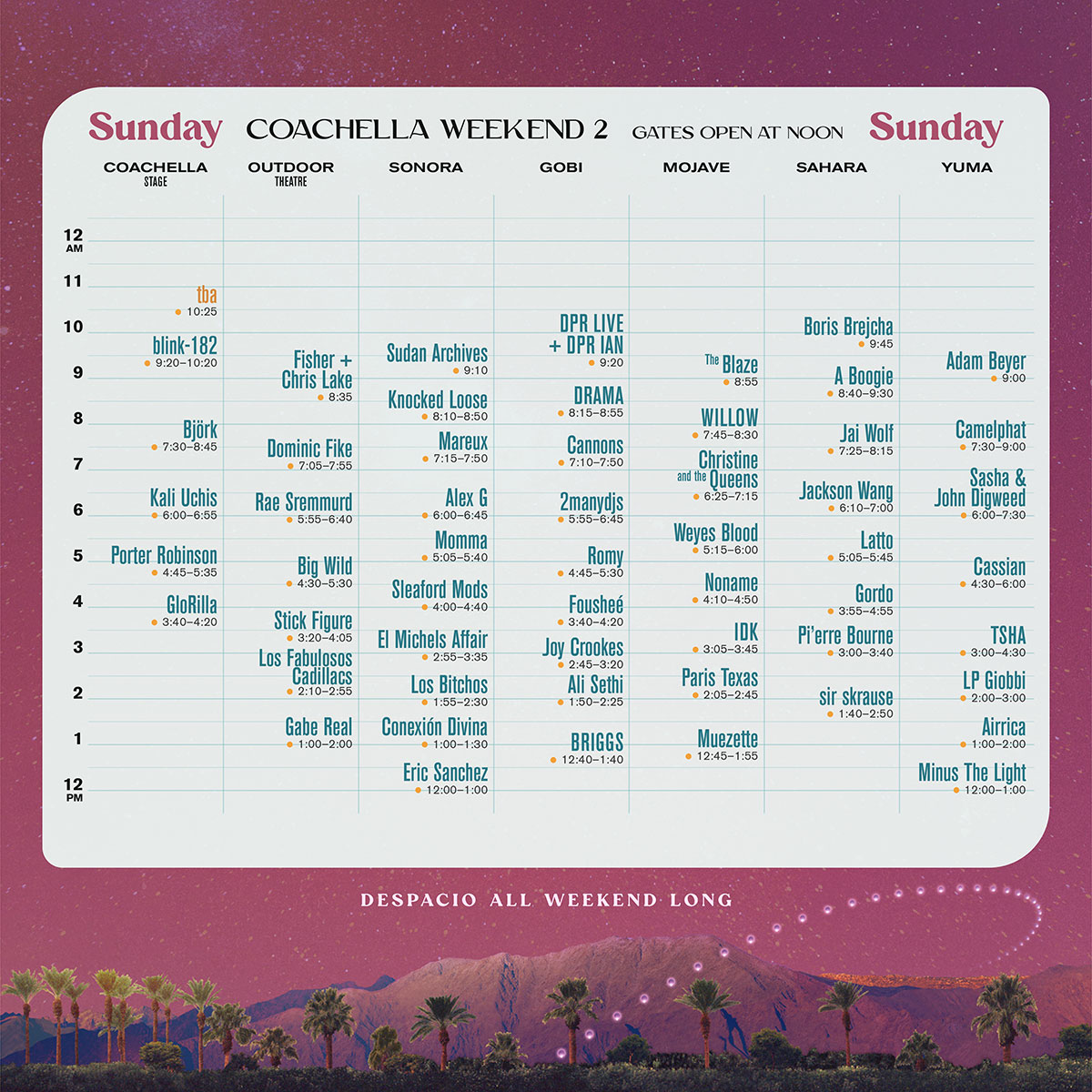 Coachella 2023 has been quite the ride — and weekend 2 is still ahead of us. Beginning tomorrow, Friday, 21, the festival returns to Indio, CA, for its annual second weekend. Aside from some minor date and time changes from weekend 1, the biggest change has been previously announced yesterday. Following Frank Ocean dropping out of Coachella 2023 weekend 2, it was announced Blink-182 would be taking his place at the main stage as headliners, following their massive Sahara tent sunset performance during weekend 1.
Today (Thurs., April 20), Blink-182 took to their socials to share the official new Coachella 2023 flyer for weekend 2, where their names are showcased as headliners. Coachella also revealed the official set times for weekend 2, which includes Blink-182 on Sunday. The schedule also lists 'TBA' just five minutes after Blink is set to finish their 1-hour headline performance. While the TBA act listed on the official Coachella 2023 weekend 2, day 2 schedule for Sunday, April 23, could be for just about any act, here are a few logical and potentially educated guesses.
Could Blink-182 be bringing out a guest to continue their set with, similar to The Weeknd and Swedish House Mafia's co-headline performance at Coachella 2022? In this case, could the group be bringing out somebody like Machine Gun Kelly to officially close out the main stage along with Travis Barker? Could Travis Barker and Kourtney Kardashian be renewing their wedding vows for a possible forth time? Might Blink-182 bring out another band to finish off their ensemble? Could it be a recent or prior collaborator of theirs, such as The Chainsmokers? Could the 'TBA' stand for just about any other artist or act at this point? Absolutely. And in keeping the mystery alive is after all what makes Coachella, Coachella.
UPDATE (9:30pm EST): It was revealed by Skrillex, Fred Again.., and Four Tet that they were 'TBA' and would be closing the Coachella 2023 main stage on Sunday during weekend 2. They will follow the newly-announced headliners, Blink-182. The news of Skrillex, Fred Again.., and Four Tet as the closing act for this year's Coachella has been very pleasantly and happily received.
Skrillex, Fred Again.., and Four Tet recently just performed a sold out show at Madison Square Garden in New York City, which sold out within minutes of its announcement just days before the event. Referring to themselves as the Pangbourne House Mafia, the trio also played a pop-up set on a bus in Times Square, as well as an intimate underground show at LPR. During these surprise performances throughout NYC, Skrillex also surprise dropped two brand new albums within days of each other.
Check this space for official Coachella 2023 weekend 2 set times by day and the live stream schedule.