Billboard Hot 100 Music Festival Returns to Jones Beach With Calvin Harris, Martin Garrix, Marshmello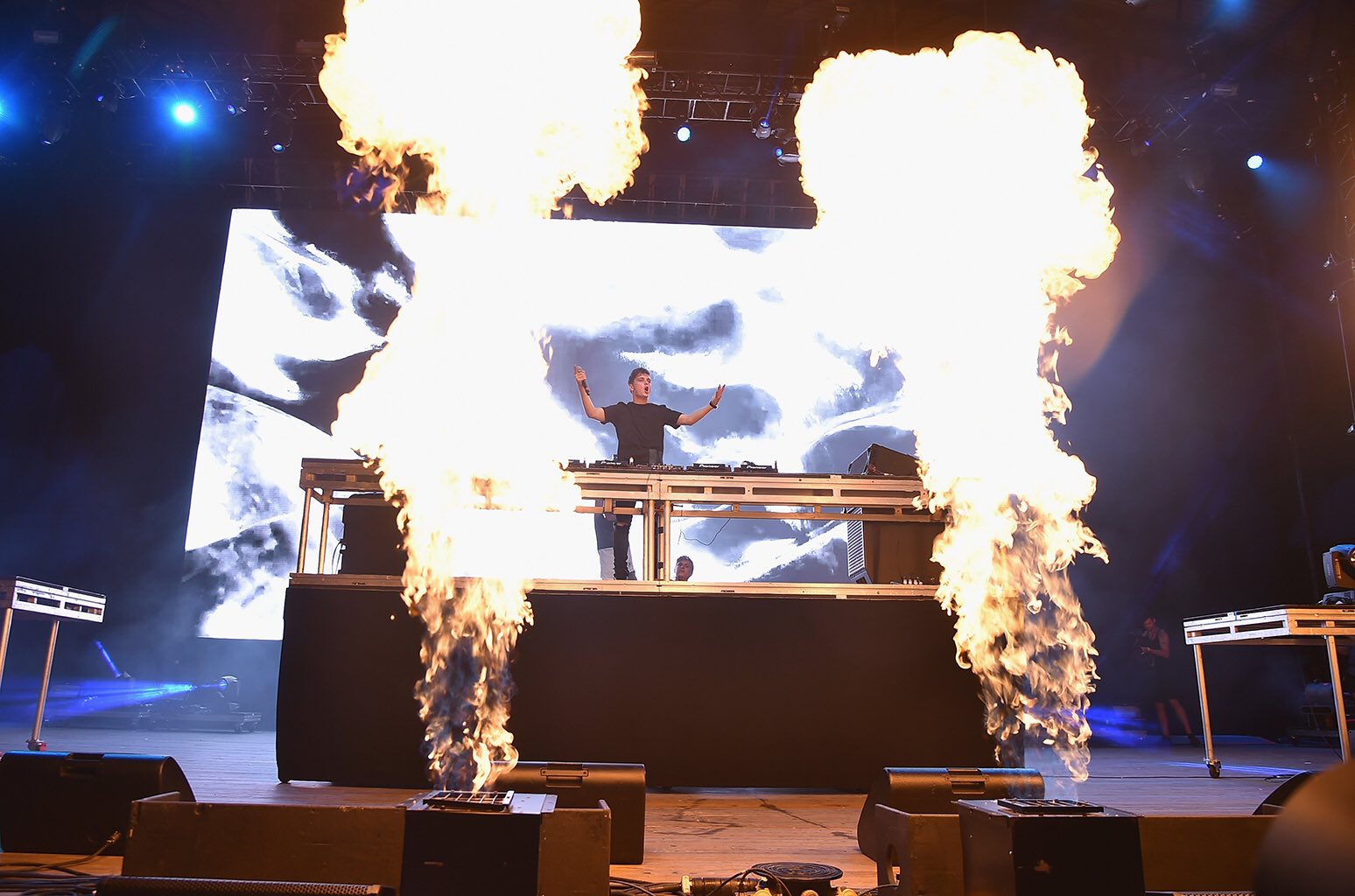 The second annual Billboard Hot 100 Music Festival returned to Jones Beach with a two-day, multi-stage experience
The 2016 Billboard Hot 100 Music Festival made for an incredible weekend at The Grounds at Nikon Jones Beach Theatre. With superstars, Ariana Grande, J. Cole, and Fetty Wap amongst the headliners, it was sure to be a packed house, but it was actually the EDM acts that completely dominated this year's installment. Calvin Harris, Martin Garrix, Marshmello, Audien, Madeon, Nervo and many more world famous DJs and producers, drew in some of the largest, most insane crowds of the weekend, as they dropped their hottest sets to help close out this year's festival season.
Day 1 kicked off to a huge start with DJs such as Elephante, Prince Fox, and Team EZY. Around 6PM, Paper Diamond ignited the crowd's energy as he set off the W Hotel's stage with his progressive/hip hop sounds and remixes, and even debuted some new music. Following Paper Diamond was Thomas Jack, who appropriately took the Jones Beach party goers on a tropical, seaside journey with his laid-back dance tracks. As the sun began to set, the music intensified with sets from super star DJs, Madeon and Martin Garrix. Both acts drew in huge crowds which remain unrivaled amongst the Saturday contenders. Garrix's Hot 100 Music Festival was highlighted with his most famous tracks, as he opened up with a remix of his hit, "Animals," and continued to pump up the crowd with one of his most popular remixes, "Don't Look Down." Closing out his set, Garrix dropped none other than his mega hits, "Now That I've Found You," and his newest single, "In The Name of Love," which features Bebe Rexha.
Following up an unrivaled Day 1 of the 2016 Billboard Hot 100 Music Festival would only be accomplished with DJs such as Seeb, CID, Party Thieves, Jillionaire, Futuristic, and Lost Kings to  start off the day. Despite the unruly weather, fans never missed a beat as they threw on their rain gear and danced away in the mud. Nearing 7 p.m., fans began flooding to the Sun Stage, as Christian Karlsson and Linus Eklöw of Galantis took the crowd's energy to a new level with their incredible set featuring their famous songs, "No Money," "Runaway," "Peanut Butter Jelly," and "Gold Dust." The rain intensified, but so did the crowd as Audien took to the W Hotel's stage with his mega hit, "Something Better," his unforgettable 2015 collab with Lady Antebellum. The young star kept the crowd going with Above & Beyond's classic trance track, "Sun and Moon" feat. Richard Bedford, and more recent tracks such as The Chainsmokers' "Don't Let Me Down" feat. Daya" and Zara Larsson's "Never Forget You."
Much like the closing sets of Day 1, the ending of Day 2 could only be classified as phenomenal. Marshmello proved that he is no longer just a rising star, as he created an atmosphere so insane, that fans seemed to completely forget that it was down pouring. Opening with his famous mash up of Eminem's "My Name Is," and his hit, "Know Me," Mello had all of Billboard's Mellogang chanting the words, "Everybody Know Me, Everybody Know Marshmello," before erupting into a frenzy. Of course he also had to feature his chart-topping hit, "Alone," as he noted that as he looked out to the crowd and saw all the Mellogang gear, that it "means the world" to him. Mello's mash up of Fetty Wap's "Trap Queen," with Ookay's "Thief," was another fan favorite of the night. His set wouldn't have been complete without his remix of Justin Bieber's "Where Are Ü Now," and Adele's, "Hello." Dedicated fans stuck around till the very end, despite the opening of Calvin Harris' set, hoping to get a picture with him.
Calvin Harris' set proved that "This Is What You Came For," as he completely packed out the Hot 100 Stage amphitheater. Fans gawked at the unbelievable stage production, which held Harris in the center of the enormous DJ booth. Harris wowed the Hot 100 Music Festival audience with his world famous hits, "We Found Love," "Blame," "How Deep Is Your Love" with Disciples, and "Feel So Close." Fans sang along to every word in unison and stomped to every beat so hard that everybody present at the Hot 100 Fest was able to feel the rumbles.
The 2016 Billboard Hot 100 Music Festival wrapped up a stellar second installment by creating a unique experience that combines a concert and a music festival.
Photo Credit: Getty Images for Billboard & Billboard Twitter