ASOT Miami Brings 12 Hours of Trance to Ultra Megastructure From Armin van Buuren & Friends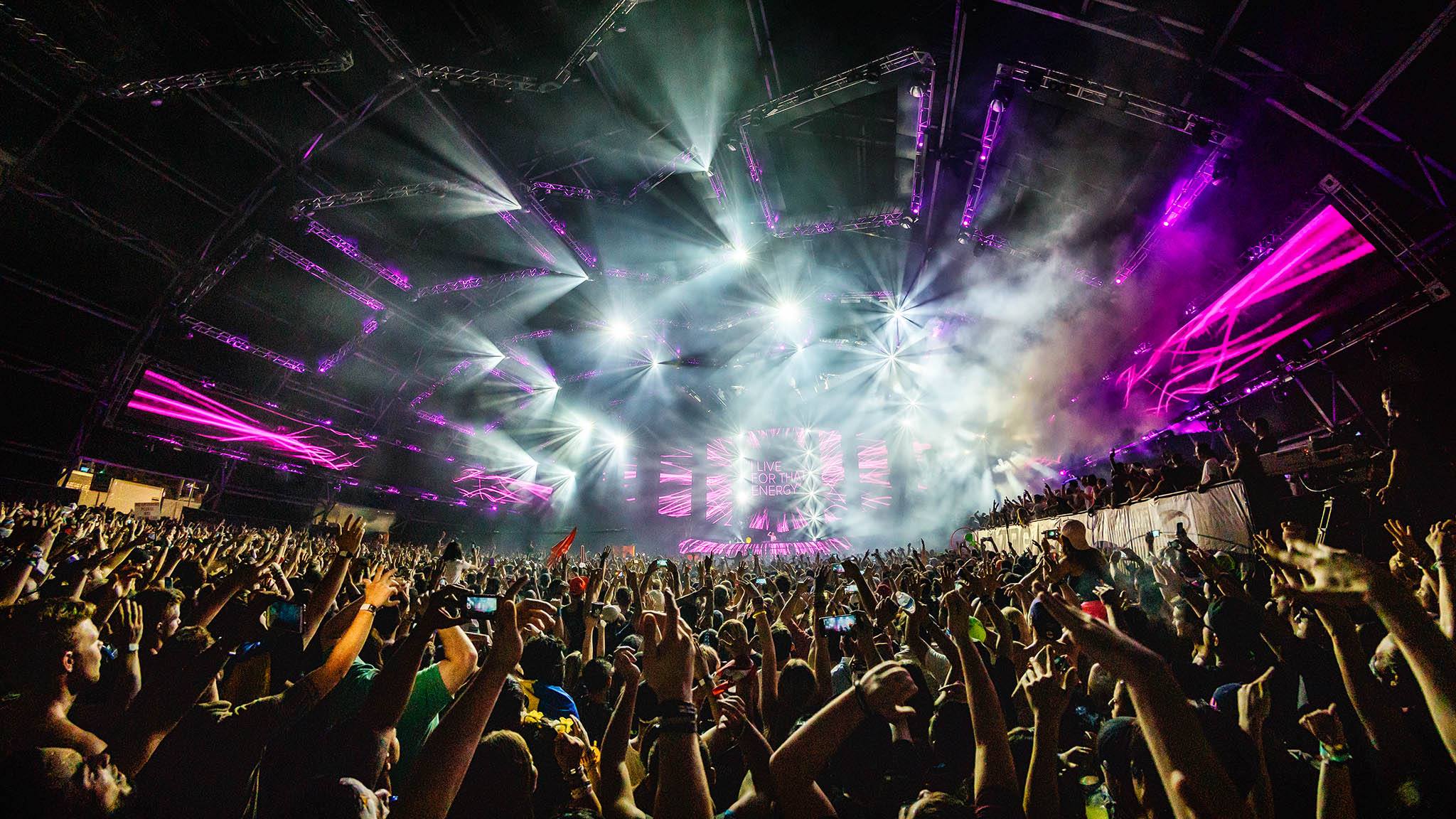 Celebrating seven consecutive years at Ultra Music Festival in Miami, A State of Trance united music lovers around the globe. On a mission to turn the world into one giant dance floor, Armin van Buuren broadcasted the whole twelve hour live event to millions of listeners tuned in this past Sunday, March 26.
The yearly tradition brought some of the trance scene's rising stars as well as a few familiar faces and their unique sounds. Supporting Armin at the Megastructure (in order of appearance) was Ruben de Ronde, David Gravell, Alpha 9, Sander van Doorn presents Purple Haze, Vini Vici, Aly & Fila, Andrew Rayel, Ferry Corsten presents Gouryella and W&W presents NWYR. Primed for surprises and new tunes, thousands filled the Ultra Megastructure throughout the closing day of the festival.
Kicking things off in the ASOT studio, Armin and Ruben warmed things up for the worldwide listeners before the gates opened. At 12 noon the show would commence with an ASOT Miami debut of Ruben de Ronde kicking off the live stream. Those who arrived early were treated to a full set of original Ruben de Ronde productions including "Dreamers," "Save Me," his deeper take on Armin van Buuren's "Waiting For The Night," a Rodg collab, "Whoop," and tracks from his debut album, My Story.
Over the years Armada Music has home grown some of the most talented DJs and producers who are currently dominating the trance airwaves. One of those breakout label artists is David Gravell. Mixing in the new music, while putting his touches on the classics, Gravell gave festival goers a taste of his own high octane tracks "The Road," "Stay Awake," and "Energy." Closing his set with a remix of Armin's classic "Serenity" was only a drop in the bucket for Gravell as he found time for remixes of Robert Miles' "Children" and another Armin van Buuren classic in "Communication."
Watch a special message to the TranceFamily from Armin van Buuren during ASOT Miami:

The trending theme of this A State of Trance Miami edition was undoubtedly the artists returning to the sound they had played earlier in their careers. Masked under the Alpha 9 alias, Arty played a live set at 3 pm, bringing back some popular songs and mashups to trance fans everywhere. Alpha 9 mashups like Rafael Frost vs. Alpha 9 – "New York" vs. "The Night Is Ours" and Arty & Mat Zo vs. Above & Beyond ft. Richard Bedford "Rebound" vs. "Thing Called Love." Arty also played his songs "The Wall," "Zara," and his classic remix of Ferry Corsten "Punk."
P.Haze 3 from Sander van Doorn was something dance enthusiasts were eager to experience. Having been away from trance and ASOT events for a few years, Sander returned more melodic than ever. New Purple Haze productions included "Neilo," "Bliksem," and an unreleased ID. Steering towards this new sound also gave Sander the chance to close with a Purple Haze classic, "Hymm 2.0" bringing us back to a simpler time.
Switching things up with speed, the psy-trance specialist known as Vini Vici turned up the bpm. Opening up with the massive Armin van Buuren collab "Great Spirit," the energy in the Megastructure was at a premium. Other Vini Vici highlights came by way of "FKD Up Kids," "Colors" and a hit remix of Hilight Tribe "Free Tibet." Next to hit the decks was the Future Sound Of Egypt legends Aly & Fila. An ASOT artist you can count on for pure trance, Aly & Fila performances bring the emotion and euphoria to any event. Besides some unreleased bangers, Fadi took Ultra on a journey as he played "Beyond The Lights," a mashup of Robert Miles vs. Sneijder & Bryan Kearney "Children Of Proper Order," and Sean Tyas "Supernatural."
As the ASOT arena was heating up and the festival filled, Andrew Rayel started his set with a "Moments" intro from his new artist album. Classically trained and a crafty musical prodigy, Rayel incited sing alongs with the lyrics of his Jonathan Mendelsohn vocal track "One In A Million" and Christina Novelli vocals on "Lighthouse." Tunes that hit hard with the crowd were Andrew Rayel & KhoMha "All Systems Down," Armin van Buuren & Garibay ft. Olaf Blackwood "I Need You (Andrew Rayel Remix)," and Andrew's grand finale, "Tacadum," shook the ground. Be on the lookout for Rayel in a city near you as he has just begun his MOMENTS Tour.
One of the original god fathers of trance and electronic dance music legend, Ferry Corsten performed as his uplifting alias, Gouryella. The perfect sunset slot for the true trance lovers, Gouryella took us all on a journey back in time. Dropping nostalgic classics like "Tenshi," "Gouryella," and "Ligaya" brought the feelings for the entire 60-minute live set. Towards the end, the show stopper and 2015s ASOT Tune Of The Year, "Anahera," was all the masses needed to hear resonate around the Megastructure. Ferry Corsten took Miami attendees full circle into the past.
The highly-anticipated debut of NWYR at Ultra Music Festival premiered tons of new music unlike any other set at the A State Of Trance stage. Pronounced "New Year" and symbolized by a fire breathing dragon, the W&W alias had built up immense hype with their new sound. Intertwined with ID after ID, ASOT attendees were able to make out NWYR remixes of Phil Collins "In The Air Tonight," Ed Sheeran's "Castle On The Hill," and Calvin Harris "Flashback." Willem and Ward have taken their new sound very seriously and from the ensemble we witnessed you'll wanna keep an ear out. Lots of music is coming from the MainStage Music bosses, stay calm!
Before the clock struck 9 pm, the chants could be heard coming from the Megastructure across the festival grounds. The reason everyone congregates on Sundays, the man who started it all, Armin van Buuren had two hours to shutdown ASOT and Ultra Music Festival. In classic Armin fashion, the set started off progressive so it could build up to the harder, uplifting and melodic trance. Early in his track selection, Armin played his club mix of "I Need You" with Garibay ft. Olaf Blackwood, a brand new KhoMha tune "The Creator," and David Gravell's "The Road." Progressing into the second hour, Van Buuren threw out more ASOT label releases including Davey Asprey "Fallout" and DRYM "Wraith." Flying through over thirty tracks in two hours, Armin mixed in his "Airport Shivers" mashup followed by a fitting finale of "I Live For That Energy," the ASOT 800 theme.
Trance fans travelled from near and far to be present for another spectacular edition of the Miami festival. For seven years ongoing, from 500 episodes to this 800 celebration, trance has flourished as an Ultra Music Festival staple. Next year will mark eight years of A State of Trance in conjunction with Ultra's twentieth anniversary. Let's see what 2018 will bring for ASOT Miami.
Watch ASOT Miami sets:

Photos courtesy of Armin van Buuren's Facebook