Arty Returns to Webster Hall NYC on Saturday, June 11; Win Two Complimentary VIP Tickets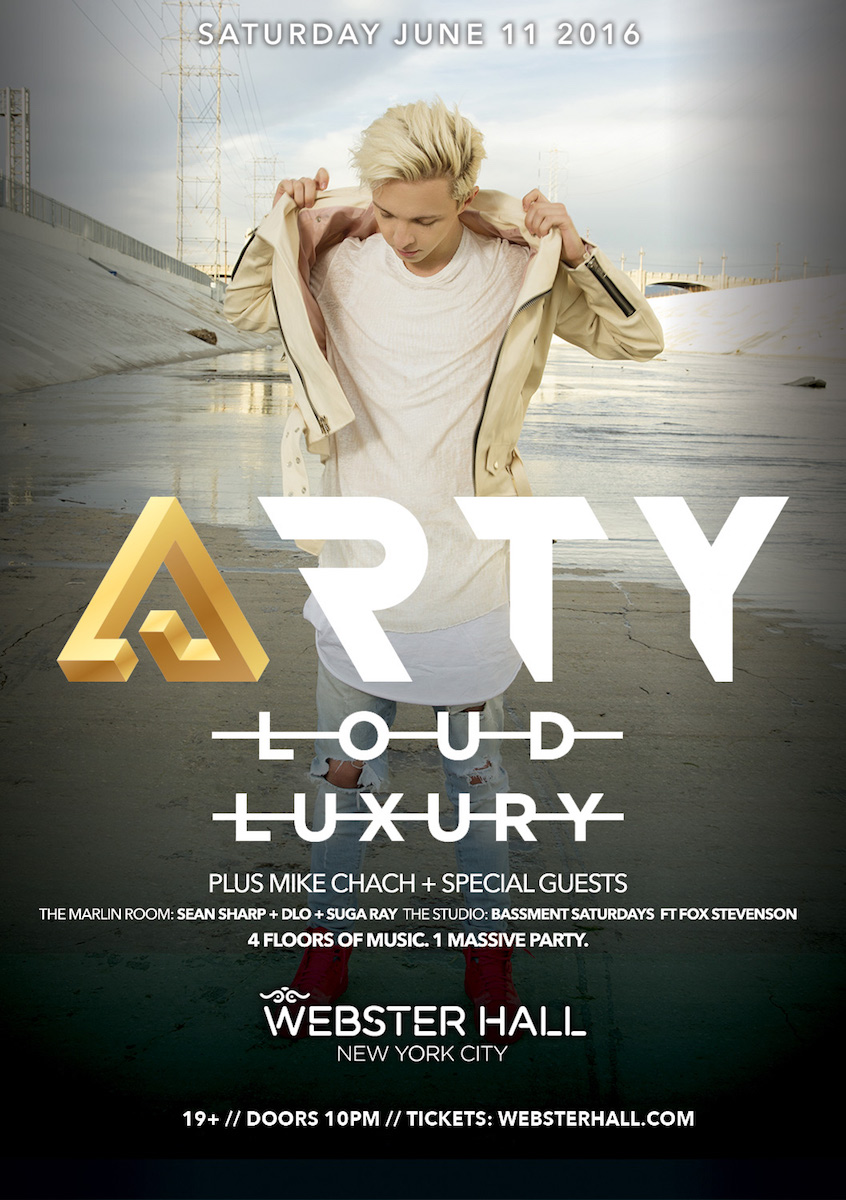 Arty returns to the iconic Webster Hall New York City next weekend
The last time Arty played at Webster was truly Glorious, and his return on Sat., June 11th has been highly anticipated. Here's why:
Arty has taken the electronic dance music (EDM) world by storm since he exploded onto the scene around 2009. Since then, he has been recognized and supported by the top DJs in business. Legendary musicians such as Armin van Buuren, ATB, Above & Beyond, Tiësto and Paul van Dyk have all worked with the tremendously talented DJ/producer. Besides being signed to Above & Beyond's label, Anjunabeats, and releasing music on other various trance and progressive labels, Arty was also the first artist to be signed to Pasquale Rotella's label, Insomniac Records, on which he released his debut album, Glorious, in 2015. His progressive trance/house style has wowed listeners all over the world and his music has gotten bigger and better with each passing year.
Arty returned to Anjunabeats earlier this year, where he released his new single "Patriots," a progressive trance track similar to some of his earliest Anjunabeats tunes. He also released another single this month, "Bloodfire," on Hardwell's label, Revealed Recordings, which reached #1 on Beatport's Progressive House Chart. The track, different from his past style, is a hard-hitting electro bomb, which fits in perfectly with the other music on Hardwell's label. With the arrival of festival season, "Bloodfire" is sure to be a main stage hit.
Besides pumping out new, breathtaking tracks, Arty has also been busy remixing some of the hottest songs of the year. His new remix of Armin van Buuren's "Embrace" was premiered as a part of A State Of Trance 750, and will be officially released the day before his Webster Hall extravaganza. He also released his remix of 3LAU's "Is It Love," and a remix of Cash Cash's "How To Love," this month as well.
The Nocturnal Times is giving away a pair of complimentary VIP tickets for Arty's Webster Hall showcase. Enter to win VIP for you and a friend, below:
a Rafflecopter giveaway


With such new, exciting music by Arty, his set at Webster Hall will be nothing less than extraordinary, so don't miss out!
Tickets for Arty at Webster Hall are available HERE.