Armin van Buuren Embraced BKWRHS With Glorious NYC Return on Friday, July 1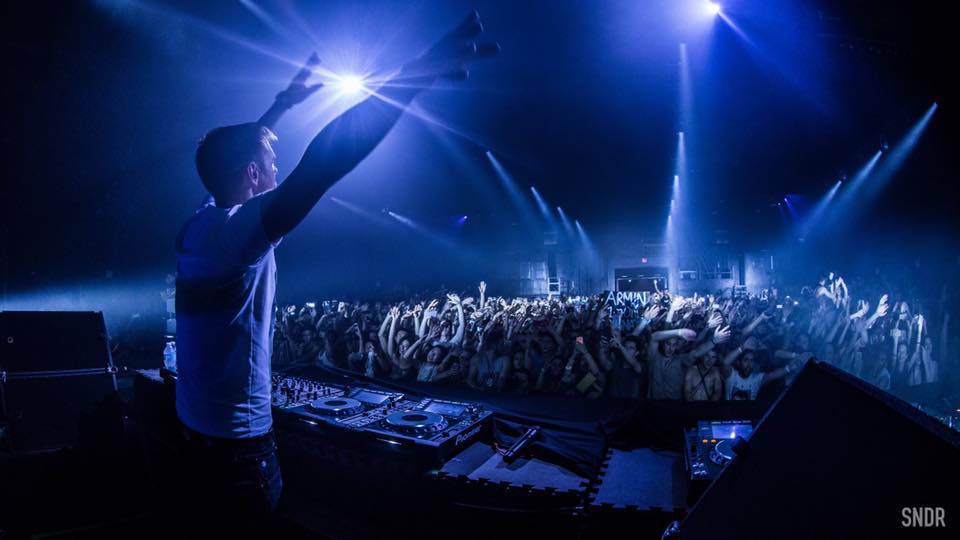 Armin van Buuren embraced BKWRHS during his glorious return to NYC this past Friday.
Fans piled into the gargantuan venue for Armin van Buuren's first Brooklyn warehouse performance since 2006. The King of Trance, along with a few of Armada's most sought after talent, put on an incredible show that is sure to remain unrivaled until their return. Complimented by state-of-the-art lights and production, the BKWRHS event could only be described as absolutely stellar.
Opening the night was the powerhouse DJ/producer, KhoMha. The brilliant, rising star of Coldharbour Recordings, brought an enormous amount of energy to the crowd with his heavy-hitting ensemble. Following KhoMha's performance was DJ, producer and label owner of Statement! Recordings, Ruben de Ronde. De Ronde's blissful and melodic progressive tracks were the perfect way to set the tone for the festivities yet to come. As midnight neared, the anticipation grew and the crowd prepared for a night filled with music from the DJ Mag's five time #1 DJ, Armin van Buuren.
Fans erupted as van Buuren stepped onto the stage, immediately throwing down fresh new soundtracks and remixes from his latest album, 'Embrace.' Party goers danced along to tracks such as: Super 8 & Tab's "Mega," and one of the most popular album tracks, "Strong Ones," feat. Cimo Fränkel, mashed with another one of his 'Embrace' hits, "Embargo," feat. Cosmic Gate. Armin also included some hard-hitting tracks such as: "Arcade," by Dimitri Vegas & Like Mike vs. W&W, and Organ Nilsen's, "Iconic."
Van Buuren continued to serenade the crowd with sounds from his alias, Gaia, including the recent trance hit, "Inyathi." Also beautifully incorporated, was Dan Stone's rework of Matt Darey's "See the Sun;" "Slipstream," off 'Embrace;' van Buurens classic tune, "Shivers;" and his mashup of "Sound of the Drums" vs. "Yai" (Here We Go Again) by Cosmic Gate.
While feeding off the thousands of attendees, Armin remained energized from beginning to end. The trance titan closed out his set with none other than, Manse's remix of his newest single, "Freefall," featuring BullySongs.
As if that wasn't enough, Dutch DJ/producer MaRLo, kept the party atmosphere alive as he took the booth immediately following van Buuren. MaRLo, the Armada music favorite, has been releasing monstrous hits, headlining some of the world's biggest festivals and has brought his fresh, new influence on trance. MaRLo dominated the after hours at BKWRHS with tracks such as: his production with Piotr, "Magical;" a personal remix of The Prodigy's "Smack My Bitch Up;" and his tech track, "Darkside," which reached #1 on Beatport's Dance Chart.
BKWRHS was an unforgettable night filled with the best music from the most talented DJs in the business. The New York faithful can only anticipate an announcement of van Burren's massive return for Armin Only Embrace next year and hope it comes soon! In the meantime last weekend's warehouse sets will have to hold us over!
For more information about Armin van Buuren, visit arminvanbuuren.com.
Featured photo credit: SNDR